Buffalo Chicken Dip Recipe
If you love buffalo chicken as much as I do, you're gonna love this Buffalo Chicken Dip. Serve it with crackers or celery!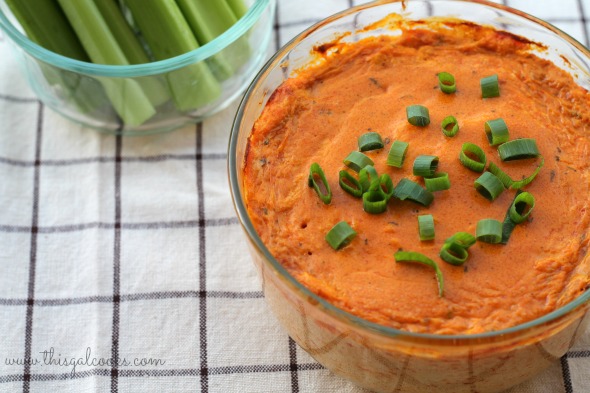 Buffalo Chicken Dip
I'm a huge fan of  Buffalo Chicken Sandwiches. In fact, I'm a huge fan of wing sauce. I can put wing sauce on a variety of foods including french fries, pizza, eggs and tuna salad. I also like to mix it with ranch dressing to make a dipping sauce.
Back to Buffalo Chicken Sandwiches. They are one of those foods that I often crave. And I'm in luck whenever I get a craving. There are a couple of restaurants in town that have excellent Buffalo Chicken Sandwiches. I always get ranch dressing to accompany the lettuce, tomato and onion when I order a Buffalo Chicken Sandwich. What do you like to put on yours?
For Super Bowl Sunday I decided to make Buffalo Chicken Dip. This dip was pretty easy to make and it was tasty. It definitely doesn't compare to a Buffalo Chicken Sandwich but it still hits the spot. I hope you enjoy this recipe.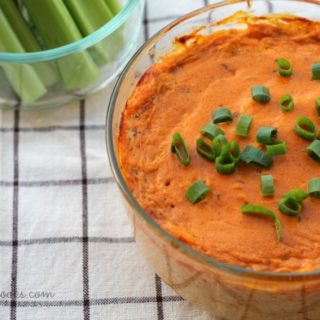 Buffalo Chicken Dip
Yield: 8 servings

Prep Time: 20 minutes

Cook Time: 3 hours 25 minutes

Total Time: 3 hours 45 minutes
Ingredients
2 boneless, skinless chicken breasts
2 tsp chicken bouillon
2 C water
8 oz reduced fat cream cheese, room temp
1/2 C Louisiana Hot Sauce
1 C cheddar cheese, shredded
1/4 C light ranch dressing
2 tbsp ranch dressing
1 tbsp hot sauce
1 Tbsp green onion, sliced
Instructions
Place the chicken in a slow cooker. Dissolve the chicken bouillon in the water and then pour over the chicken. Cook on high for 3-4 hours.
Remove the chicken from the slow cooker and shred.
Add the shredded cheese, hot sauce, cream cheese and ranch dressing to the chicken. Mix well.
Place the chicken mixture into a small casserole dish.
Combine the 2 tbsp ranch dressing and 1 tbsp hot sauce. Spread over top of the chicken mixture.
Bake at 350 for 20-25 minutes or until bubbly.
Top with green onions and serve with celery and tortilla chips.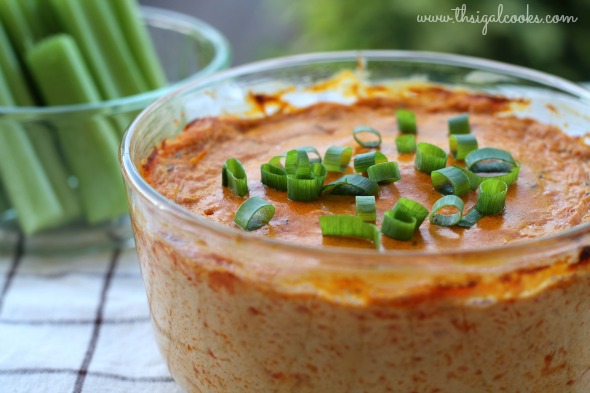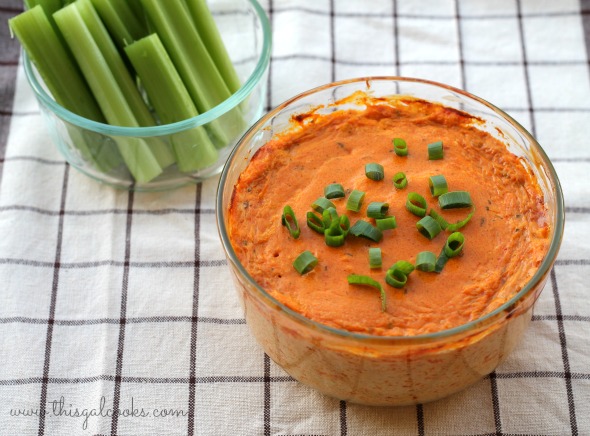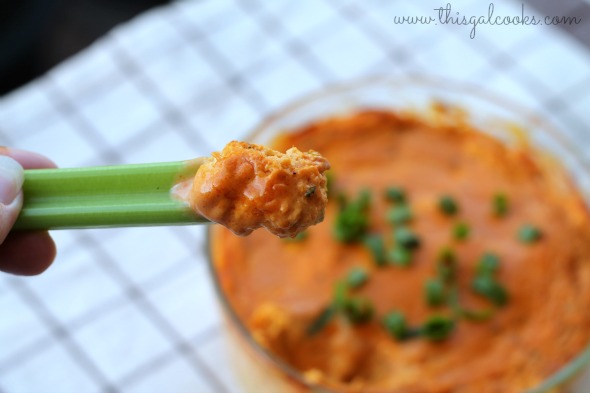 A few more awesome appetizers: