Product Review: Lean Cuisine Chef's Pick Meals
Although I love to cook, bake and bring my own homemade meals (or sometimes a sandwich) to work for lunch, sometimes I'm too busy to get anything together for lunch. On those days, I either head to a fast food restaurant for lunch or I stop at the grocery store to pick up something that's quick and easy to make. Occasionally I'll grab a frozen dinner because their easy to make, they only take maybe 5 minutes to heat up and at an average of $2.00 per meal, they are much cheaper to purchase than a meal from a fast food restaurant.
Now I'm pretty picky about my frozen dinners. I don't want anything that's full of fat and calories and I want something that tastes good. My usual go to frozen meals are the Lean Cuisine meals. They come in small portions, most have less than 300 calories and most of them are quite flavorful. Which brings me to the Lean Cuisine Chef's Picks in the Culinary Collection line of meals. Have you tried those yet? I must say, they are pretty decent for a frozen meal.
I recently tried the Mushroom Mezzaluna Ravioli. This meal is 8 5/8 oz, it has 290 calories, 9 grams of fat and 3 grams of fiber. The packaging boasts no preservatives but I'd say that the amount of sodium could count as a preservative. At 680 mg, that's 28% of the recommended daily value but here's a little secret: it has less sodium than most of the frozen dinners out there. So what does this meal have to offer to put one's hunger at bay? The Mushroom Mezzaluna Ravioli is "ravioli filled with portobello & button mushrooms, Romano & ricotta cheeses in a creamy Marsala wine sauce with spinach and red peppers." The sauce tasted pretty good. It has a mild flavor that pairs well with the tender cheese and mushroom stuffed ravioli. My only complaint would be the red peppers. I am not a fan of many frozen vegetables, red peppers being one of them. They have a certain taste to them that screams "frozen meal." However, if I were presented with another dilemma of not having time to make a lunch, I'd purchase this particular meal again.
Let's take a look at the packaging so you know what to look for when you run out to buy this.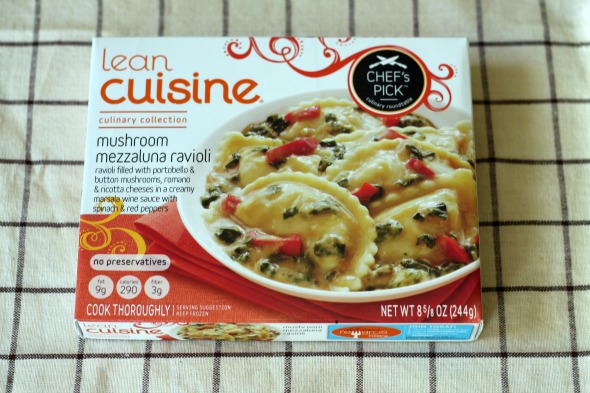 And here it is ready to be devoured.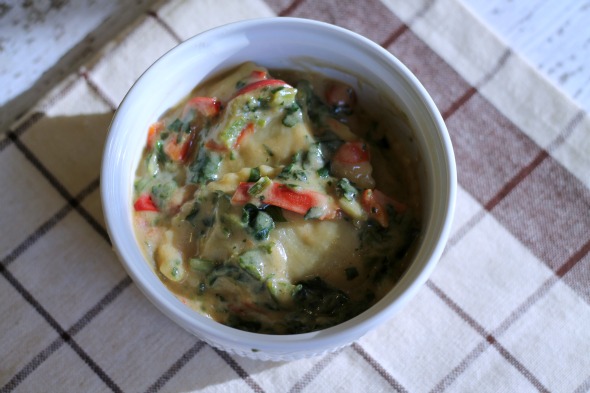 So, what do you think? Would you try this meal? Have you tried any of the other Lean Cuisine Chef's Pick meals? If so, which one and did you like it?

I have partnered with Lean Cuisine through DailyBuzz Food to help promote their new line of Chef's Pick products. I have been compensated for my time commitment to work with this product. However, my opinions are entirely my own and I have not been paid to publish positive comments. Thank you Lean Cuisine!