Mini Cheesecakes with Almond Pecan Crust
Mini Cheesecakes with Almond Pecan Crust: All of the delicious indulgence without the gluten!
Mini Cheesecakes with Almond Pecan Crust
I love cheese. From the smooth, creamy texture and taste of brie cheese to the sharp, thick texture and taste of sharp cheddar, you could say I'm well-rounded in my love of variety of cheeses. So naturally, I'm a huge fan of cheesecake. Turtle, raspberry, chocolate, cheery, plain. You name it, I probably like it. Cheese made into dessert, what a spectacular concept.
It isn't any surprise that most cheesecakes are made with a graham cracker crust. Since I'm trying to cut back on my intake of wheat products, I decided to do some experimenting over the weekend. I wanted to make a wheat free crust that resembled that of a graham cracker crust. I had some raw almonds and pecans on hand so I decided to make a crust out of those, using the same technique for making a graham cracker crust: melted butter, sugar and "crumbs" combined until the "crumbs" are moist. I also didn't want to make a HUGE cheesecake so I made a small batch of crust and cake mix that made only 6 mini cheesecakes. Perfect for a house of 2.
The crust is amazing. It pairs well with the mildly sweet taste of the cheesecake. Trust me, you won't even miss the usual graham cracker crust once you try one of these. Enjoy the recipe!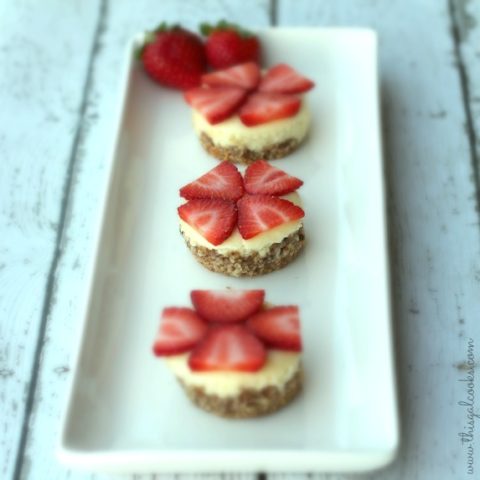 Recipe: Mini Cheesecakes with Almond Pecan Crust
Yield: 6

Prep Time: 10 minutes

Cook Time: 30 minutes

Total Time: 40 minutes
Ingredients
For the crust
1/3 C finely chopped raw pecans
1/3 C finely chopped raw almonds
2 tbsp butter, melted
1/2 tbsp granulated white sugar
For the filling
8oz cream cheese, softened
1/4 C granulated white sugar
1/2 tsp vanilla
1 egg
Instructions
Line a standard muffin pan with 6 cupcake liners.
Combine the chopped pecans, chopped almonds, 1/2 tbsp granulated sugar and melted butter until the nuts are coated in the butter. Press the mixture into the bottom and slightly up the side of the muffin cups.
Beat the cream cheese and 1/4 C sugar until smooth. Add the egg and vanilla and beat until well combined.
Spoon the mixture into the muffin cups.
Bake at 350 for 25-30 minutes or until set. Allow to cool on a wire rack.
Top with your desired toppings. I topped mine with sliced fresh strawberries.