Italian Zucchini Bake
This Italian Zucchini Bake is delicious guilt free eating. You won't find any flour, bread or a lot of carbs in this delicious dish!
Italian Zucchini Bake
I love zucchini. It tastes great grilled, sauteed, baked and in various recipes including one of my favorites, zucchini boats. I've been wanting to find a good, low carb casserole and after searching some recipe sites, I settled on a recipe that I found on All Recipes. It's a zucchini casserole type recipe that includes egg, basil, Parmesan and Jack cheeses and of course, zucchini! This recipe turned out very well. My boyfriend and I both enjoyed it and luckily, there are leftovers! Please enjoy this recipe. :)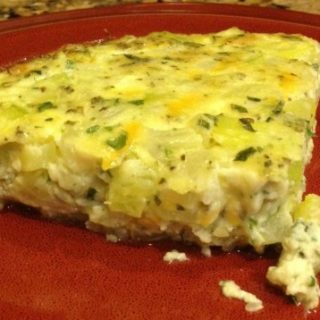 Italian Zucchini Bake
Yield: 6
Prep Time: 15 minutes
Cook Time: 35 minutes
Total Time: 50 minutes
Ingredients
3 cups of peeled, chopped zucchini
1 large onion, chopped
2 cloves of garlic, minced
1/4 cup of butter
4 eggs
1/2 cup of grated Parmesan
1/4 cup of chopped fresh parsley
1 1/2 tsp of chopped fresh basil
1 1/2 tsp of marjoram (I used dried since that is all I had on hand)
1/2 tsp of salt
1/2 cup of shredded Monterey Jack cheese
Instructions
Saute garlic, onion and zucchini in butter until tender
Meanwhile, chop the basil and parsley (I just threw it all in a food processor and chopped it that way.
When the zucchini mixture is done cooking, remove it from the heat.
Whisk the egg, basil, parsley, marjoram, Parmesan cheese and salt together in a large mixing bowl. After mixing well, add the zucchini mixture and the Monterey Jack Cheese. Mix well.
Add the mixture to a greased 1 1/2 quart baking dish and bake at 350 for 30-35 minutes or until a knife inserted into the center comes out clean.
Once done baking, let the casserole sit for 5 minutes before serving.
Nutrition Information:
Yield: 6
Serving Size: 1
Amount Per Serving:
Calories: 215
Total Fat: 17g
Saturated Fat: 9g
Trans Fat: 0g
Unsaturated Fat: 6g
Cholesterol: 160mg
Sodium: 516mg
Carbohydrates: 7g
Net Carbohydrates: 0g
Fiber: 2g
Sugar: 3g
Sugar Alcohols: 0g
Protein: 11g