Over 20 Homemade Holiday Side Dishes
Looking for new ideas for your holiday side dishes? This collection of over 20 Homemade Holiday Side Dishes Roundup has a great selection of delicious sides for your next Thanksgiving Dinner or Christmas Dinner!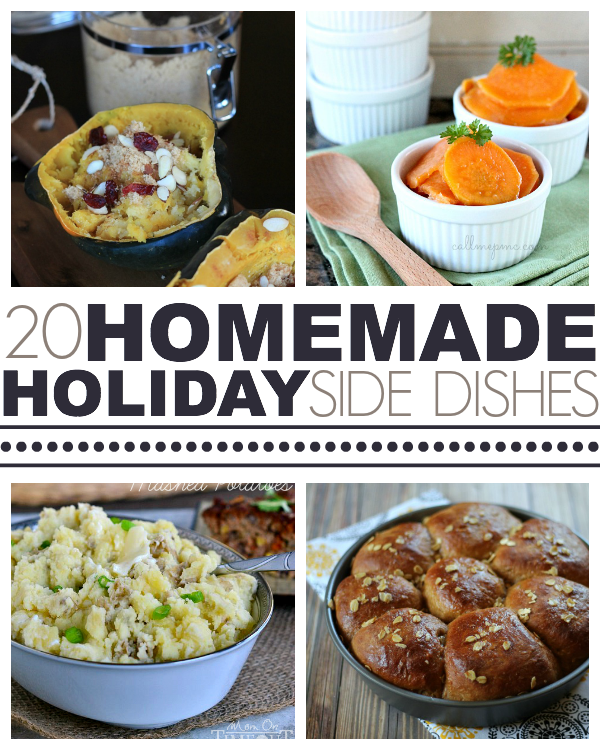 Good morning and happy Friday, folks. Today is the second installment of Paula (Call Me PMc) and I's holiday dishes roundup. Today I'm sharing 20 delicious side dishes. Paula is sharing 26 scrumptious desserts recipes. All of the dishes in our collections are simple dishes that you can make at home. While some of the side dishes and desserts may take a little time to make, they are simple recipes that the average home cook can easily prepare.
Visit Paula's 26 Homemade Holiday Desserts Roudup by clicking here.
Who likes spending hours in the kitchen on a holiday? I sure don't! There are a few simple steps you can take to cut back on time spent in the kitchen. Less time in the kitchen means more time to spend with family and or friends. When preparing recipes for your holiday meals, I recommend starting the day before. Items such as breads, rolls, casseroles and desserts can be prepped or made ahead of time to reduce your time in the kitchen. Many appetizers can be prepped the day before. Make your spinach dips, fillings and salads the day before. For easy cleanup, use disposable containers. Or better yet, clean as you use so you don't end up with a pile of dishes in your sink. Less dishes means it's less likely that you'll have run in with the soap monster.
Soap Monster. Noun. A humongous mound of soap that grows from a pot or large bowl that is left sitting in your sink. The soap monster really exists. I've met him. True story.
After viewing these side dishes, you'll find more holiday meal inspiration by visiting the links at the end of this post. We hope you enjoy this collection of holiday recipes.
Homemade Holiday Side Dishes Roundup
{Click images to view recipes}
Check out Paula and I's other Holiday Meal Roundups