Homemade Cranberry Almond Granola
Yesterday I came across an awesome homemade granola recipe posted by Julie from White Lights on Wednesdays. Not only did I have just about all of the required ingredients on hand, I also wanted to send something homemade to my foodie pen-pal this month as well as to my good friend Carrie from Frugal Foodie Mama. So I decided to make it. I didn't have all of the ingredients that Julie's recipe called for (confusing, right? Another Julie – great name!) as I was missing the flax seed, but that was ok. I knew when I first saw this recipe that I wanted to add almonds to it. So I did!  This granola turned out ah-mazing. And it made my house smell fantastic while it was baking. I hope you will enjoy this recipe and when your done checking it out, please head over to Julie's blog to check out her recipes. Believe me, they are fantastic.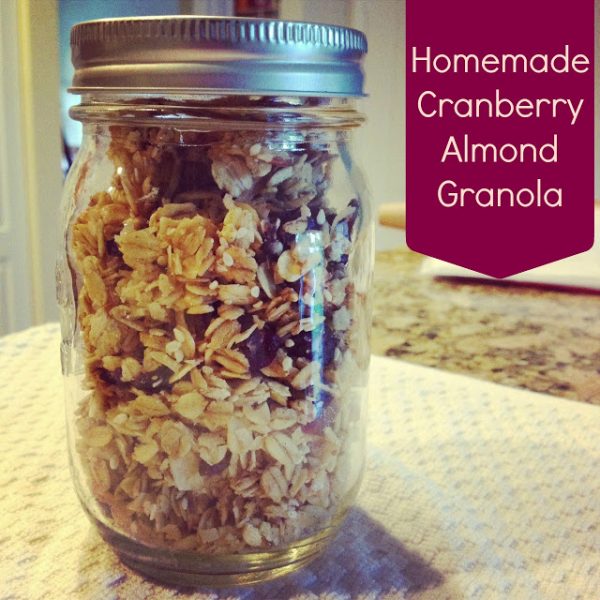 Ingredients
3 1/2 C rolled oats
1 C shredded sweetened coconut
1/4 C sesame seeds
1 C dried cranberry (I used cherry juice infused dried cranberries)
1 tsp cinnamon
1/4 tsp allspice
1 tsp salt
1/2 C extra virgin olive oil
1/2 C honey (I used local unprocessed honey)
3/4 C sliced almonds, chopped in the food processor
Directions
1. Pre-heat your oven to 300
2. Combine all of the ingredients minus the honey and EVOO.
3. Mix together the honey and EVOO and heat in the microwave for about 30 seconds.
4. Pour the honey mixture over the oat mixture and mix well, making sure to coat all of the oats with the honey mixture.
5. Lay the granola out on a large baking pan and bake for 30 minutes.
6. Remove from the oven and allow to cool. After cooled, break the granola apart.
Enjoy