Sour Cream Banana Bread
This Sour Cream Banana Bread is super moist and delicious! You can make mini loaves or one large loaf with this delicious recipe!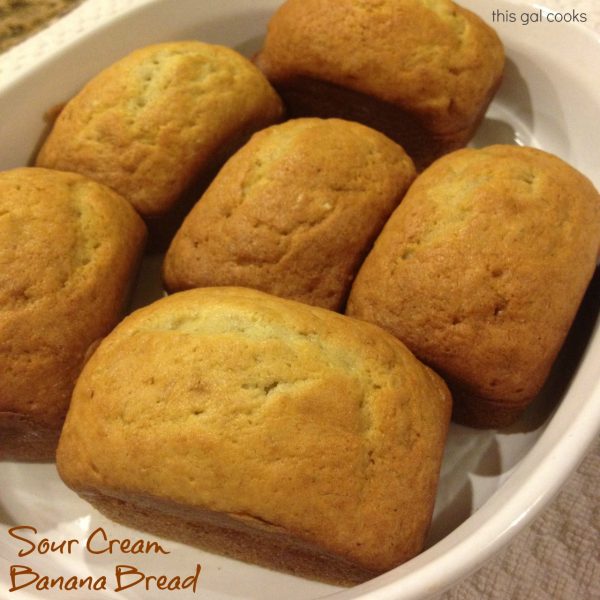 Last week I was on a baking frenzy. Actually, I think I still am this week. Tonight I will be making pizzas and sometime today, I will be making mini cheesecakes.
Last week I made a delicious Chili Rellano casserole, inspired by Leslie from
Dishing with Leslie
(recipe to come this week)
homemade honey biscuits
and sour cream banana bread. I decided to make mini loaves of the banana bread. They are so much easier for a grab n go breakfast. They turned out really well. These babies are super moist and full of banana flavor. Please enjoy the recipe!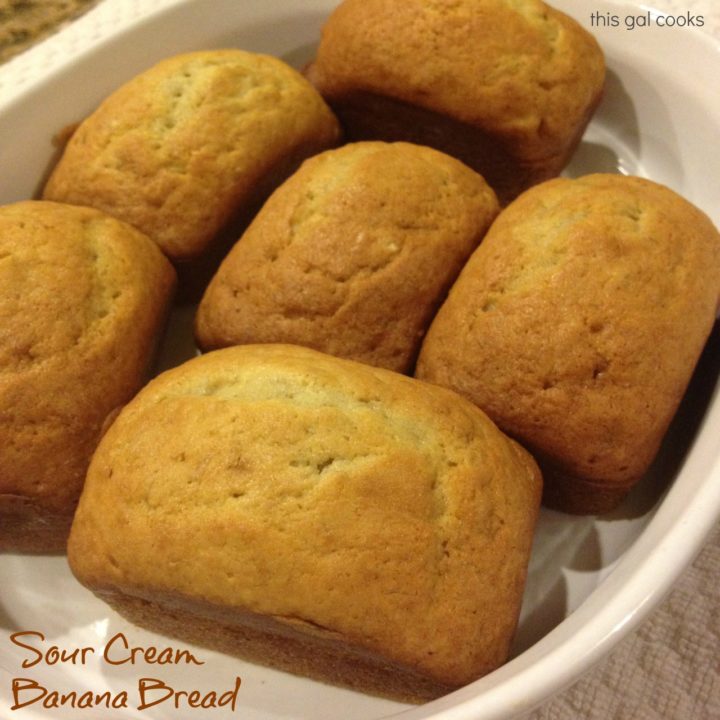 Sour Cream Banana Bread
Yield: 10 mini loaves
Prep Time: 1 hour 40 minutes
Cook Time: 20 minutes
Total Time: 2 hours
Ingredients
1/2 C butter, room temp
3/4 C sugar
2 eggs
1 tsp vanilla
1 1/2 C all purpose flour
1 tsp baking soda
1/2 tsp salt
1 C mashed bananas
1/2 C sour cream
Instructions
Preheat oven to 350. Grease a baking pan. I used a mini loaf pan (makes 10 mini loaves)
Cream together the butter, sugar, egg and vanilla.
In another bowl, combine the flour, baking soda and salt. Gradually mix in to the butter/egg mixture.
Mix in the mashed banana and the sour cream.
Pour into the mini loaf pan and bake for 20-25 minutes or until a toothpick inserted into the center comes out clean. If using another baking dish, adjust your baking time as needed.
Notes
Recipe adapted from http://www.food.com/recipe/sour-cream-banana-bread-9351
Nutrition Information:
Yield: 10
Serving Size: 1
Amount Per Serving:
Calories: 264
Total Fat: 12g
Saturated Fat: 7g
Trans Fat: 0g
Unsaturated Fat: 4g
Cholesterol: 68mg
Sodium: 333mg
Carbohydrates: 35g
Net Carbohydrates: 0g
Fiber: 1g
Sugar: 18g
Sugar Alcohols: 0g
Protein: 4g