Healthier Pumpkin Muffins
First I made these Butterscotch Pumpkin Muffins. Then I made these Pumpkin Swirl Pancakes with Pumpkin Butter Topping. I thought it was time for a healthier pumpkin breakfast recipe so I made these Healthier Pumpkin Muffins.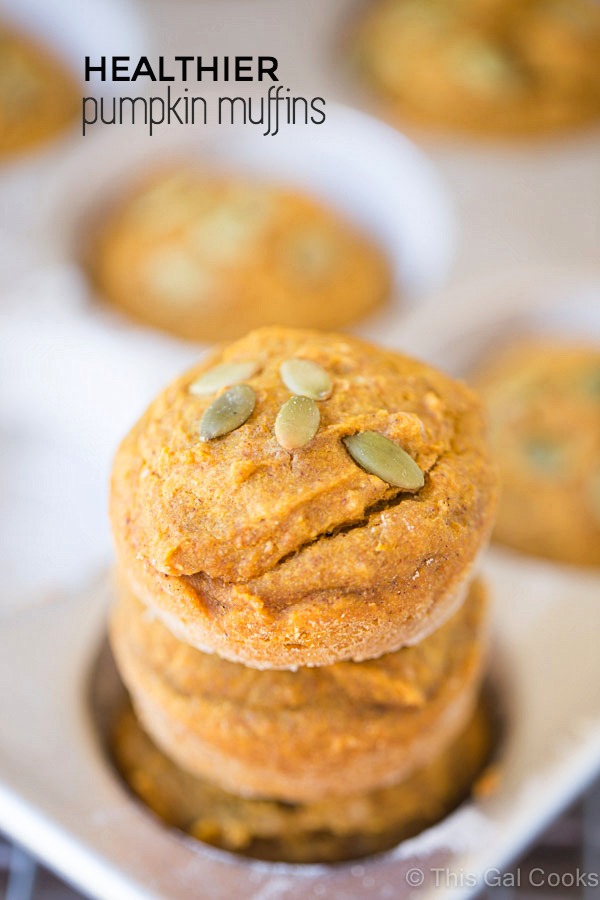 I've teamed up with Pompeian to create delicious recipes with Pompeian products. As a #PantryInsider, I was sent the new Pompeian Coconut Oil Cooking Spray to try out. This cooking spray is part of Pompeian's new line of cooking sprays. What I like about this spray is that it's light, contains no propellants and has a smoke point of 420 degrees. It's great for baking. I used it to grease the muffin cups when I made these muffins. Worked like a charm. These muffins didn't stick to the pan at all!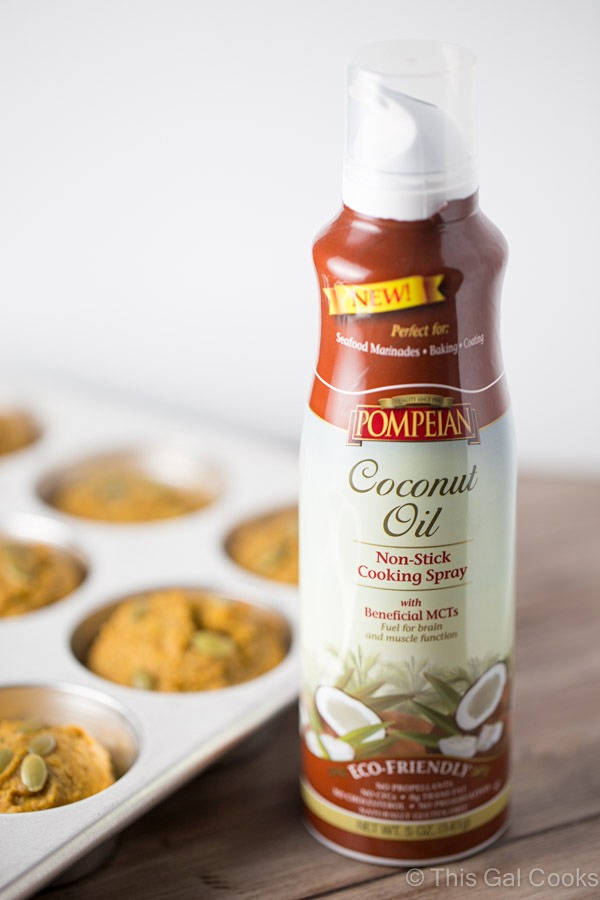 You won't find any refined sugars or butter in these muffins. I used honey to sweeten them and coconut oil as the fat. Many muffin recipes contain dairy milk. I used unsweetened vanilla almond milk in my recipe. I also replaced 3/4 cup of the all-purpose flour with whole wheat flour. Whole wheat flour gives these muffins an extra boost of nutrients.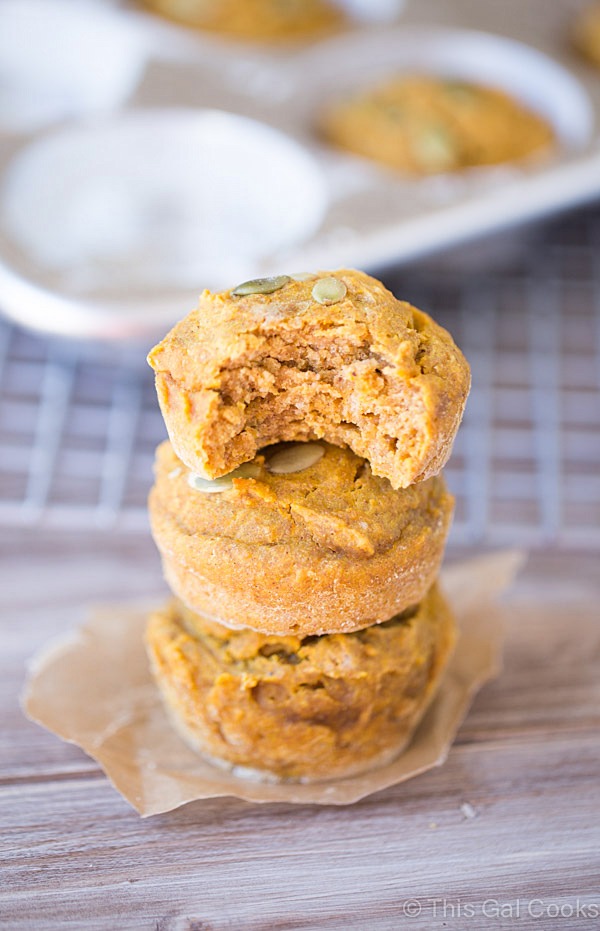 These muffins remind me of a biscuit. They're dense but soft and more savory than sweet. They're perfect for savory breakfast lovers like me. If you have a sweet tooth, drizzle with a little honey for a boost of that sugary sweet taste you crave.
Enjoy the recipe!
Healthier Pumpkin Muffins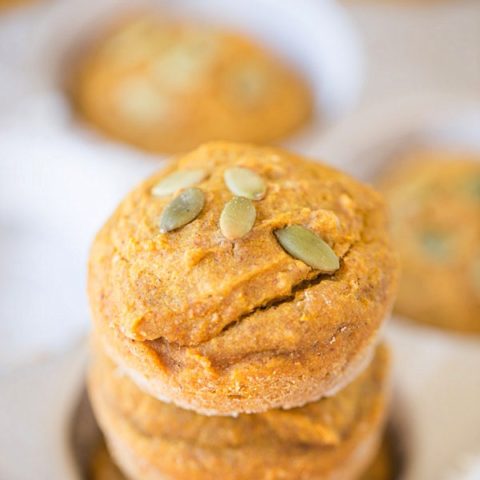 Healthier Pumpkin Muffins
Yield: 12 muffins

Prep Time: 15 minutes

Cook Time: 20 minutes

Total Time: 35 minutes
Ingredients
1 C all purpose flour
3/4 C whole wheat flour
1/4 tsp salt
1 large egg
2 tsp baking powder
2 tsp pumpkin pie spice
1/2 C pumpkin puree
1/3 C honey
1/4 C unsweetened applesauce
1/2 C unsweetened vanilla almond milk
1/4 C coconut oil, melted (it needs to be in liquid form)
Pompeian Coconut Oil Cooking Spray for coating the muffin cups
extra flour for coating the muffin cups
Pepitas for topping, if desired
Instructions
Preheat oven to 375. Lightly spray 12 muffin cups with coconut oil cooking spray. Lightly dust with flour.
In a large mixing bowl, combine flours, salt, baking powder and pumpkin pie spice.
In another mixing bowl, whisk together the almond milk, egg, coconut oil and honey. Add to the dry mixture along with the pumpkin puree and applesauce. Mix with a spoon until well incorporated but do not over mix. The batter should be lumpy.
Fill each muffin cup 2/3 full with the batter. I used a cookie scoop to spoon the batter into the muffin cups, It makes life so much easier. Top each muffin with a few pepitas, if desired.
Bake at 375 for 20 minutes or until a toothpick inserted in the center of a muffin comes out clean.
Notes
Adapted from Better Homes and Gardens New Cookbook, 1996
Nutrition Information:

Amount Per Serving: Calories: 150 Total Fat: 5g Sodium: 149mg Carbohydrates: 23g Sugar: 10g Protein: 3g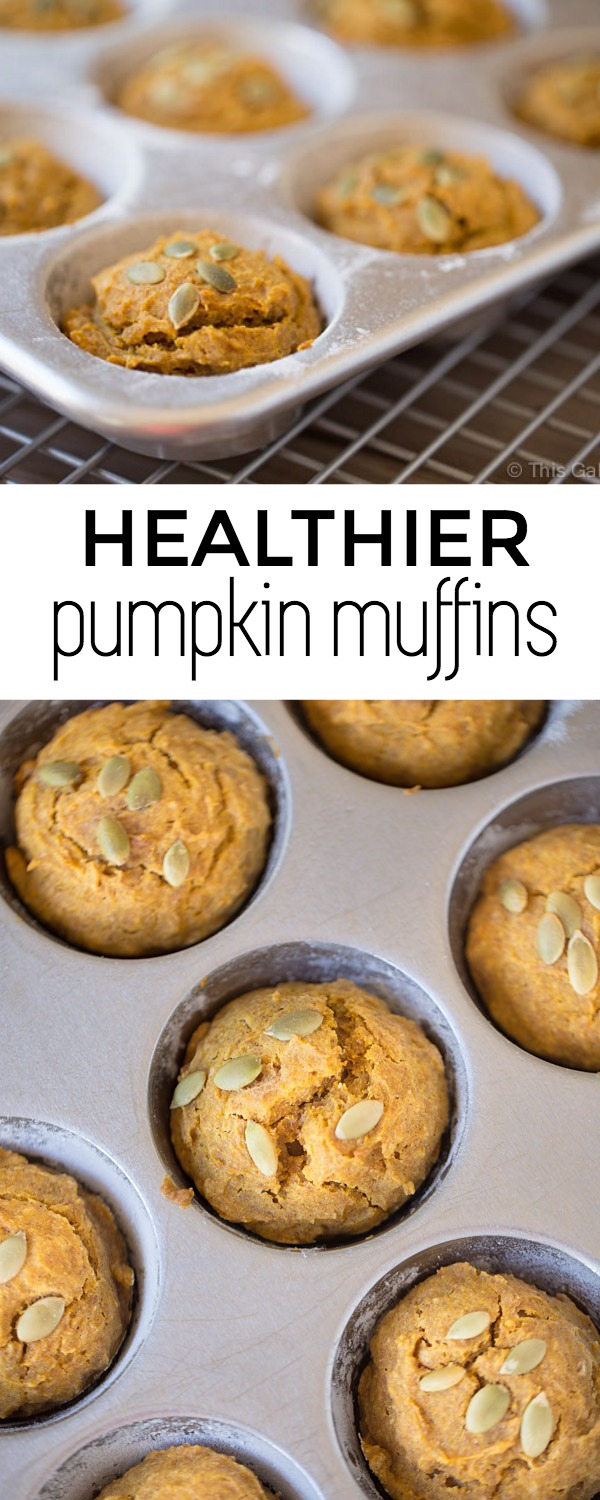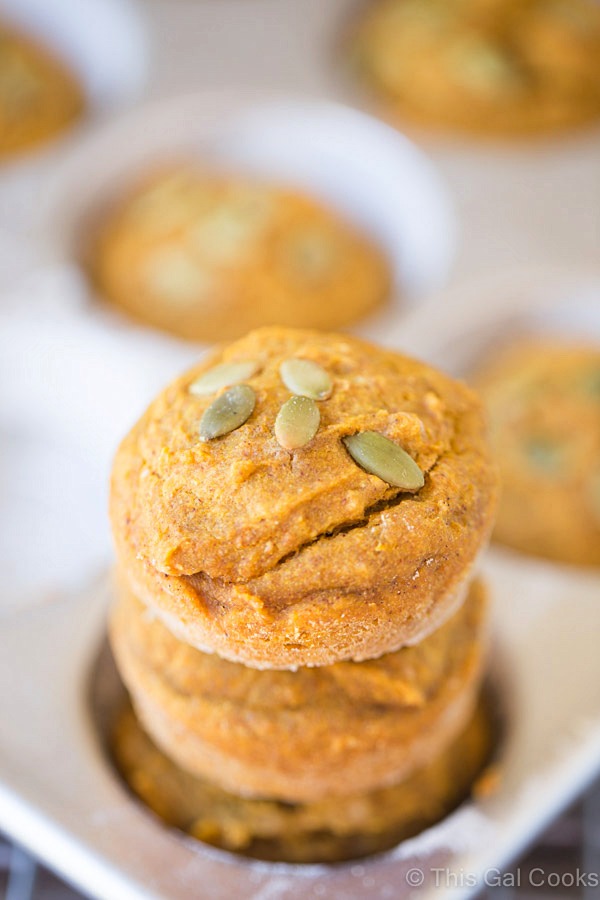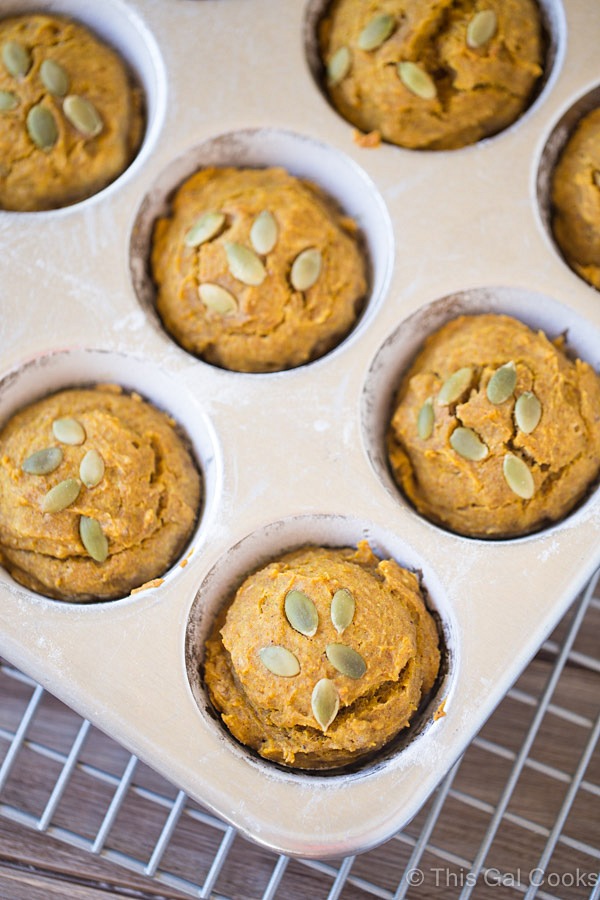 I'm a member of the Pompeian #PantryInsiders. This recipe was written on behalf of Pompeian. However, all opinions and recipes are my own.
HUNGRY FOR MORE?
Try these Pompeian recipes from my favorite food bloggers. 
Apple Cider Donuts from It Bakes Me Happy.
Easy Crunchy Coleslaw from A Zesty Bite.
Olive Oil Fudge Brownies from Alida's Kitchen.
Try these recipes made with Pompeian Products. 
Harvest Wild Rice Salad with Pumpkin Vinaigrette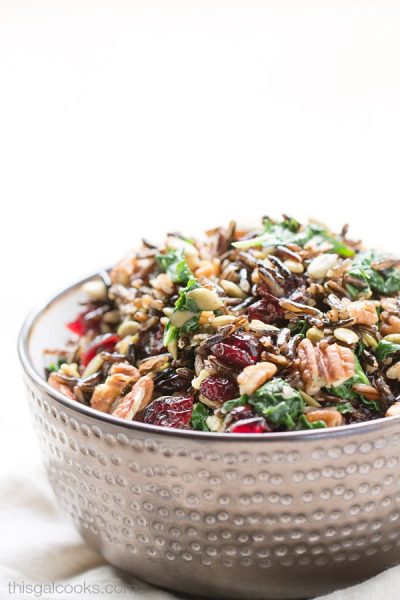 Sausage Cheddar and Olive Oil Muffins