Candy Corn M&M White Chocolate Fudge
I made some fudge. It was really good. So I'm sharing it with you today.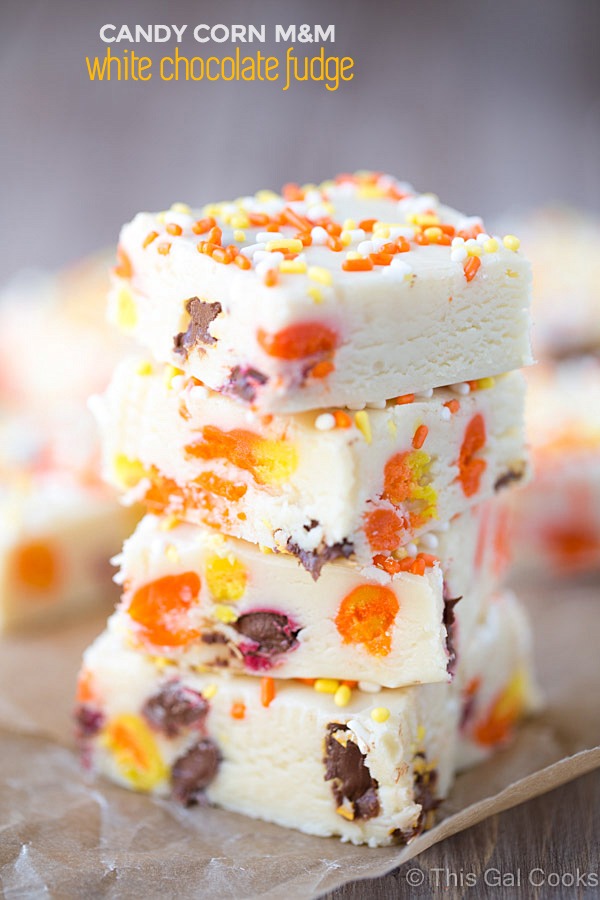 As you may have heard, I'm becoming quite the chocoholic. Typically, I'm the biggest fan ever of dark chocolate. But lately, I've grown fond of white chocolate. Those Hershey's Cookies and Cream Bars, yeah, I LOVE those. My growing love for white chocolate has piqued my creativity. First I made this Candy Corn White Chocolate Halloween Bark. Then I made the Candy Corn M&M White Chocolate Fudge that I'm sharing with you today.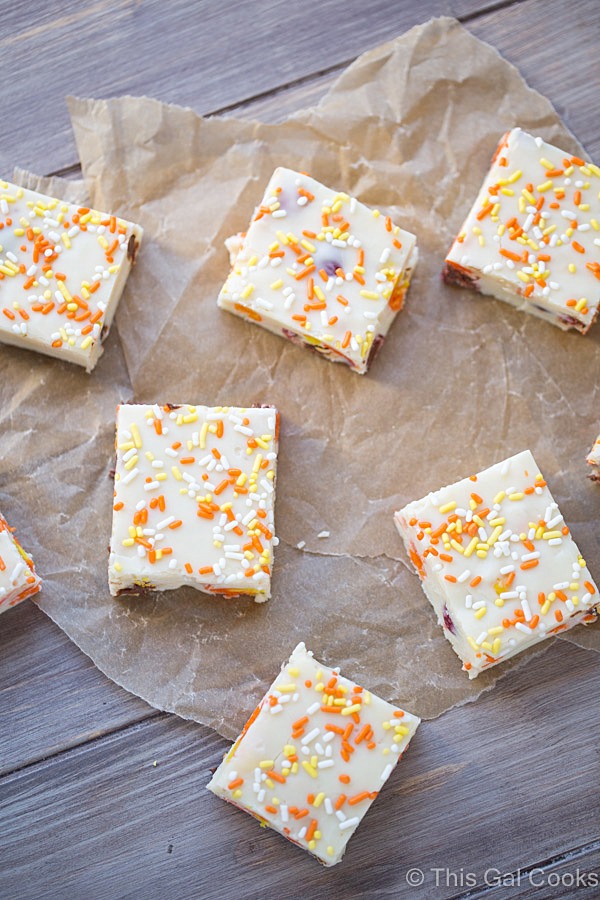 With it being fall, close to Halloween and only a month away from Thanksgiving, I thought it would be fun to make white chocolate fudge with candy corn and fall M&Ms. To make it even more fun, I topped this fudge with fall colored SPRINKLES!
This fudge is ridiculously easy to make. Heat butter, sweetened condensed milk and white chocolate chips in a sauce pan and stir until melted. Mix in vanilla extract and then the candy corn and M&Ms. BOOM. You have some of the best fudge you'll ever get your hands on.
Someone recently asked me how I don't weigh 400 lbs, considering all of the food I make. I like to share the love of sweets with friends and co-workers. Today I sent Ken to work with a container of this fudge. I brought a container to work as well. My co-workers love me and hate me for this equally. But it's ok. For the love of fudge, let's all enjoy some fudge!
WATCH THE VIDEO
Candy Corn M&M White Chocolate Fudge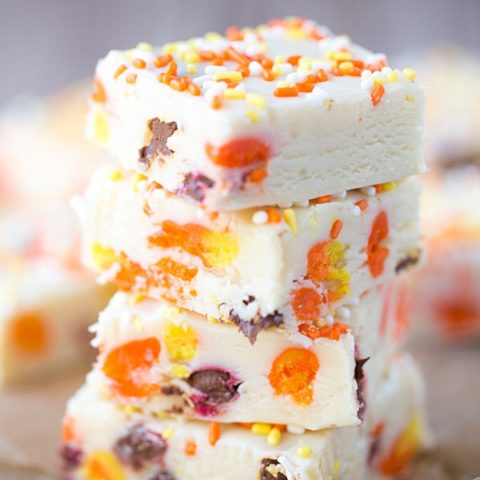 Candy Corn M&M White Chocolate Fudge
Yield: 16 pieces

Prep Time: 15 minutes

Total Time: 15 minutes
Ingredients
3 C white chocolate chips
1 tbsp unsalted butter
1 14oz can sweetened condensed milk
1 tsp vanilla extract
1/2 C candy corn
1/2 C fall M&Ms
1-2 tbsp Fall colored sprinkles
Instructions
Line a 9x9 baking pan with foil, folding the foil over the edges of the pan. Spray with cooking spray. Wipe away excess with a paper towel.
In a large sauce pan over low heat, heat the white chocolate chips, butter and sweetened condenses milk. Stir often until melted and easy to stir. Mix in the vanilla extract and then the candy corn and M&Ms.
Pour the mixture into the prepared baking pan and smooth if needed (I did not need to smooth mine). Top with sprinkles.
Let set at room temperature until set. You can also refrigerate for an hour or two to firm up the fudge faster.
Remove from the pan by lifting the edges of the foil. Cut into squares.
Notes
Number of pieces will depend on how small or large you cut the squares.

Adapted from Crazy for Crust.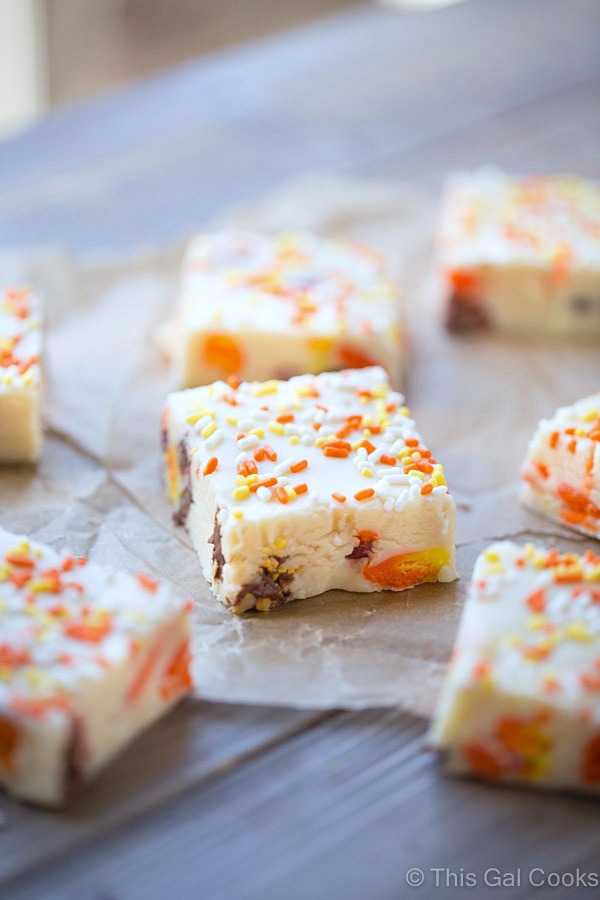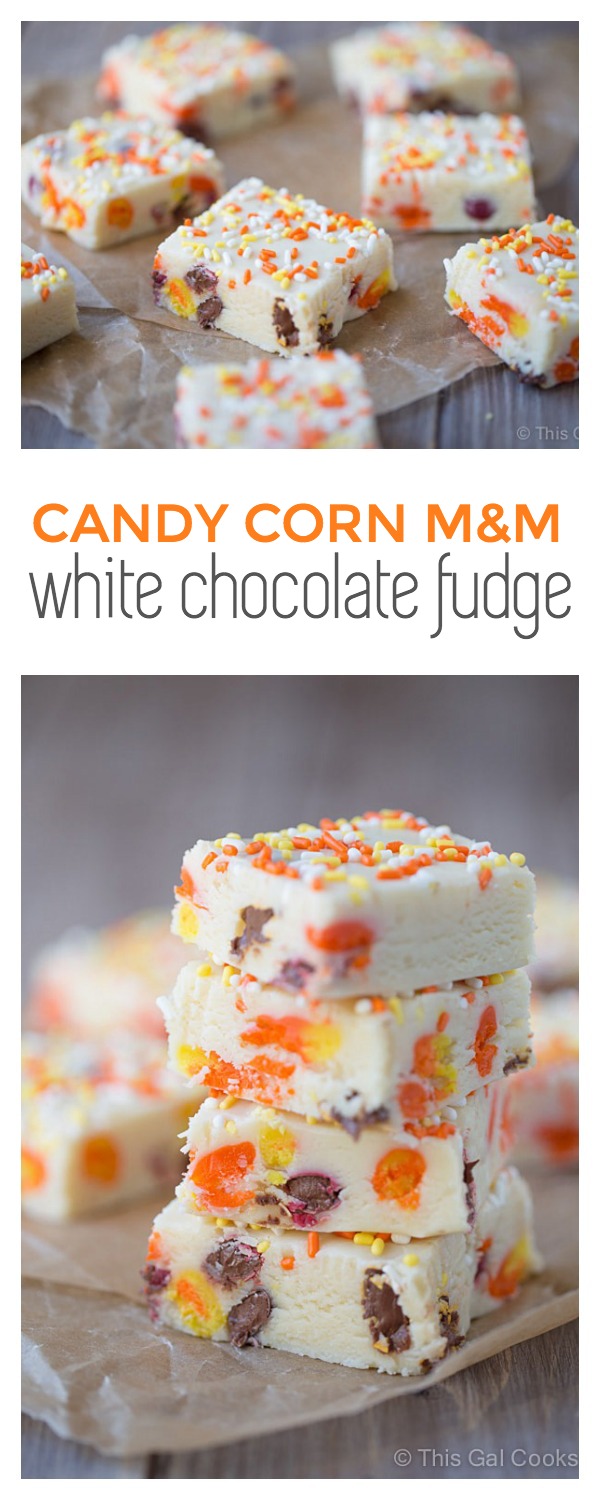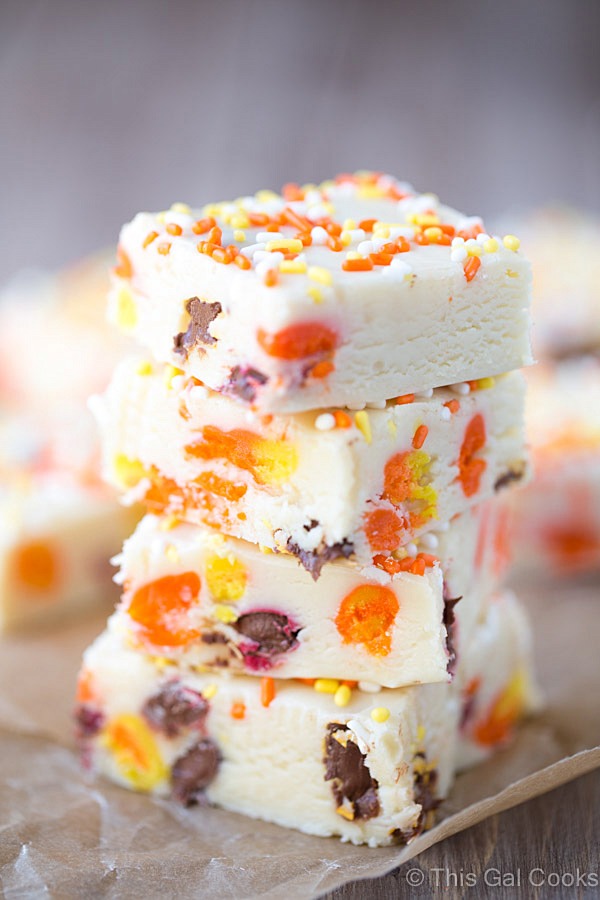 HUNGRY FOR MORE?
Try these tasty recipes from other great food bloggers. 
Chocolate Pumpkin Fudge from Spoonful of Flavor.
White Chocolate Cranberry Swirl Fudge from Will Cook for Smiles.
Cookies and Cream Chocolate Fudge from Call Me PMc.
One of my recipes that you may enjoy.