Fabulous Sponsors: Meet Deb and Carrie!
I'd like to introduce you to two of my lovely November sponsors. These ladies know how to cook some good meals and sweet treats! I am sure you will enjoy their blogs so stop by and let them know you are visiting from This Gal Cooks!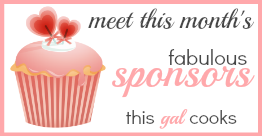 Have you met Deb from Cooking On The Front Burner? Let me tell you, she has some fantastic recipes on her blog. If I am in the mood for some tasty desserts or meals, I know I can rely on Deb's blog to give me some ideas! Deb shares recipes from cookbooks, magazines, friends and family and she even makes up some of her own.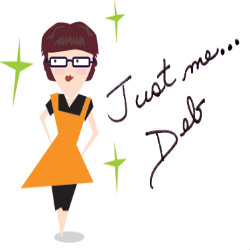 "I enjoy sharing what recipes or projects I'm working on – Most recipes are pretty healthy with the occasional dessert and fancy pants meal! Originally this started as a place for my girls to have an on-line cookbook but has grown with new friends and followers and I'm happy to connect with them all!"
Deb has a lot of food related tips and tricks on her blog. Looking for appetizer and table placement ideas for Christmas? Visit Deb's
Christmas Eve
post and you'll find an excellent table placement and a few appetizer ideas. Need help with menu planning for your Christmas feast? Check out Deb's
Christmas Day Menu
for some menu planning ideas for your holiday feast. In search of a non-traditional Christmas dinner recipe? Deb has the perfect recipe for you.
Christmas Raviolis
are made from scratch and look fantastic. A sure crowd pleaser!
This month I asked each of my sponsors what their favorite part of the holiday season is and why. Here's what Deb had to say:
"My favorite part is Christmas Eve where I do a traditional Italian meatless dinner with our good friends…we gather at our place, have some fun, festive cocktails and apps, then move on to salad and shrimp cocktail. We take and break then cook the fish and other items…we clean up then we exchange gifts and have dessert…we have been doing this for 20 years since we both moved from NY to MN (withe the guys jobs). We start at 5:30 and have our dessert around 11 – just a nice, fun night that we don't rush through…and I love doing a fun tablescape…check out my link above :-)"
Please take a moment to stop by Deb's wonderful blog and tell her hello. You're surely find a tasty recipe to try!
---
Have you met Carrie from
Frugal Foodie Mama
? If you're looking for tasty recipes, frugal tips and some great Pinterest finds, Carrie's blog is the blog for you. If I want to get new ideas, frugal food tips, excellent uses for left over food or food items (see Carrie's post on
Freezing Leftover Pumpkin
as an example) or tasty recipe ideas, I head over to Carrie's blog.
"I am a stay-at-home mama blogging about the food I love to make, my journey to become more semi crunchy, & how to stay a foodie on a budget." 
Carrie has a knack for making tasty desserts; some of them are great for the cook who is short on time. Have you ever wanted to have a slice of warm cake but didn't have the time to bake an entire cake? Carrie has the perfect solution for this minor dilemma: Pumpkin Spice Mug Cake. Do you like apples? Do you like apple butter? Do you  have apples that need to be used up (ok, even if you don't, this recipe is still great!) Are you looking for an easy peasy apple butter recipe? Sure you are. Carrie's Homemade Apple Butter in the Crock Pot is sure to please you and your guests. Looking for something a little sweeter to quench your desire for delicious sweet treats? Carrie's Peanut Butter Chocolate Mousse Pie is sure to put a smile on your face. This simple, no bake pie would make a perfect addition to your holiday dessert table.
This month I asked each of my sponsors what their favorite part of the holiday season is and why? Here's what Carrie had to say:
"One of my favorite things about the holiday season is the family get-togethers. My mother's family is large and so is my husband's. There are always a ton of relatives over at different family member's homes and lots of wonderful food. We always to go my grandparents' the evening of Christmas Eve. It is a family tradition."
Please take a moment to stop by Carrie's wonderful blog and say hello. She currently has two GIVEAWAYS going on:
I'd love to hear what you think about this post. Did you visit Deb's and Carrie's blogs? If so, what were your favorite posts from their blogs?