Blog-Working Wednesdays Blog Hop – I'm a Co-Host!
Hello all and thanks for stopping by Blog Working Wednesday! I'm delighted to be a co-host this week and I thank Paige (she's from Eloping Stethoscope – go check out her blog if you haven't already!) a bunch for having me! I hope you will link up to this wonderful party and make some new friends. I'd love for you to spread the word about this party! Now, I'll hand it over to Paige!
---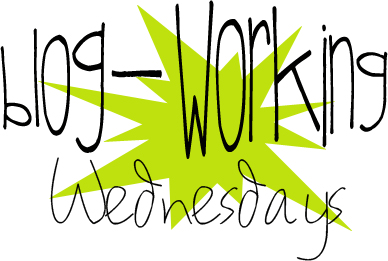 It is so hard to believe that we are in the 5th month of this blog hop! I never imagined that that this hop would be as much of a success as it is but I am thrilled! 
The last time we hosted this blog hop, there was over 140 links which is amazing!! So spread the word so hopefully we can beat that!
For now, this blog hop will remain a monthly blog hop, but it may go biweekly or even weekly in the future. 
A little history of the blog hop from Paige:
"When I first started blogging, my favorite thing was finding new blogs that I just loved and girls that I connected with! So, the idea of "blogworking" which plays on the word "networking" came into play. Whenever my husband asked what I was doing when I was looking for new blogs, I'd tell him I was blog-working. Soon after, the idea of a blog hop popped into mind and you have what you see today."
These lovely ladies are the cohosts of the blog hop, so please go check out their blogs and follow them!Paige @ Eloping Stethoscope (Permanent Host)Jazmine @ Life as a Young Mom (Permanent Host)Julie @ This Gal Cooks (Guest Host)Elisabeth @ La Vita e Bella (Guest Host)Jenn @ Coloring Outside The Lines (Guest Host)The rules are simple. 1. Add your homepage link to the link up list2. Be nice and spread the word! Grab the button and post it somewhere!3. Find and follow at least two other blogs. 4. Show some love to the hosts and follow them too!
Tweet!function(d,s,id){var js,fjs=d.getElementsByTagName(s)[0];if(!d.getElementById(id)){js=d.createElement(s);js.id=id;js.src="//platform.twitter.com/widgets.js";fjs.parentNode.insertBefore(js,fjs);}}(document,"script","twitter-wjs");