Cinnamon Roll Breakfast Cake
Who loves cinnamon rolls? I do, I do! Yesterday morning I was craving cinnamon rolls so I decided to make some. I went over to my good friend Paula's blog, Call Me PMc, to check out her cinnamon roll recipe. Ack! I didn't realize that it would take 2 hours for the dough to rise so I had to resort to something else. We were starving and we couldn't wait over 2 hours for breakfast! So I visited Pinterest and found this amazing recipe for a cinnamon roll cake. I decided to settle on this recipe but I cut the recipe in half and did something a little different with the glaze: I poked holes in the cake so the glaze would drizzle into the cake, similar to what you would do with a poke cake. Oh. My. Goodness. This is the BEST cake I've had in a long time. It's moist, sweet and full of yummy goodness. I Hope you enjoy this recipe!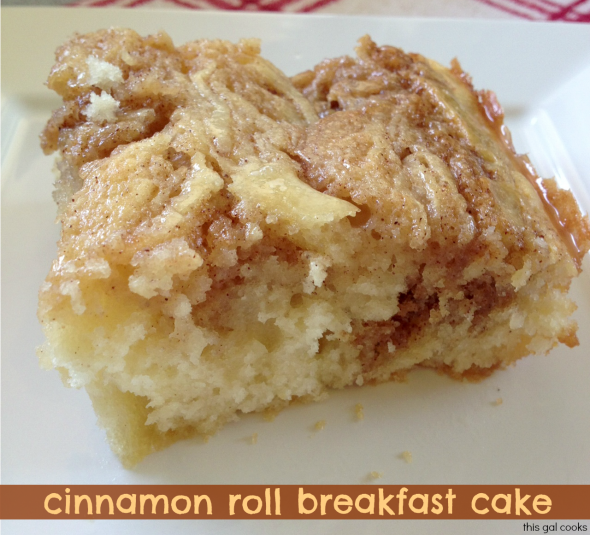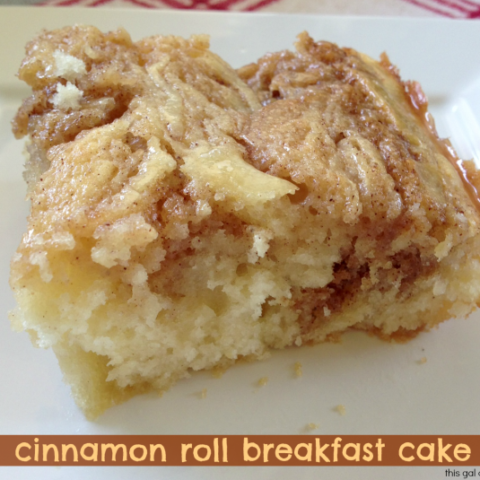 Cinnamon Roll Breakfast Cake
Yield: 6-8
Prep Time: 15 minutes
Cook Time: 30 minutes
Total Time: 45 minutes
Ingredients
For the cake mix:
1 1/2 C All Purpose Flour
1/2 tsp salt
1/2 C white sugar
2 tsp baking powder
3/4 C milk
1 egg
1 tsp vanilla extract
1/4 C butter, melted
For the Cinnamon Sugar Topping:
1/2 C butter, room temp
1/2 C packed brown sugar
1 tbsp all purpose flour
1/2 tbsp cinnamon
For the Glaze:
1 C powdered sugar
2.5 tbsp milk
1/2 tsp vanilla
Instructions
In a mixing bowl, combine the flour, salt, white sugar, baking powder, milk, egg and vanilla.
Stir in the melted butter.
In another mixing bowl, combine the ingredients for the cinnamon sugar topping.
Pour the cake mix into a greased 8x8 baking dish. Drop the cinnamon sugar topping into small drops on the top of the cake. Swirl with a knife.
Bake at 350 for 25-27 minutes or until a toothpick inserted into the center comes out clean.
While the cake is baking, prepare the glaze. Whisk together the glaze ingredients in a mixing bowl.
When the cake is done baking, poke holes into it with a toothpick (I used a large skewer so the holes would be a little bigger than a regular toothpick hole)
Pour the glaze over the cake.
Allow to cool for about 10 minutes before serving.
More recipes from This Gal Cooks
{click the images to get the recipes}