Spinach Dip Pasta
Time to stuff your face with one of the best pasta dishes ever: Spinach Dip Pasta.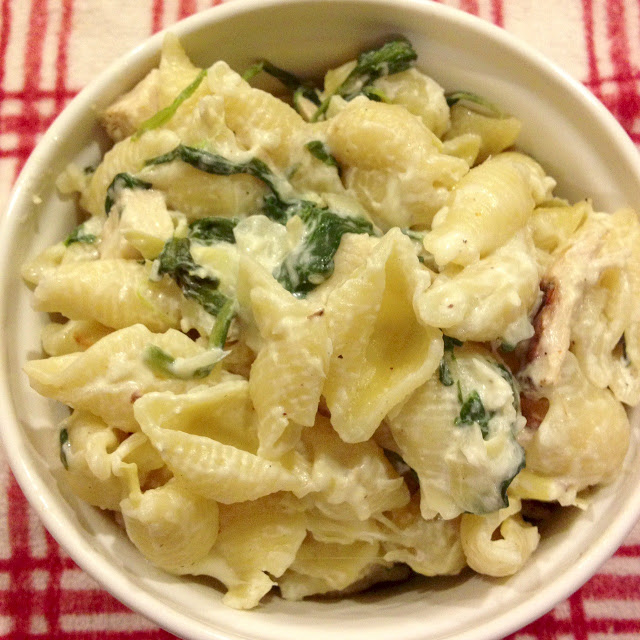 A few weeks ago I found an awesome recipe on White Lights On Wednesday:
Spin Dip Pasta
. When I saw this recipe, I knew I had to try it. And boy am I glad that I did. I did make a few adjustments – I used fresh spinach as I had some on hand and I added grilled chicken and some hot sauce to the mix. This is one fantastic tasting meal! And with there only being two of us in my household, the leftovers lasted for a few days.
What did I like best about this recipe? The combination of flavors mingled very well together. The sauce was creamy and delicious. The artichokes gave the dish a nice, mellow flavor. This will be something that I definitely make again. I hope you enjoy this recipe! Be sure to stop by Julie's (the other Julie, she has a rad name too!) blog
White Lights on Wednesday
to check out more of her fantastic recipes.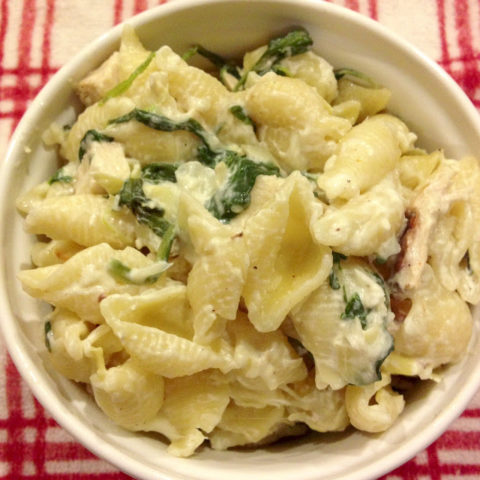 Spin Dip Pasta
Yield: 10
Prep Time: 15 minutes
Cook Time: 20 minutes
Total Time: 35 minutes
Ingredients
2 grilled chicken breasts, cubed
1 6oz bag of baby spinach
1/2 onion, chopped
1 C sour cream
6oz cream cheese
2 clove garlic, minced
16oz shell pasta
3/4 C Parmesan cheese
8oz can of artichoke hearts, drained, rinsed and chopped
seasoned salt and pepper to taste
1 C mozzarella cheese
1 tsp hot sauce
2 tbsp olive oil, divided
Instructions
Cook the pasta
In a large pot, saute the spinach in 1 tbsp of olive oil. Drain and set aside.
In a large pot, saute the onion and garlic in 1 tbsp of olive oil. Remove from heat and set aside.
In a large mixing bowl, combine the sour cream, cream cheese, parmesan cheese, hot sauce, garlic, onion, spinach, chicken and artichoke hearts. Add seasoned salt and pepper to taste. Stir in the pasta and then pour into a greased 13x9 baking dish. Top with the mozzarella cheese and bake at 350 for 20 minutes.