Easy Vegetarian Taco Bowl
Whip up a quick dinner in under thirty minutes with this Easy Vegetarian Taco Bowl recipe. Made with brown rice, black beans, fresh homemade salsa and shredded cheddar cheese.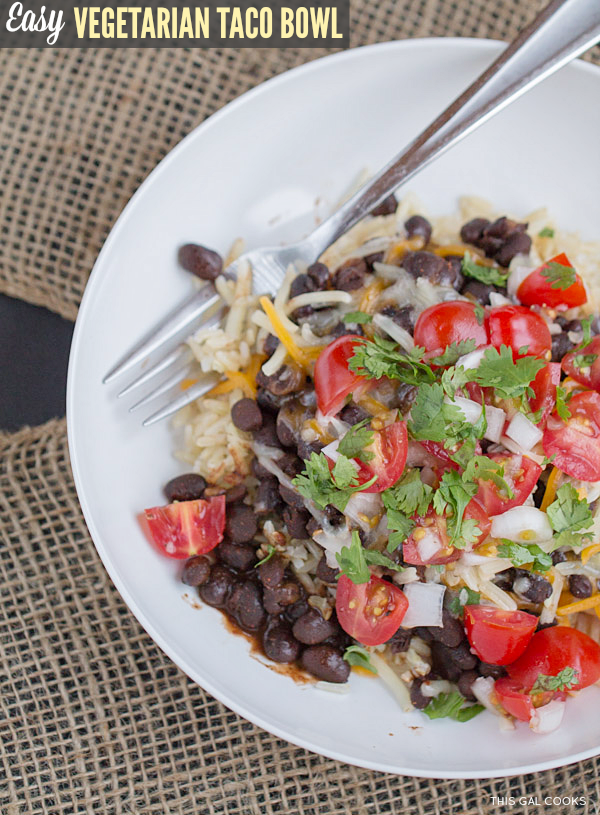 No joke, yo. I scrounged around the pantry and the fridge then threw this dinner together in under 30 minutes.
It was a Monday night. Ken wanted pizza. Not a surprise; he always wants pizza. Unfortunately for me, his choice of pizza establishment was in the less than stellar section of my pizza book.
I didn't really want pizza anyways. I'm not much of a pizza gal myself. Of course, I like pizza. I like to make it with a savory beer crust and bake it in a cast iron skillet. I like to order it from cute little Italian restaurants that make pizza pies piled high with meats and veggies. And M-E-A-T-B-A-L-L-S. Meatballs on a pizza make this gal swoon. But I wasn't digging the idea of biting into a pizza from the better pizza, better ingredients folks.
So I made this Easy Vegetarian Taco Bowl.
Easy Vegetarian Taco Bowl
The mood: kind of lazy. The craving: Mexican food. The dilemma: too lazy to even get in the car and drive to Chipotle or Tijuana Flats. The lightbulb moment: realizing I probably had all of the ingredients needed to make some sort of taco bowl.
Need a quick breakdown of how to get this from pantry to your belly? Get stuff from pantry and fridge. Cook rice in a rice cooker or on the stovetop. Make fresh salsa. Cook beans with taco seasoning. Place rice, beans, cheese, salsa, cilantro in a bowl in that order. Top with sour cream and lettuce to make it extra special. Fork, mouth, belly. Now you're satisfied.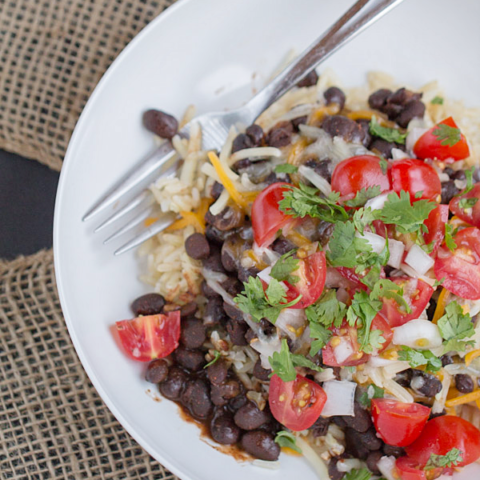 Easy Vegetarian Taco Bowl
Yield: 2

Prep Time: 20 minutes

Total Time: 20 minutes
Ingredients
3/4 C uncooked brown rice
1 15oz can black beans
1 tbsp all natural taco seasoning (or more or less, depending on what you love)
1/2 C grape tomatoes, quartered
1/2 tbsp chopped onion
1 clove garlic, minced
1 tbsp cilantro, torn plus more for topping
juice from 1 lime (about 2 tbsp)
Salt and pepper to taste
Shredded cheddar cheese (use your desired amount)
Toppings that you love - sour cream, jalapenos, hot sauce
Instructions
Cook the rice in a rice cooker or stove top according to directions
Meanwhile, drain the beans, reserving a little of the juices from the can. Add the beans and reserved juices to a medium sauce pan and heat over medium heat. Mix in taco seasoning.
Make the salsa. Mix together the tomatoes, lime juice, salt, pepper, garlic, onions and 1 tbsp cilantro.
By now, the rice should be done. Remove from the rice cooker and place into two bowls. Divide everything else up between the bowls, add desired toppings and enjoy.
Notes
If you're eating this solo, as I did, just put the beans, rice and cheese in a storage container. Heat and top with desired topping when ready to eat. If you're going to take it to work for lunch like I did, I just packed my toppings in little storage containers for easy transportation.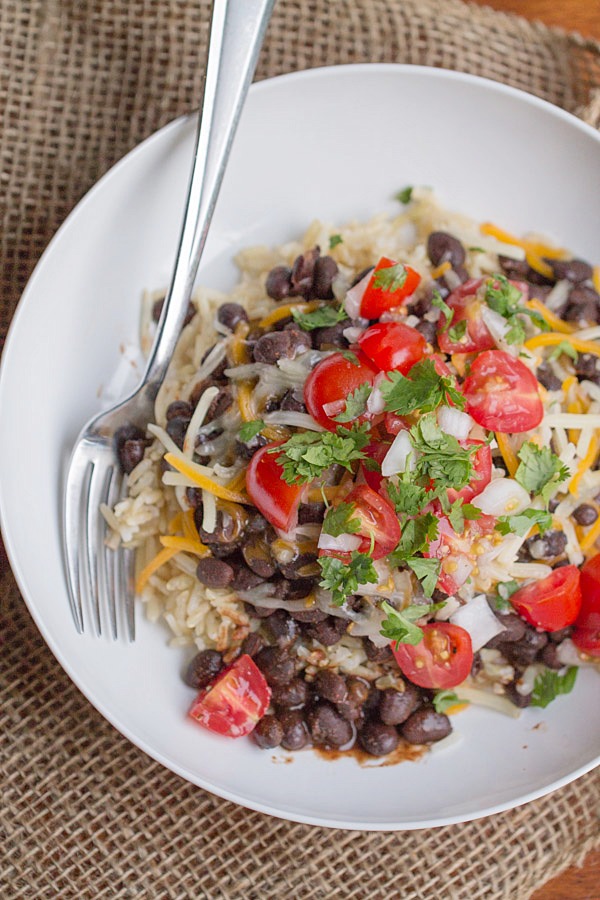 More tasty recipes from This Gal Cooks