Brussels Sprouts, Bacon and Goat Cheese Frittata
Brussels Sprouts, Bacon and Goat Cheese Frittata: Bacon, brussels sprouts, fresh herbs and spices are sauteed until tender, topped with goat cheese, mixed with egg and baked to perfection.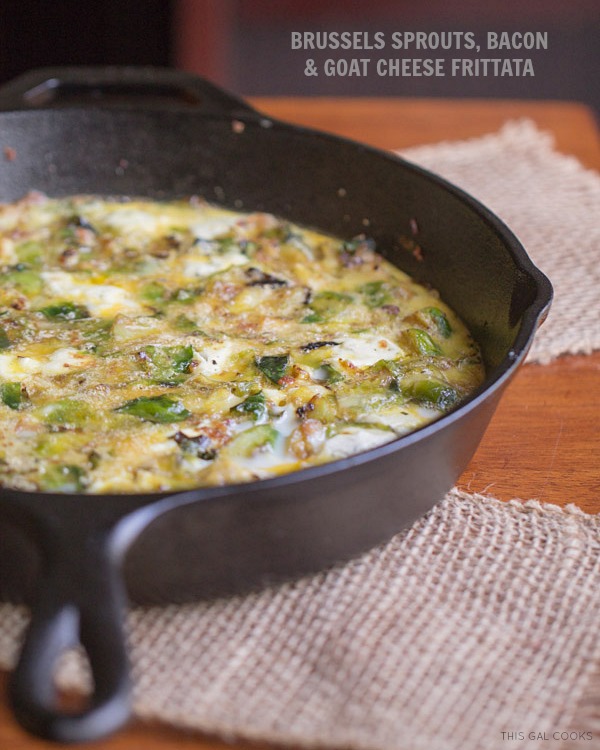 Brussels Sprouts.
Cute little veggies that look like mini cabbages. Don't ya know I love cute little veggies. Grape tomatoes, petite potatoes, and little baby mushrooms – they all have a place in my heart. Funny story though, brussels sprouts did not have a place in my heart when I was a kid. They had a place in my napkin, as in me spitting them into my napkin when my mom made me try them. I thought I was slick. A little "cough cough" into the napkin after I took a bite, no one would know. And for many years, I though no one knew. Then one day, it somehow came up while I was chatting with my mom. Yeah, she knew my little trick. We laughed about it then but I can only imagine the wrath of a mother who wanted her children to try veggies, only to find her beloved daughter was "coughing" said veggies into a napkin. I'm glad mom contained her wrath of veggie anger.
Brussels Sprouts, Bacon and Goat Cheese Frittata
I'm also equally glad that I finally came around to liking loving brussels sprouts. My favorite way to enjoy them – roasted with bacon. Yum. I'm drooling just thinking about it. Excuse me while I clean up the drool.
Ok, that's better. Anywho, I based this recipe off of a recipe that I found in Clean Eating Magazine, Volume 7, Issue 2. I'm such a good little citation gal, aren't I? I should be. I've been living in APA land for the past couple of years. I'm happy to say that I will be taking a permanent vacation from APA land starting in August.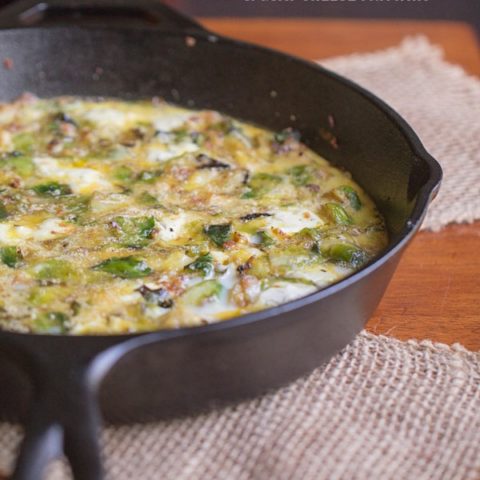 Brussels Sprouts, Bacon and Goat Cheese Frittata
Yield: 8

Prep Time: 15 minutes

Cook Time: 15 minutes

Total Time: 30 minutes
Ingredients
8 large eggs, beaten
10 oz brussels sprouts, trimmed and quartered
1 shallot, finely chopped
2 cloves of garlic, minced
2 tbsp grated parmesan cheese
2 oz herb goat cheese, crumbled
4 slices of bacon, finely chopped (I chopped the bacon in my food processor)
1/2 tbsp butter
1 small sprig of fresh rosemary, chopped
1/2 tsp kosher salt (or more or less based on your taste preference)
1/4 tsp ground black pepper
Instructions
Combine rosemary, shallot, brussels sprouts, garlic and salt and pepper. Set aside.
Cook bacon in a 10 inch cast iron skillet, over medium heat, until crisp. Remove from the skillet and set aside, leave the bacon grease in the skillet.
Add the brussels sprout mixture and the butter to the skillet. Saute until the brussels sprouts are tender.
Remove the skillet from heat and add the bacon and parmesan cheese. Mix well. Sprinkle with the goat cheese and then pour the eggs over top. Gently stir to distribute the mixture evenly.
Bake at 350 for 15 minutes or until the center is set.
Notes
Adapted from Clean Eating, Volume 7, Issue 2, page 77: Butternut Squash, Brussels Sprouts & Parmesan Frittata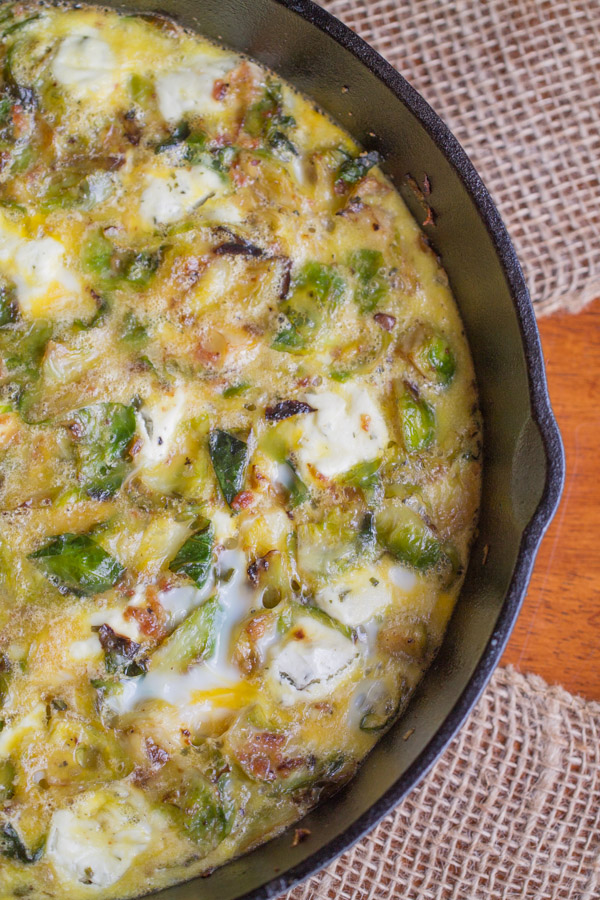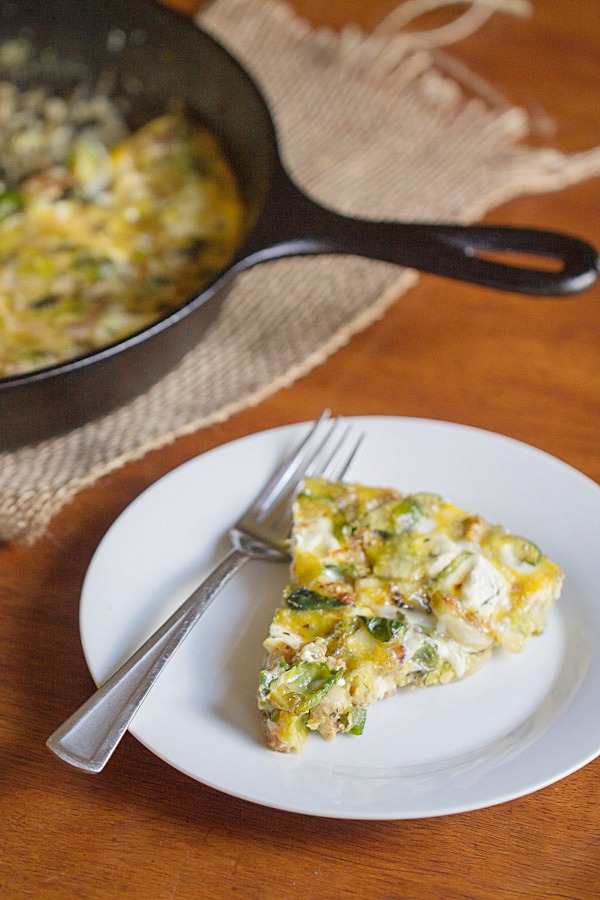 Will you be trying this Brussels Sprouts, Bacon and Goat Cheese Frittata?
More tasty recipes from This Gal Cooks
{click images to view recipes}