Easy Skillet Tamale Pie by A Little Claireification
 Hi all! While I'm recovering from the BlogHer Food festivities from the weekend, my good pal Claire is going to take over the blog today and share this Easy Skillet Tamale Pie. She sure knows how to win this gal over!
Hi there, This Gal Cooks readers!  It's me, Claire, from A Little CLAIREification popping in to take over the wheel apron while Julie is off at the fabulous BlogHer Food conference in Miami.  Don't Julie's recipes just make your mouth water every day??  It's an honor to be posting for you all here today.
I don't think there is ever a time I am not in the mood for Mexican food.  It is one of my all time favorites and I know Julie is kind of a super huge fan as well.  She also posted some fun skillet recipes lately so I thought I needed to give it a whirl with this Easy Skillet Tamale Pie.
We have an assortment of cast iron skillets and I totally need to use them more in the oven so I am on a mission to do just that.  Oh and, hey listen.  They get hot.  Like, reeeally hot (I'm a genius, I know) and they stay really hot for longer than "this gal" realized.
I may have almost sacrificed a finger to bring you this recipe.
It was deliciously worth the minor burn.  My Husband said I should call it Mexican Shepherd's Pie and he's kind of right – it's just that there is a layer of delectable corn bread on top instead of potatoes.  And no carrots.  Oh and no peas.
You see I stuck with the original name.
I am a working Mama to three hungry boys ("you want to eat AGAIN??") so anytime I can whip up a one pot, or one skillet, meal you can count me in.  I find recipe inspiration all over the place and this one was sent to me by eMeals so I knew I had to try it out when I saw the name.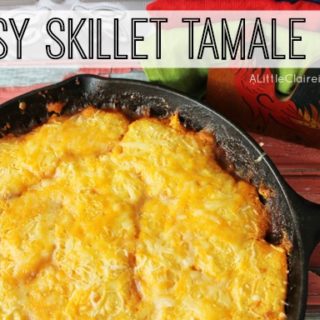 Easy Skillet Tamale Pie
Yield: 8
Prep Time: 10 minutes
Cook Time: 25 minutes
Total Time: 35 minutes
Ingredients
1 lb ground beef
1/2 large onion, diced
2 (10-oz) cans enchilada sauce
15 oz can chili beans, drained
4 oz can diced green chiles
1 teaspoon garlic salt
1 teaspoon ground cumin
2 (6.5-oz) packages corn muffin mix
1 cup milk
1⁄2 cup shredded sharp Cheddar cheese, plus extra for topping
Instructions
Preheat oven to 400 degrees.
Cook ground beef and onion in a large ovenproof skillet over medium heat until beef is browned and crumbled.
Drain the beef on a paper towel lined plate, and return to skillet.
Increase the heat a bit and stir in enchilada sauce, beans, chiles, garlic salt and cumin and bring to a boil.
Reduce the heat to low, and simmer 10 minutes.
Stir together corn muffin mix, milk and cheese, until dry ingredients are moistened.
Drop by heaping tablespoonfuls over meat mixture.
Bake 25 minutes or until golden brown.
Top with more shredded cheddar if desired for the last 2-3 minutes.
Notes
inspired by eMeals by ALittleClaireification.com for ThisGalCooks.com
Aside from browning the beef, chopping a little onion and mixing up a little cornbread mix with milk and cheese, there is zero prep.  It is super full of flavor and not too spicy at all.  In fact, if you like things on the spicier side, serve it with a little hot sauce.
Here are a couple other Mexican favorites from A Little CLAIREification that you might enjoy:
Chilaquiles Mexican Crockpot Soup
and my Low Calorie Enchiladas Verdes
I hope you will all pop over and say hello – any friend of Julie's is a friend of mine so come on by!
Thanks so much for having me over today, Julie.
Meet Claire