Mint Chocolate Mocha Cookie Dough Bites + Life
Mint Chocolate Mocha Cookie Dough Bites: These little bite sized treats are made with Andes peppermint chips, cocoa powder and coffee extract. No eggs here. Enjoy 'em raw!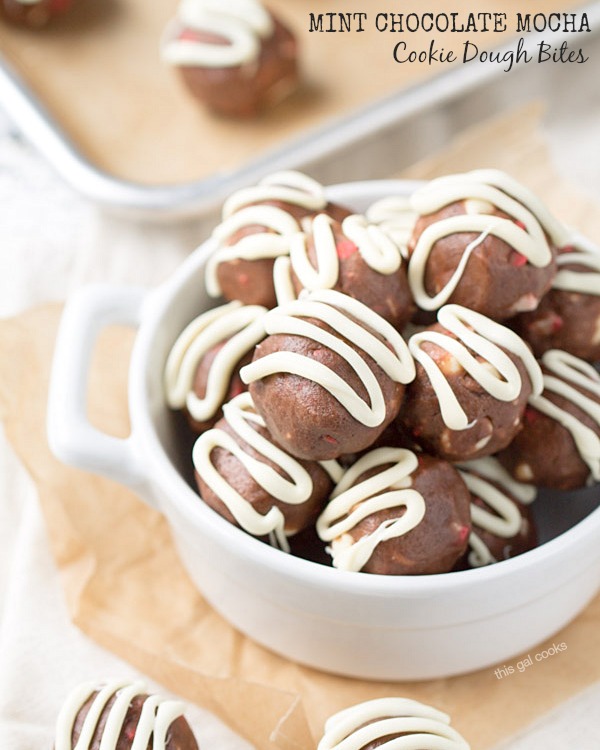 Do you ever have those days where you just feel like you just can't think of anything to write? Or maybe you can't think of anything to say to those around you. I've often found myself in both of those situations. And when I think about it, think about why I can't think of anything to write or to say to those around me, I totally question it. Why can't I put in writing all of the ideas that come into my mind? Why can't I speak all of those words in my mind to those around me?
Anxiety. Fear. Lack of confidence.
There, I said it.
Seriously, I have tons of crazy/funny/silly stories that I come up with. I have some pretty silly dreams that I totally think would be funny to share on this blog. I always tell myself that I am going to go talk to those people over there. I'm going to be the one who starts the conversation with that group of people instead of waiting for them to talk to me first.
But I don't do it. I don't write about all of those silly dreams or stories. I don't always share what's on my mind. Maybe I think my readers will be turned off by a food blogger writing about non-food topics.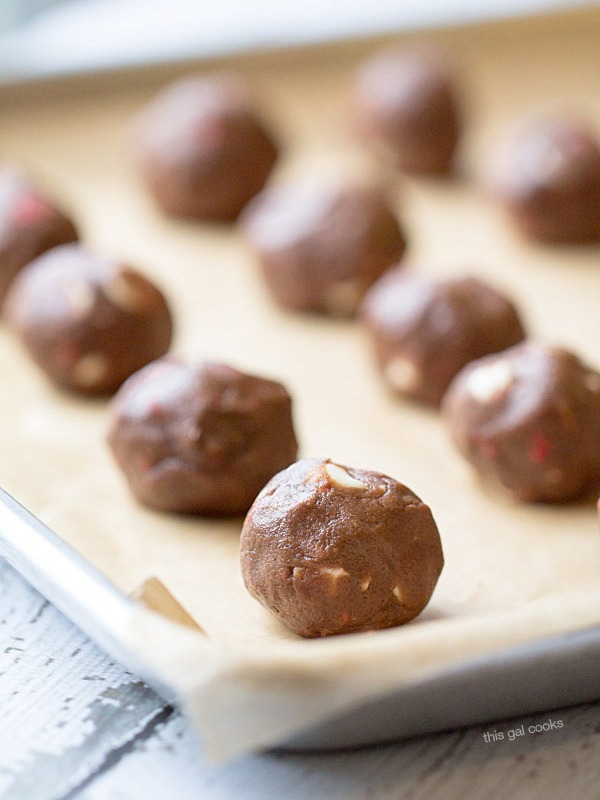 I went to BlogHer food last weekend. Going into the conference, I was a little anxious. I love talking to people. My co-workers think I'm a pretty social person – the social butterfly of the department. I was anxious but I thought I would get over the anxiety and talk to a lot of people. And I did talk to people. I talked to brands. I talked to bloggers. But it was all one-on-one stuff. When I got near a large group of people who were socializing together, I clammed up. I got anxious and I woudln't go over and join the conversation with them.
It's weird feeling like a totally social person but then getting crazy anxious around a ton of people. Do any of you feel like that?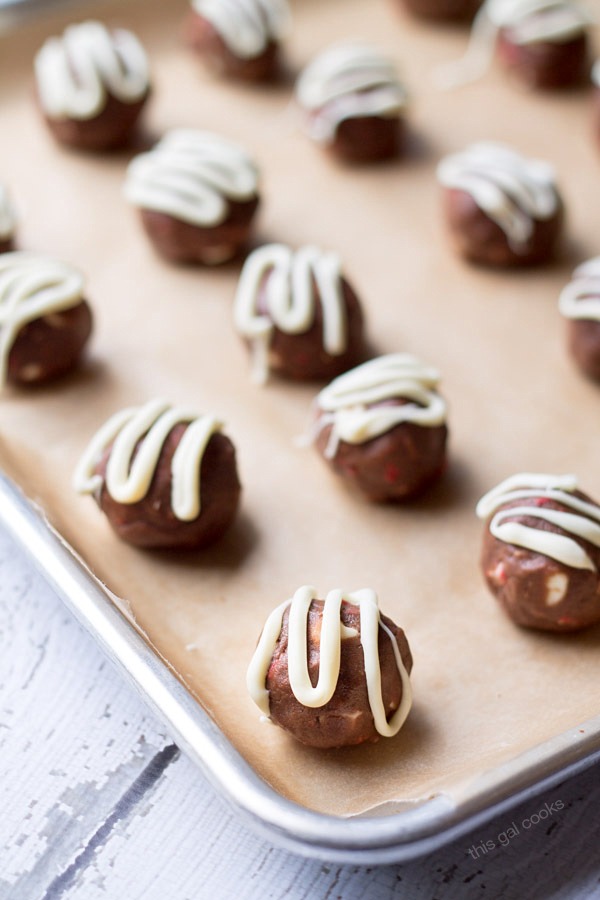 So do you all mind if I ramble about life, silly things and random thoughts that come to my mind?
Why do people care so much about what others think? We all do. Even if we say we don't. Sometimes I try to act like a tough gal. I tell everyone that I don't care what people think. But deep down, I do.
"Be who you are and say what you feel because those who matter don't mind and those who mind don't matter"
-unknown but often attributed to Dr. Suess
Do we want to move on to cookie dough bite therapy now? Heck yeah!
I adapted this recipe from Sally's Baking Addiction's super tasty, crazy good cookbook. It's easy to make and no bake. Which means your house won't turn into a heat factory during the summer. Store 'em in the fridge for up to a week for easy snacking. Easy snacking can be dangerous. Dangerously good.
Mint Chocolate Mocha Cookie Dough Bites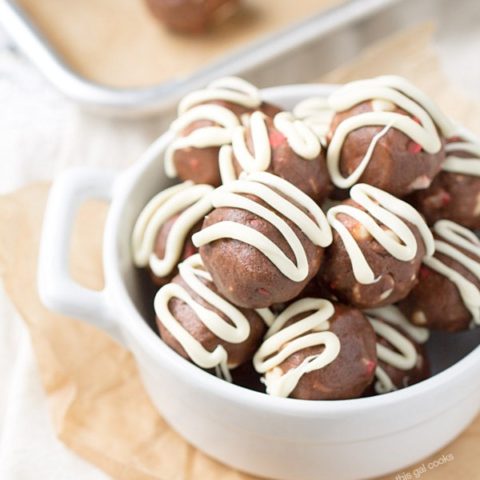 Mint Chocolate Mocha Cookie Dough Bites
Yield: 20

Prep Time: 15 minutes

Total Time: 15 minutes
Ingredients
1/2 C butter, room temp
3/4 C light brown sugar
2 tbsp half and half
1/2 tsp vanilla extract
1/2 tsp coffee extract
3/4 C all purpose flour
1/4 C whole wheat flour
1/4 C cocoa powder
pinch of salt
1 C andes peppermint chips
1/2 C white chocolate chips
6 oz of white chocolate chips for drizzling
Instructions
In the bowl of a stand mixer, beat together the sugars and butter on medium speed. (you can also use a hand mixer).
Add the half and half, vanilla and coffee extracts and beat until combined. Add the flours, cocoa powder and salt and beat until combined. Mix in the peppermint chips and the 1/2 C white chocolate chips with a wooden spatula.
Roll the dough into tsp sized balls and place on a parchment lined baking sheet. Place in your fridge and then prepare the white chocolate drizzle by slowly melting the white chocolate chips in a microwave. Start at 20 seconds and then stir. 20 more seconds and stir again. Repeat this process until the white chocolate chips are melted and creamy.
Place the melted white chocolate chips into a piping bag or a ziplock bag. If using a ziplock bag, cut off a small piece of the corner of the bag. Drizzle over the cookie dough bites. Refrigerate for 10-15 minutes before serving.
Notes
Makes approximately 40 cookie dough bites.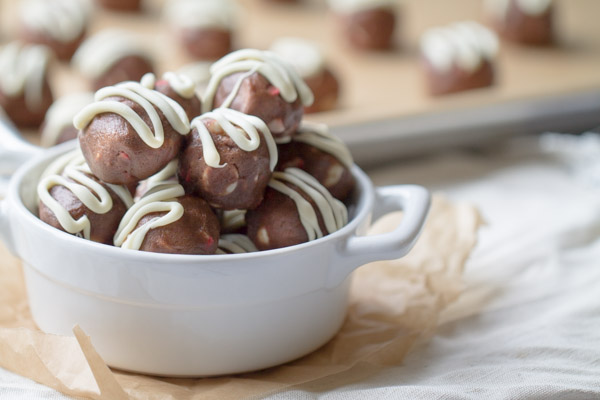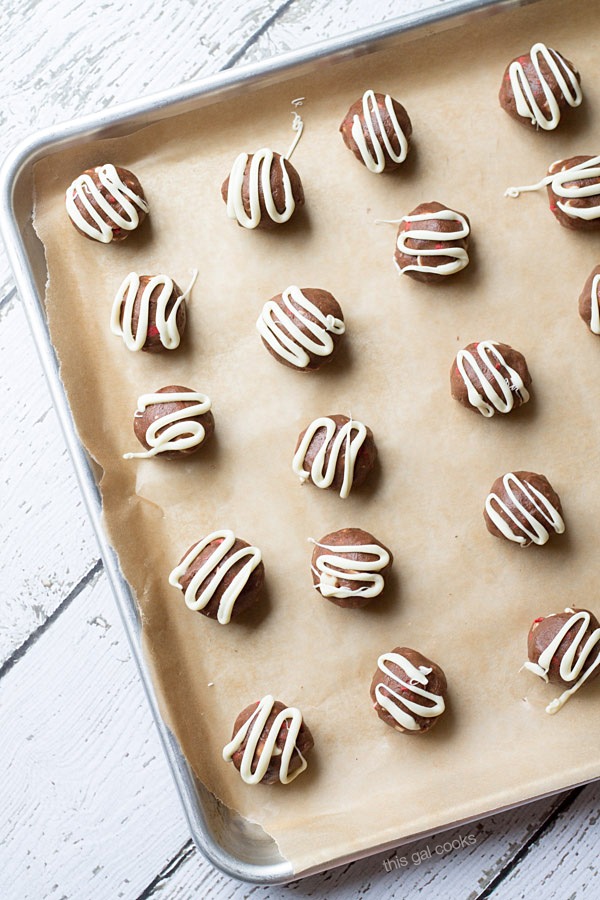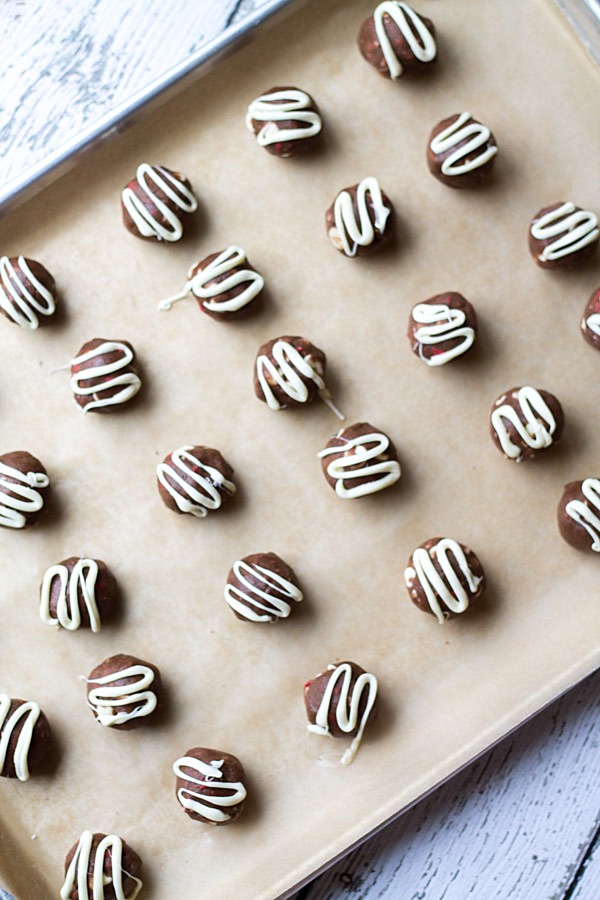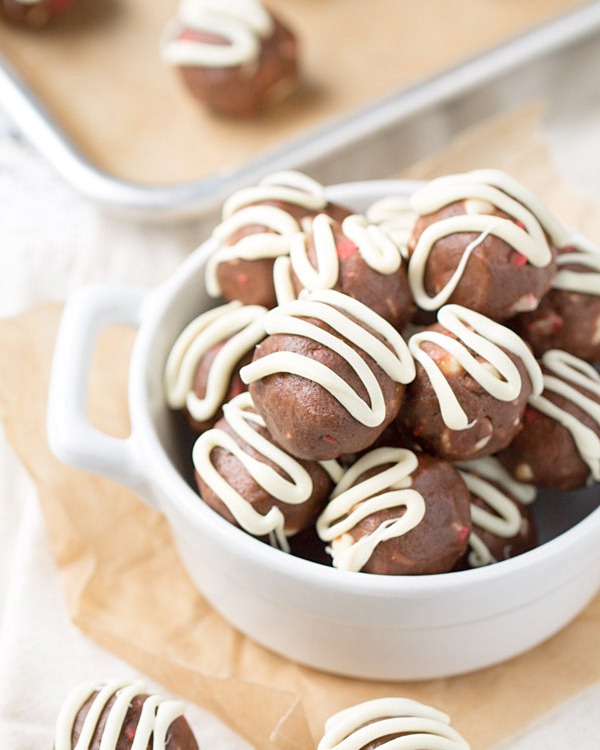 More cookie recipes that you may like love:
Click images for recipes