Crockpot Chicken Burrito Bowls
Come home to a tasty, delicious dinner after a long day's work. These Crockpot Chicken Burrito Bowls require minimal prep time and are on the table in less than 15 minutes once done slow cooking!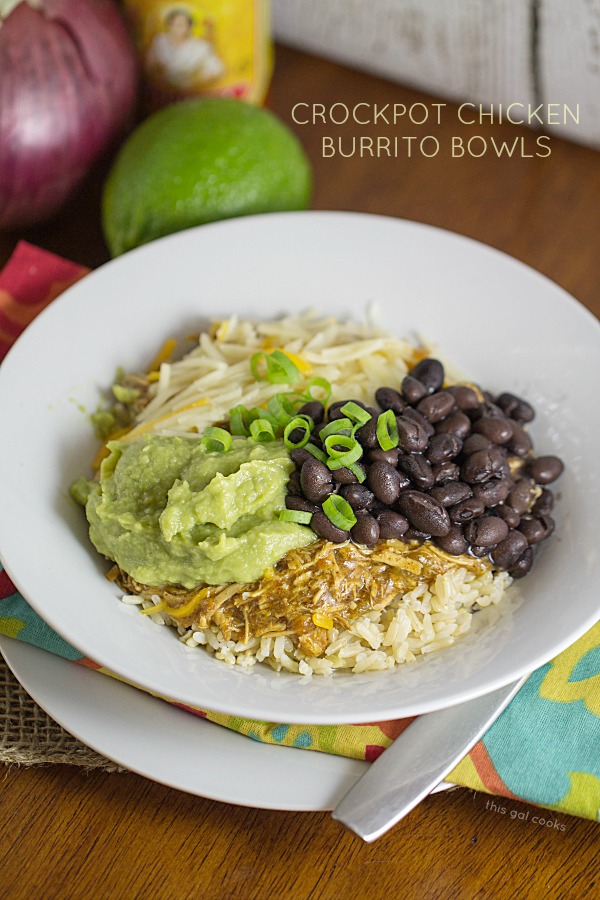 I love Mexican style food. I like eating it. I like making it. I REALLY like making it. There's this Quick & Easy Cheesy Taco Casserole that I made a while back. Oh and this absolutely swoon-worthy Taco Lasagna. Tacos. Lasagna. Nuff said. And last night I made something special. Seafood Enchilada Pasta Bake. Creamy sauce with shrimp and imitation crab meat (come on, the real crab meat is too expensive right now!) mixed with ziti, topped with cheese. Yum.  You'll want to stay tuned because I'll be sharing that tasty goodness very soon.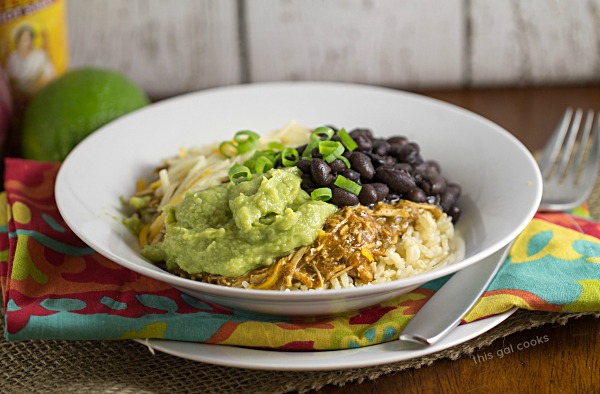 Crockpot Chicken Burrito Bowls
Crockpots. Oh yea, I love them too. I especially like making chicken dishes in them. These Crockpot Chicken Burrito Bowls were no exception. Who can resist throwing a few ingredients into a crockpot when the results are a tasty dinner waiting for you when you get home?
For this recipe, I threw a couple of chicken breasts into my crockpot. Then I added chopped fresh tomatoes and onions, some diced green chilis, a can of beer and some homemade taco seasoning. I cooked this on low for 8-9 hours. You could probably cook it for 5-6 hours but I was at work so 8-9 hours had to do. It still came out great even after 9 hours of slow cooking. I served this with brown rice and topped it with guacamole, black beans, shredded cheese and green onions. Feel free to top it with your favorite toppings.
There was enough of this to last Ken and I for a few days. You can freeze excess leftovers. But if you're feeding a crew, you'll definitely have enough to go around. I hope you enjoy this recipe!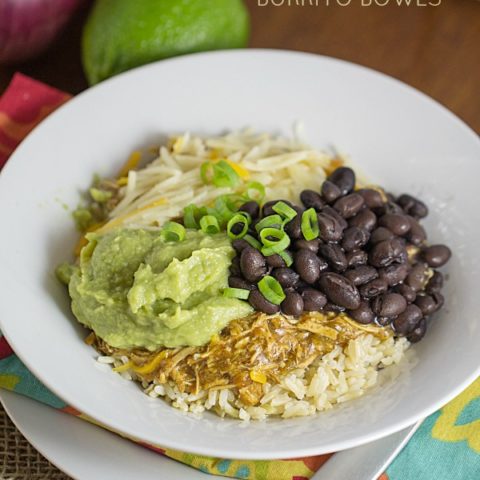 Crockpot Chicken Burrito Bowls
Yield: 6-8 servings

Prep Time: 15 minutes

Cook Time: 8 hours

Total Time: 8 hours 15 minutes
Ingredients
2 boneless, skinless chicken breasts
1 large tomato, chopped
1/2 medium onion, chopped
1 4oz can of diced green chilis
1 12oz can of beer
2 tbsp taco seasoning
2-3 tbsp cornstarch
Salt to taste
Cooked brown rice
Assorted toppings such as black beans, refried beans, shredded cheese, sour cream and salsa
Instructions
Spray your crockpot with cooking spray. Place the chicken breasts in it.
Add the tomatoes and onions.
Mix together the beer and taco seasoning and pour it over the chicken and veggies. Top with the diced green chilis.
Cover and cook on low for 4-5 hours*.
After it's done cooking, gradually whisk in cornstarch until desired thickness is reached. Season with salt, to taste.
Serve over rice and top with your favorite toppings.
Notes
Toppings will alter the nutrition information.
Cooking time will depend on the size of your slow cooker and how hot your slow cooker gets. I use a 3.5 quart Cuisnart slow cooker and it takes 4-5 hours to cook chicken breasts; however, my old 6.5 quart slow cooker took 7-8 hours to cook the chicken.
Nutrition Information:

Amount Per Serving: Calories: 200 Total Fat: 2g Carbohydrates: 31g Sugar: 3g Protein: 12g