Nutella Stuffed Peanut Butter Cookies
Peanut butter lovers rejoice. These Nutella Stuffed Peanut Butter Cookies are full of your favorite hazelnut spread, chocolate chips and of course, peanut butter!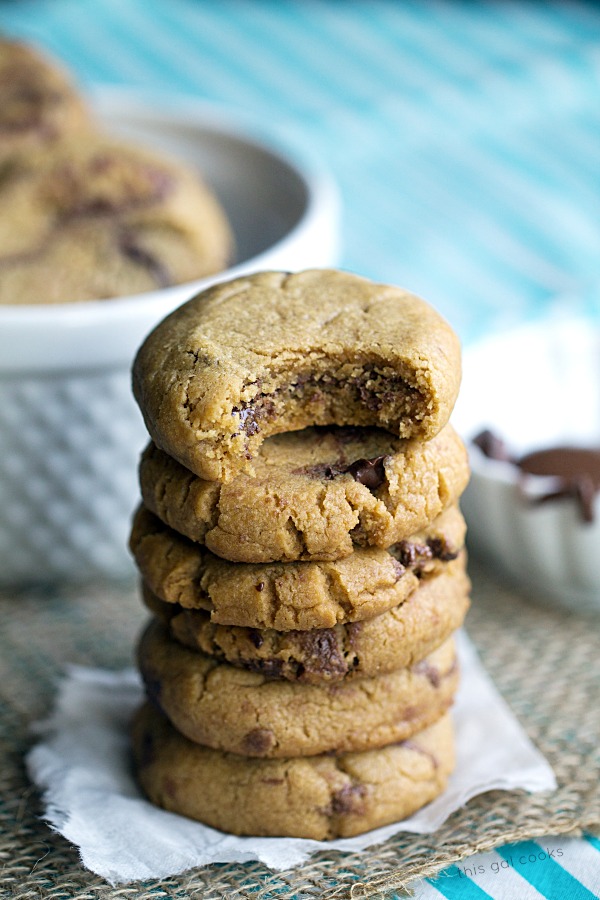 Nutella Stuffed Peanut Butter Cookies
What, cookies? I thought you were supposed to be posting healthy recipes. Well, I am. But it's been a few weeks since I shared a dessert recipe so I figured I'd share these tasty cookies today. You aren't complaining, are you?
I didn't think so.
Peanut butter. Nutella. Two of my favorite things. Not necessarily together. Together or apart, I love 'em both. I keep a jar of peanut butter in my desk at work. I've been known to have it sitting on top of my desk, plastic spoon sticking out of it. That's right, I'll eat it right out of the jar. That's how I roll. Oh so not only do I like eating peanut butter out of a jar, I also just so happen to like cooking with it. And eating it. Savory or sweet, I do not discriminate. If you love peanut butter like me, then you'll love this Thai Peanut Sauce with Whole Wheat Noodles. Or this Fluffernutter Peanut Butter Cup Ice Cream.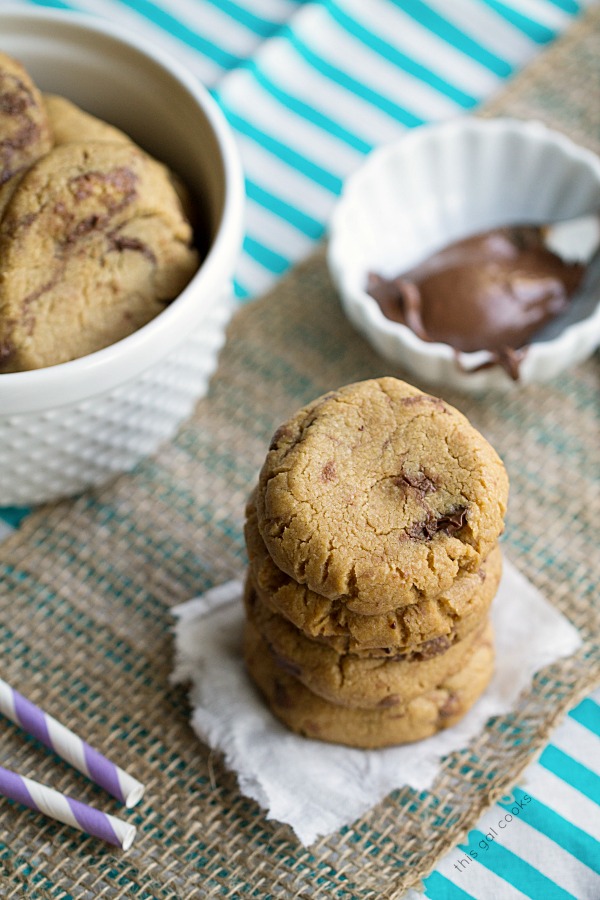 I made these cookies on a whim a few weeks ago. I was in the mood for a peanut butter treat. Surprise surprise. I wanted to make something different than the typical peanut butter cookie so I figured why not stuff the cookies with Nutella?
Great idea. Not so great assembly. At least not for me, anyways. First attempt at making stuffed cookies was quite messy. There was Nutella all over the place. Some of the cookies looked more like Nutella swirled cookies rather than Nutella stuffed cookies. But in the end, these cookies were winners. They tasted great. Ken liked them. Worked liked them. I did my deed of putting smiles on peoples faces. Oh the power of the cookie!
Want to easily save this recipe to your own personal recipe box? Click the SAVE RECIPE button below (and on all of my recipes) to create your own meal plans! The ingredients from your favorite recipes will be added to your own grocery list!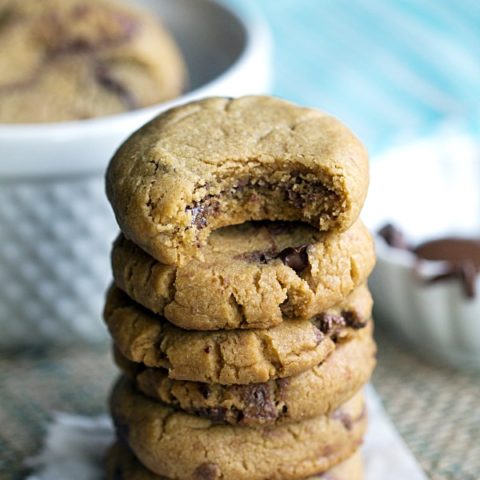 Nutella Stuffed Peanut Butter Cookies
Yield: 12
Prep Time: 30 minutes
Cook Time: 15 minutes
Total Time: 45 minutes
Ingredients
1/2 C unsalted butter, melted
1/2 C brown sugar
1/2 C granulated sugar
1 C creamy peanut butter
1 large egg
1 tsp vanilla extract
1 1/2 C all purpose flour
1/2 tsp baking powder
1/2 tsp baking soda
1/2 tsp salt
1/2 C semi sweet chocolate chips
About 3/4 C Nutella
Instructions
Whisk together flour, salt, baking soda, baking powder in a mixing bowl. Set aside.
In the bowl of a stand mixer, beat together the peanut butter, egg, sugars, vanilla extract and melted butter.
Add the flour mixture to the butter mixture and beat on low until combined.
Mix in the chocolate chips.
Place the dough in the freezer for 30 minutes.
Line two baking sheets with foil or parchment paper. If using foil, lightly spray with cooking spray.
Roll the dough into 1 tsp balls and then flatten. palce about 1/2 tsp of Nutella on the center of the flattened dough. Place another flattened piece of dough over the top of the nutella and then roll into a ball. Place the dough balls onto the baking sheets, about 2 inches apart.
Bake at 350 for 12-15 minutes or until the edges are crisp and the tops begin to slightly crack. If your dough does not start to flatten after about 5 minutes of baking, gently press down a little with a wooden spoon.
Allow to cool before serving.
Notes
Peanut butter cookie base adapted from Williams Sonoma Baking Book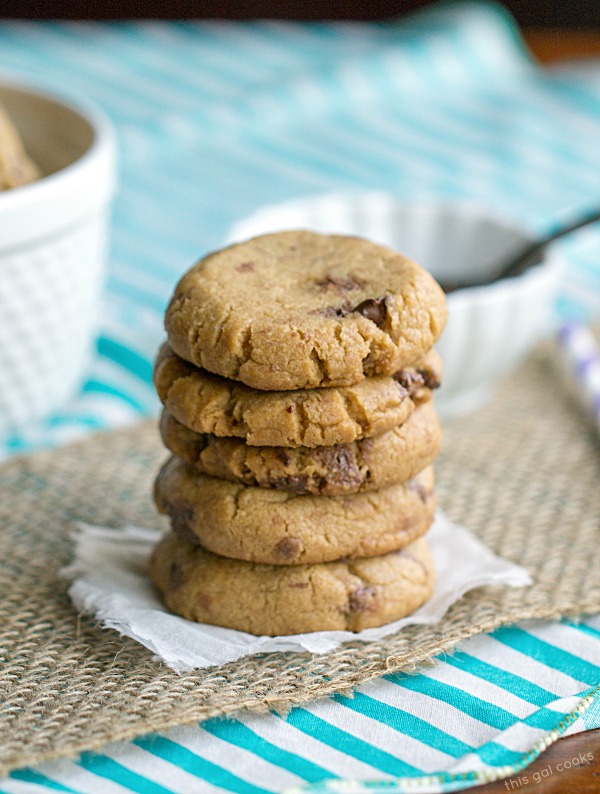 More Peanut Butter Treats from This Gal Cooks