Coconut Curry Chicken Thighs (one skillet + paleo)
I'm super excited to be working with Pompeian in 2016 to create delicious, healthy recipes with their quality products! This Coconut Curry Chicken Thighs recipe uses the Pompeian Smooth Extra Virgin Olive Oil. #pantryinsiders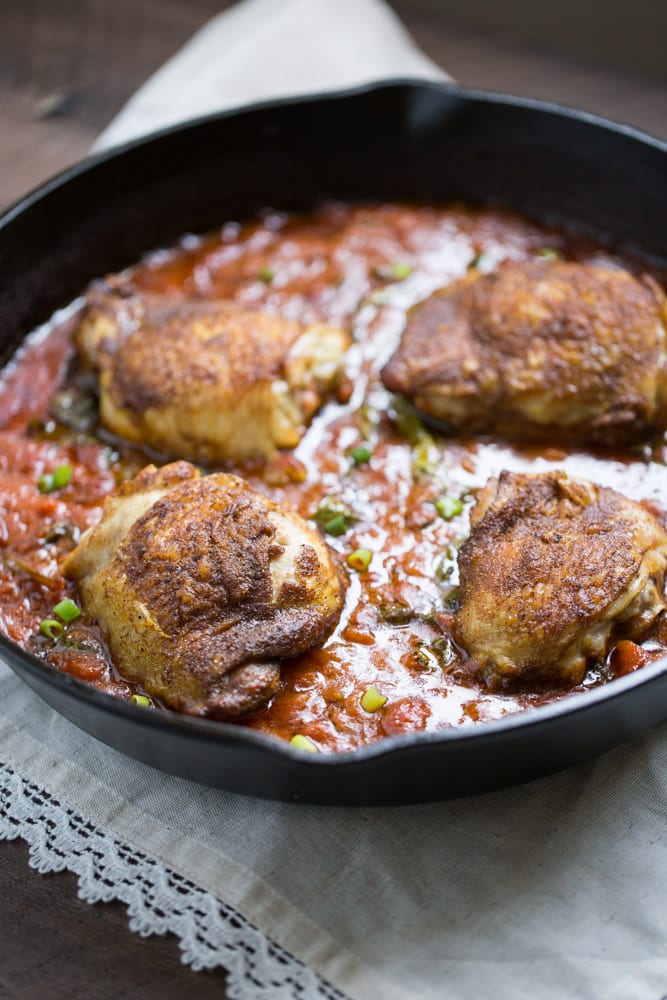 Mmmmmm. Today we are talking about all of the goodness that's CHICKEN THIGHS!
Chicken thighs have been happening at my house A LOT lately. I love cooking them in my cast iron skillet with seasonings and sauces and veggies. I season the chicken thighs and cook them in the skillet in some sort of healthy fat until they're a gorgeous golden brown. Then I remove them from the skillet so I can saute the veggies or make the sauce. I add the chicken thighs back to the skillet and then put the skillet into the oven and bake everything for 25 minutes. The ending result is tender and flavorful chicken thighs that hit the spot when I'm craving a comforting and filling home cooked dinner. I made these coconut curry chicken thighs a complete meal by serving them over cauliflower rice. ♥︎
Can we just take a minute to talk about how AWESOME Pompeian products are? The Smooth Extra Virgin Olive Oil is SPOT ON!
it's a healthy fat cooking option.
it's great for sautéing, stir frying and making sauces.
QUALITY, folks. This olive oil carries the USDA Quality Monitored Seal.
it's subtle flavor doesn't overpower my food.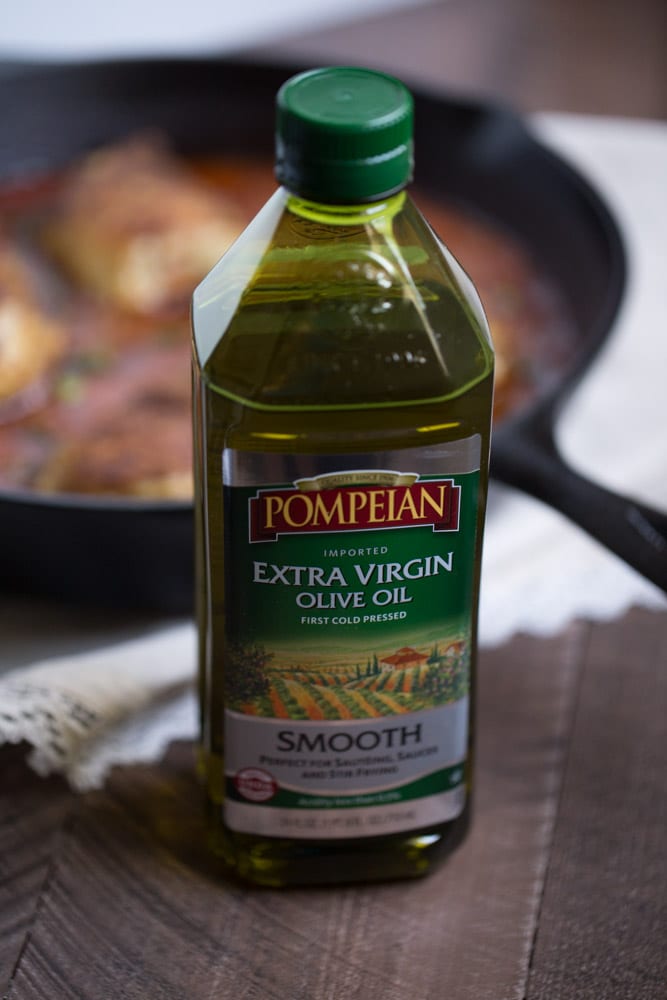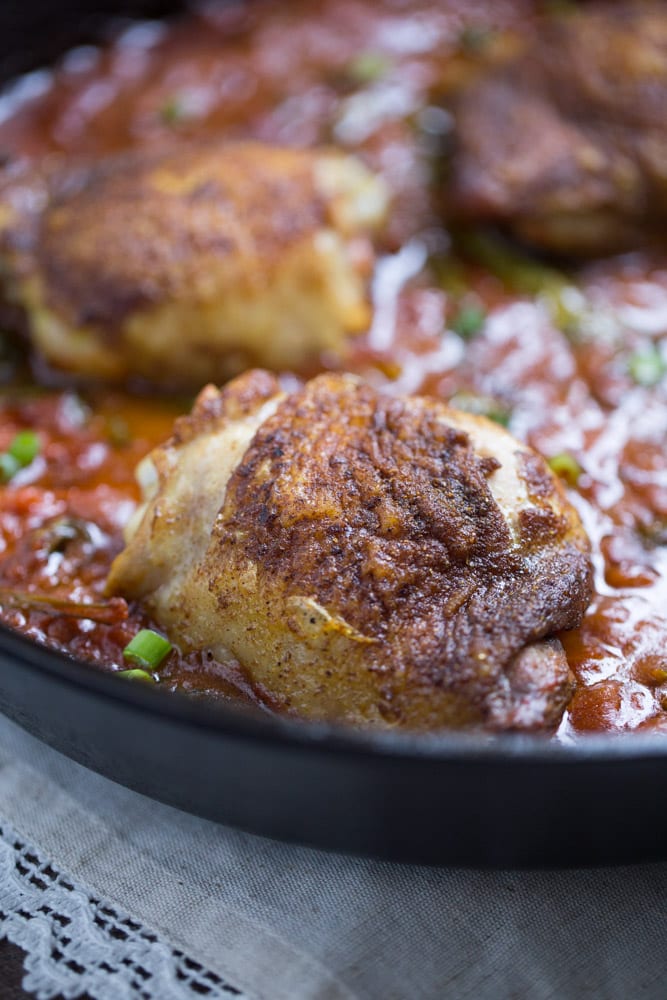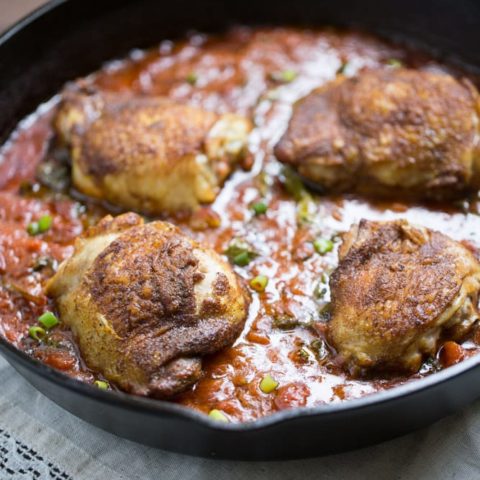 Coconut Curry Chicken Thighs
Yield: 4

Prep Time: 15 minutes

Cook Time: 25 minutes

Total Time: 40 minutes
Ingredients
4 chicken thighs, bone in + skin
2 tbsp curry powder
½ tsp kosher salt
1 tbsp Pompeian Smooth Extra Virgin Olive Oil
1/2 C full-fat coconut milk
2 C diced canned tomatoes. I used Pomi
2 heaping cups of fresh spinach
Sliced green onions for garnish
Instructions
Preheat your oven to 375.
Stir together the curry powder and kosher salt. Sprinkle the top and bottom of the chicken thighs with 1 tbsp of the mixture. Reserve the remaining curry powder/kosher salt mixture.
Heat the olive oil in a large oven-safe skillet over medium high heat (I used a 12 inch cast iron skillet). Swirl the oil in the skillet to coat it. Add the chicken thighs and cook 3-5 minutes per side or until nicely browned. Remove the chicken thighs and set aside.
Reduce the heat to medium. Add the diced tomatoes to the skillet and scrape pan to remove bits from bottom. Add the spinach and cook until wilted. Add the coconut milk and remaining curry powder mixture and mix well. ***note, tomatoes may splatter when they hit the heat.***
Return the chicken thighs to the skillet and turn off the heat. Place the skillet in the oven and bake for 25-30 minutes or until the thighs reach an internal temperature of 165 degrees. My chicken thighs reached 165 after 30 minutes of baking.
Serve the chicken thighs and sauce over cauliflower rice or your favorite whole grain, such as brown rice or quinoa. Garnish with green onions, if desired.
Notes
Nutrition information is approximate and was calculated using My Fitness Pal. Nutrition information is for 1 chicken thigh and approximately 3/4 C of sauce. Using cauliflower rice or your choice of grain will alter nutrition content.
Nutrition Information:

Amount Per Serving: Calories: 298 Total Fat: 21g Saturated Fat: 8g Trans Fat: 0g Unsaturated Fat: 4g Cholesterol: 71mg Sodium: 226mg Carbohydrates: 8g Fiber: 4g Sugar: 4g Protein: 16g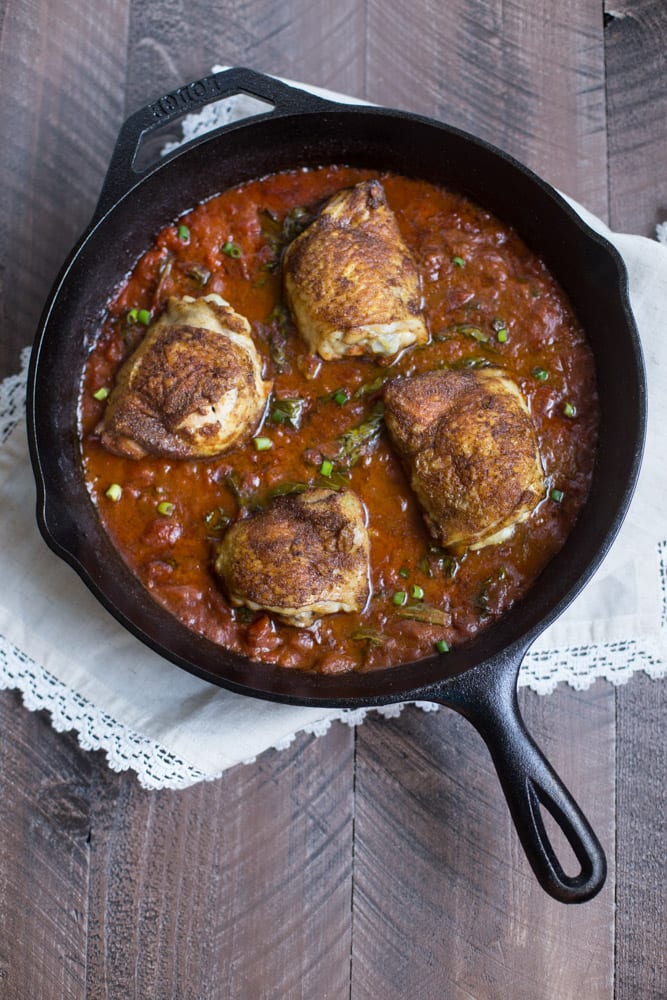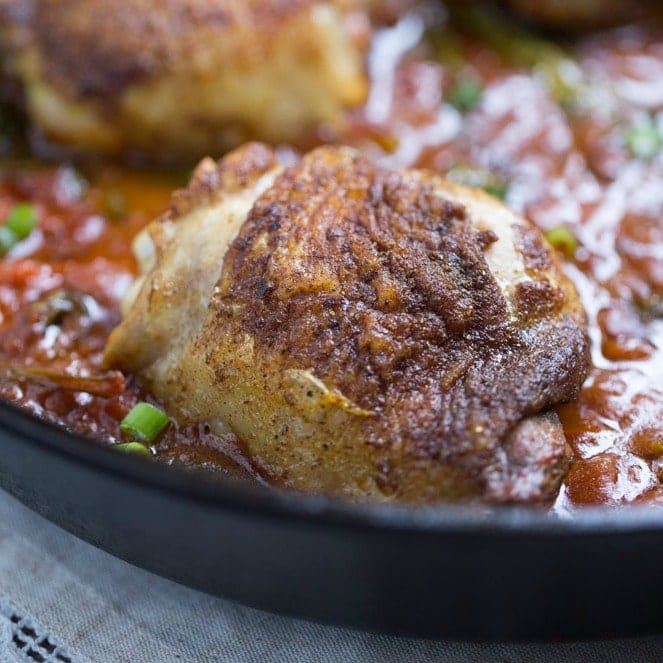 Let's be friends on INSTAGRAM, FACEBOOK, TWITTER and PINTEREST!