Coconut Mocha Coffee Smoothie
Thank you Born Sweet Zing™ Stevia Sweetener and Collective Bias, Inc. for sponsoring this post. Try Zing™ Zero Calorie Stevia Sweetener for a taste of sweet excitement! All opinions are my own. #SweetExcitement #CollectiveBias
Today we are talking about good things, like this Coconut Mocha Coffee Smoothie.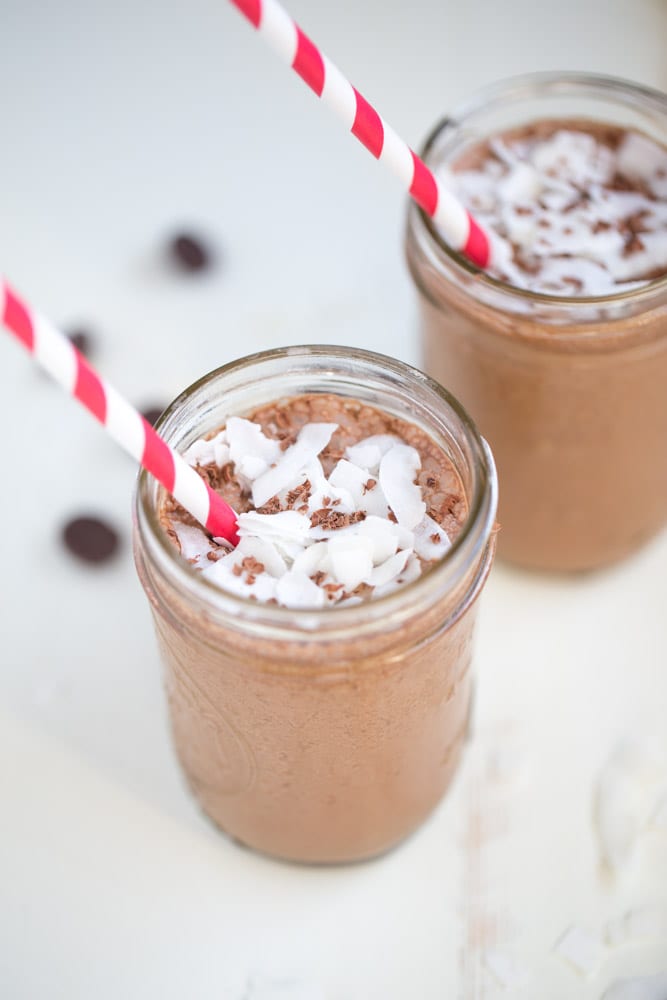 And Born Sweet Zing™ Zero Calorie Stevia Sweetener. This sans artificial ingredient, zero calorie sweetener makes it into all of my homemade coffee drinks, including this coconut mocha coffee smoothie. It even makes it into the coffee I make at work – I pack the convenient packets in my lunch bag and use 'em when I make a cup of coffee at work. ♥︎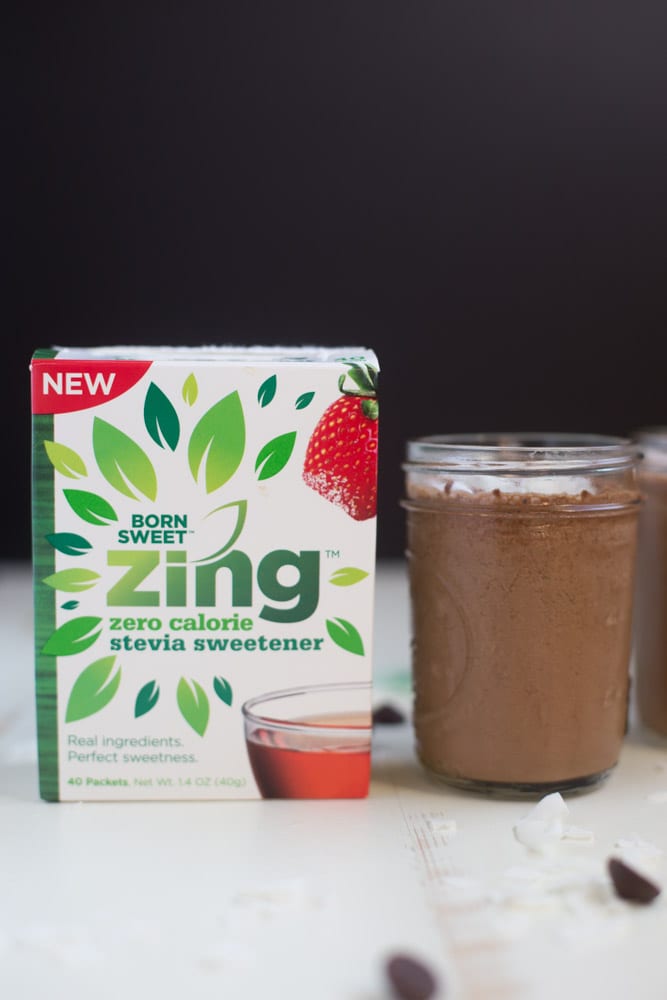 So this smoothie, I know you want to know ALL ABOUT IT! Of course, it's a make and take drink – you make it and then can take it with you to wherever you're going. Work, school, shopping, this coffee smoothie will go anywhere with you. Another cool feature of this smoothie: it's ingredients list is simple:
coffee ice cubes (this does require prep – brew coffee, pour into ice cube tray, freeze – I suggest doing this overnight)
full fat coconut milk
banana
unsweetened cacao or cocoa power
vanilla extract
Born Sweet Zing™ Zero Calorie Stevia Sweetener
If you're ready to try this smoothie but don't have any Born Sweet Zing™ Zero Calorie Stevia Sweetener on hand, I can make a free sample happen! Just visit the Zing™ Stevia Sweetener website to find out how to receive your free sample and a $1.50 off coupon to use at your local Born Sweet Zing™ Zero Calori Stevia Sweetener retailer. Now you're on your way to making fun and delicious zero calorie drinks and smoothies.??
Things I like about this Coconut Mocha Coffee Smoothie:
it's easy to make
it's vegan
it's creamy
it's made with coffeeeee!
you can take it with you while you're traveling
it's made with Born Sweet Zing™ Zero Calorie Stevia Sweetener (get your free sample here!)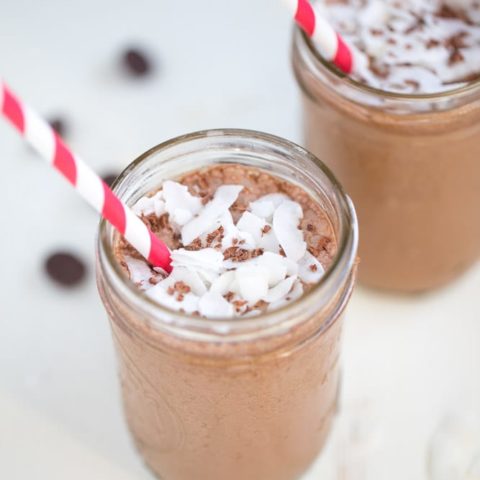 Coconut Mocha Coffee Smoothie
Yield: 16oz

Prep Time: 8 hours

Total Time: 8 hours
Ingredients
1 ¼ C Brewed coffee (can use decaf if you don't do caffeine)*
1 C full fat coconut milk
2 tbsp cacao or cocoa powder
6 coffee ice cubes*
½ banana
½ tsp vanilla extract
Instructions
Place the brewed coffee into an ice cube tray and freeze. The brewed coffee will make about 8 ice cubes in a standard ice cube tray. You will only use 6 of these ice cubes. Save the rest to chill your iced coffee!
Once the ice cubes are frozen, place all of the ingredients into a blender. Blend until smooth. Pour into two glasses and top with the shredded coconut and dark chocolate, if desired.
Notes
*The coffee ice cubes must be made ahead of time. I suggest brewing coffee and then freezing the night before you plan to make these coffee smoothies. The ice cubes listed in the recipe are made with the brewed coffee.

Nutrition information is approximate and was calculated using My Fitness Pal.
Nutrition Information:

Amount Per Serving: Calories: 226 Total Fat: 19g Saturated Fat: 15g Cholesterol: 0mg Sodium: 45mg Carbohydrates: 12g Fiber: 3g Sugar: 5g Protein: 2g