Chipotle Sloppy Joes – A Guest Post by Carrie from Frugal Foodie Mama
Happy Thursday! Woohoo, the weekend is almost here! I am so excited to have Carrie from Frugal Foodie Mama guest posting on my blog today! I'm guest posting over at her blog today so be sure to stop by her blog to check out the wonderful recipe I am sharing with her readers. Now, I'm going to let Carrie take over!
---
Hello!  I am Carrie and I blog over at Frugal Foodie Mama about my life as a stay-at-home mom to a baby and a teenager, my family's journey to become a little more eco-responsible everyday, and how I still manage to stay a foodie on our one income budget.  Please stop on over and say hi! 
I am so happy to be swapping blogs today with Julie!  (Psssttt… she is over at my blog RIGHT NOW sharing a delicious recipe of her's with my followers.  Go check it out after you have a chance to take a peek at mine below. ;) )
Last week I was trying to come up with a little something to do with the ground hamburger I had thawed in the fridge.  Initially, I was going to just make cheeseburgers.  Safe, right?  Then I started thinking Sloppy Joes.  But I wanted Sloppy Joes with a kick, not the usual plain old weeknight Joes.  
I may have a mild obsession with chiles in adobo sauce.  I find whatever excuse I can to make a recipe using them.  I adore the sweet smokiness of chipotle.  (Go check out my recipe for Small Batch Chipotle Salsa and Five Spiced Adobo Crock Pot Chicken Thighs if you don't believe me. ;) )  So, I thought why not Chipotle Sloppy Joes??  I kept some of the traditional sweetness of a regular Sloppy Joe, but added a nice spicy, smoky kick.
What you will need:
1 medium onion, chopped
2 tbsp olive oil
10 oz can of Rotel, pureed
1 lb of ground beef
2 tbsp tomato paste
1 tbsp of pureed chiles in adobo (or 1 adobo cube- see how I freeze leftover chiles in adobo HERE)
2 tbsp brown sugar
1/2 cup ketchup
3-4 dashes of worcestershire sauce
a few dashes of ground cloves
salt & pepper, to taste
Heat a large skillet over medium heat.  Add the olive oil, and then the chopped onion.  Saute for 2-3 minutes until tender.  Add the ground beef and cook until browned.  Season with salt and pepper.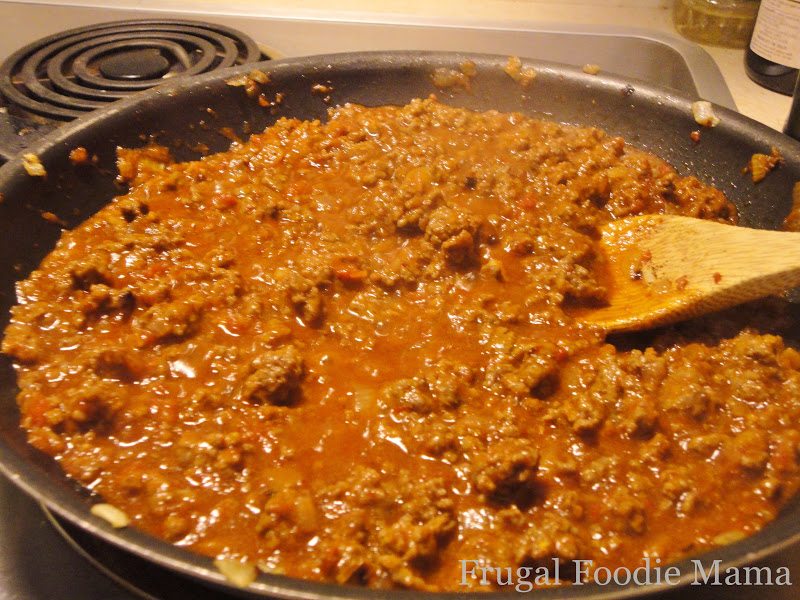 Pour in the pureed chiles in adobo sauce, the pureed Rotel, the tomato paste, brown sugar, ketchup, worcestershire sauce, and cloves.  Mix well, and simmer for about 15 minutes.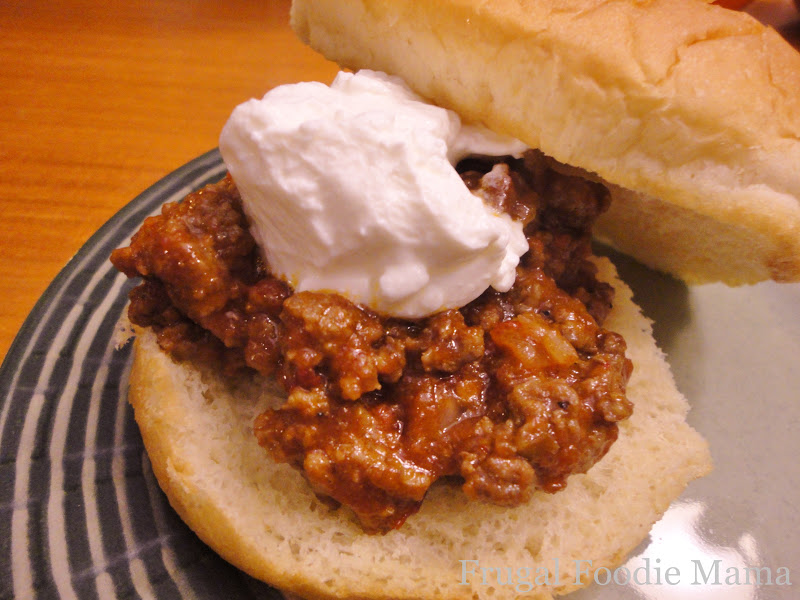 Serve on fresh hamburger buns.  I topped my joe with a nice dollop of sour cream to cut the spiciness a bit.  It would also be excellent topped with a few slices of avocado.  These Chipotle Sloppy Joes would be terrific served along side Julie's Spicy Black Beans, don't you think? ;)