Red Chili Chicken
I'm a huge fan of Chinese food but for some reason, I rarely make it at home. In fact, I've only made 3 Chinese type dishes in my lifetime so I'd say it's time to venture into that area of home cooking sometime soon. One of the three Chinese dishes I've made was inspired by Dishing With Leslie's Jade Red Chicken. Leslie's recipe looks fantastic. I wish I had a deep fryer (but then again, I am glad I don't have one!) so I could make perfect fried dishes. But alas, I don't have once so I decided to make a variation of this recipe with sauteed chicken. I turned out pretty good and a bit healthier, I might ad. But I do feel that it would have tasted better if the chicken had been batter dipped and fried. I hope you enjoy this recipe. And when your done checking it out, take a look at my vegetable "fried" rice recipe. I served it with this chicken dish.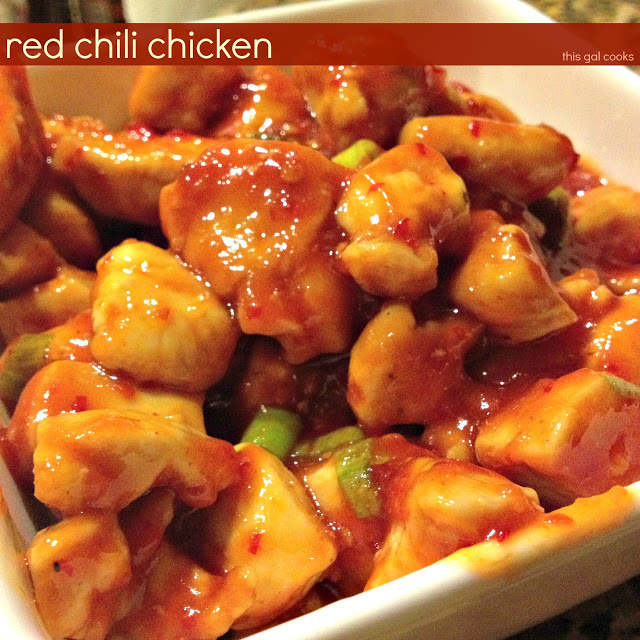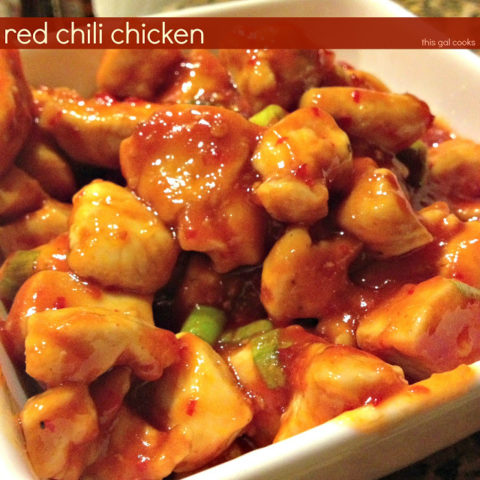 Red Chili Chicken
Yield: 4
Prep Time: 10 minutes
Cook Time: 20 minutes
Total Time: 30 minutes
Ingredients
1 1/2lb chicken, diced
2 tbsp peanut oil
salt and pepper for seasoning the chicken
1 C Ketchup
2 tsp sesame oil
2 tbsp chili garlic sauce
3 clove garlic, minced
1/2 C powdered sugar
1/4 C green onion, sliced
Instructions
Cut the chicken into bite size pieces. Season with salt and pepper. Saute in peanut oil in a large skillet over medium high heat for 10-15 minutes or until the chicken reaches 165 degrees.
In a mixing bowl, mix together the ketchup, sesame oil, chili garlic sauce, garlic, powdered sugar and green onion.
Toss the chicken with the sauce and serve over rice. It goes great with the vegetable "fried" rice that I made.