Cilantro Cream Chicken – Guest Post from Jaime from Mom's Test Kitchen!
Happy Wednesday! I am excited to have Jaime from Mom's Test Kitchen guest posting on my blog today! Please be sure to head on over and check out her blog after you check out her awesome recipe! Now, I'll turn it over to Jaime. :)
---
Hey y'all! I'm so excited to be here at This Gal Cooks sharing a delicious & simple dinner idea! Well first I guess I should introduce myself! I'm Jaime, the wife & momma behind Mom's Test Kitchen, my little space in the blogosphere where I share the recipes I make for my family. I also occasionally like to branch outside of my kitchen and share the fun little educational activities that I do with my Princess P.
Do y'all have a favorite herb?  Ours would be cilantro.  The Hubs can eat the leaves straight off the stems.  He loves it!  Any dish that has cilantro in it I know will be a hit in our house and this chicken was no exception!  It was so easy to throw together and made for a perfect meal served over rice!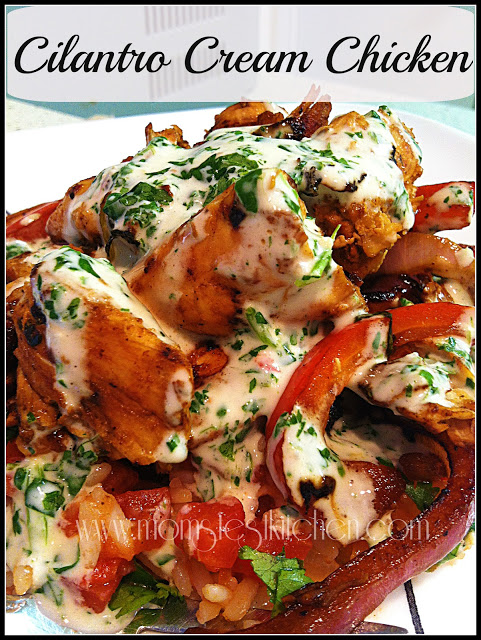 CILANTRO CREAM CHICKEN
INGREDIENTS:
1 & 1/4 pounds chicken tenderloins
1 cup Italian dressing
juice from 1 small lime
1 bunch cilantro, roughly chopped
1/4 cup sour cream
1 red onion, sliced
1 red bell pepper, sliced

LETS COOK:
Combine the Italian dressing, lime juice & about 2 tablespoons of the cilantro. Reserve 1/4 cup of the mix, pour the remaining marinade over the chicken & vegetables in a Tupperware containers or gallon Ziploc bags. Turn the chicken to coat & marinate in the refrigerator for 1 hour up to overnight. I kept my chicken & veggies in two separate bags.
Add the remaining cilantro to the reserved 1/4 cup of marinade & combine with the 1/4 cup of sour cream. I gave mine a quick blend in my food processor. Chill until ready to serve.
Heat a large skillet over medium to medium high heat. Remove the chicken & vegetables from the marinade, discard the remaining marinade.
Saute chicken until the chicken is no longer pink & juices run clear. Add the vegetables to the chicken after the first few minutes and cook until the vegetables are tender.
Serve the chicken & veggies over rice & topped with the Cilantro Cream Sauce.
If you like this recipe, I hope you'll stop by & check out some of my
others
! You can also stay up to date on my newest recipes by joining any of my social network communities!