Chicken Enchilada Casserole
There's something that I just love about casseroles. Perhaps it's the combination of great flavors mingled into one dish. Or maybe it's the large portion of food that a casserole makes, large enough to feed a crowd or feed two for a few days. I love to cook but sometimes it's nice to skip cooking dinner for a night or two during the week. Leftovers are a great cure for the cooking after work blues. 

I usually like to make casseroles on Sundays because then I won't have to cook after work on Mondays or Tuesdays or sometimes even Wednesdays. One of my favorite types of casseroles is Chicken Enchilada Casserole. Chicken, cheese, rice, beans, sour cream, green chilis and a few other ingredients are combined to make this wonderful casserole dish. Please enjoy the recipe!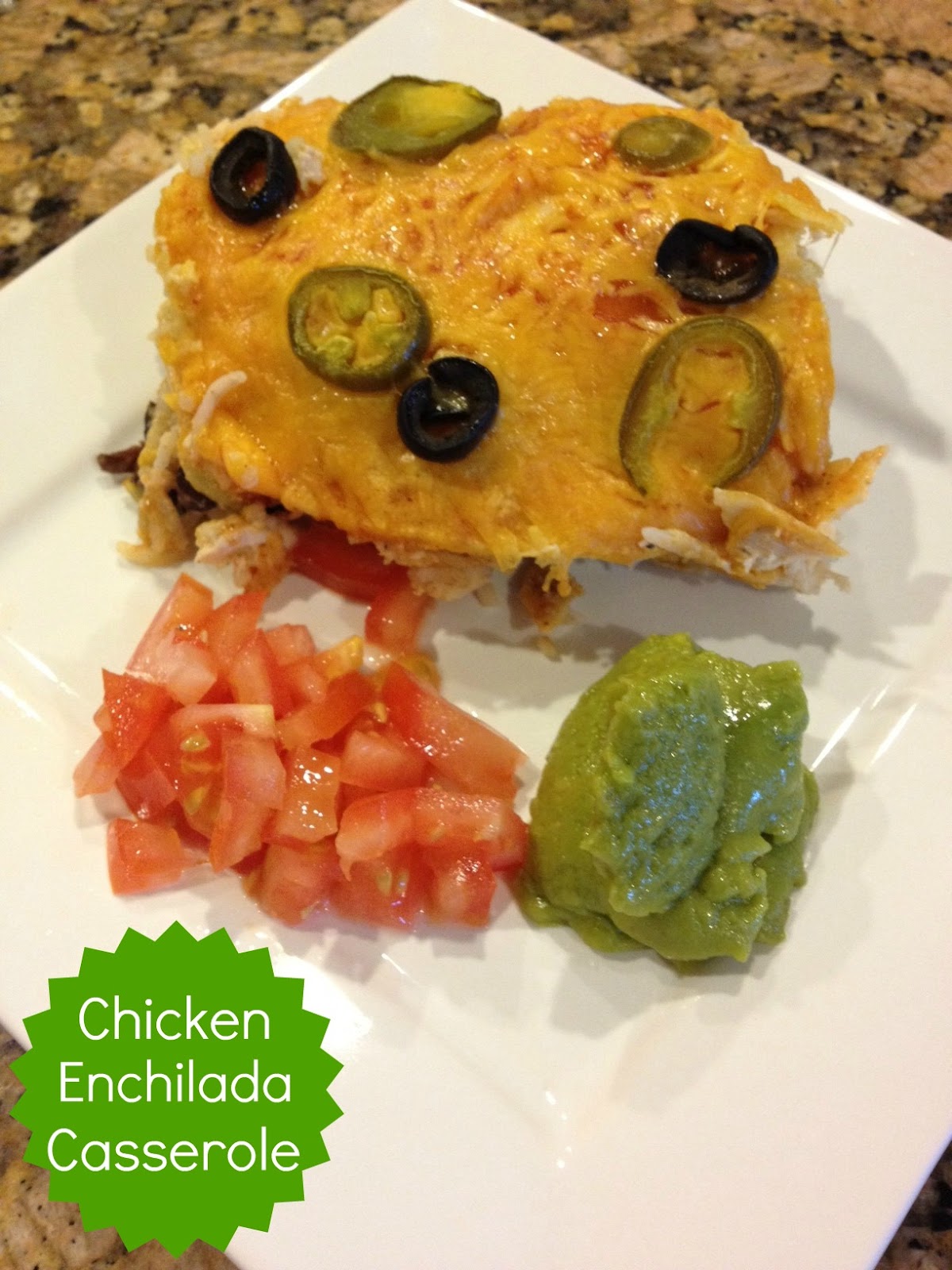 Ingredients
3 boneless skinless chicken breasts, cooked and chopped up (you may also use a rotisserie chicken from your local supermarket – just chop up the chicken)
1 4.5oz can of diced green chilis
1 cup of uncooked rice
1 15oz can of black beans, rinsed and drained
8oz of sour cream (I use Daisy)
10oz can of enchilada sauce
3 cups of shredded Mexican cheese
Jalapeno peppers (optional)
Sliced Olives (optional)
18 corn tortillas
Seasoned salt, pepper and garlic powder (not needed if using a rotisserie chicken)
Guacamole for garnish (I used Wholly Guacamole)
Fresh diced tomatoes for garnish
An oven preheated to 350 degrees
Directions


1.  If using fresh, uncooked chicken breasts, season them with the seasoned salt, pepper and garlic powder. Bake at 350 for 35-40 minutes or until it reaches an internal temp of 165. Once done cooking, chop it up.  If using rotisserie chicken, just chop it up and set it aside.
2.  While the chicken is cooking, cook the rice. I use a rice cooker. 
3.  In a large bowl, combine the chicken, rice, beans, chilis, sour cream and 1/2 of the enchilada sauce. Mix well.
4.  Layer the bottom of a 9×13 baking dish with 6 of the corn tortillas. Spread half of the chicken mixture on top of the tortillas. Add a layer of cheese over the chicken mixture. Add another layer of 6 corn tortillas. Spread the remaining chicken mixture over the tortillas. Add another layer of cheese (be sure to reserve some for the top of the casserole.) Add a layer of the remaining 6 tortillas. Pour the remaining enchilada sauce over the top of the tortillas. Add the remaining cheese to the top of the casserole. 
5.  If opting for jalapenos and olives, spread some over the top of the casserole.
6.  Bake at 350 for 20-25 minutes or until the cheese is melted and bubbly.
7.  Let set for 10 minutes before serving.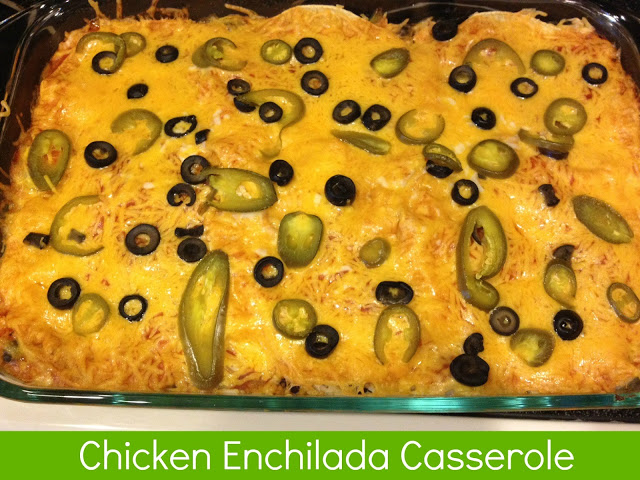 Enjoy!