Crockpot Creamy Chicken Wild Rice Soup
Break out the crockpot and make this easy, yet delicious, Crockpot Creamy Chicken Wild Rice Soup for dinner tonight!
Crockpot Creamy Chicken Wild Rice Soup
I'm a sucker for soup. I love to make soups and I love to eat them. Some of my favorite soups include potato soup, chicken noodle, crab bisque, clam chowder, Panera Bread's Lemon Orzo Chicken, Avgo Lemono and chicken & wild rice soup. Soups pair well with salads, freshly baked bread, and grilled cheese sandwiches.
I utilize my crockpot on those days where I am busy and know I won't have time to prepare a meal. For this soup, you cook the chicken, the rice and the veggies in the chicken broth. After the soup is done cooking, the cream base is prepared on the stove. It only takes a few minutes to create the cream base. Once that is prepared, just mix it into the crockpot mixture and voila! You have yourself one darn good soup! I adapted this recipe from Budget Bytes' Creamy Chicken and Rice Soup Recipe.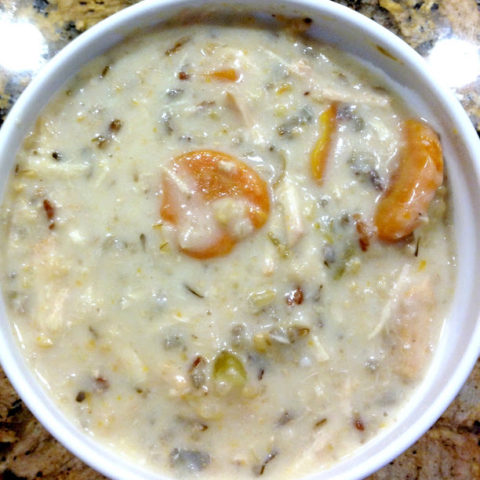 Crockpot Creamy Chicken Wild Rice Soup
Yield: 6-8 servings

Prep Time: 15 minutes

Cook Time: 8 hours

Total Time: 8 hours 15 minutes
Ingredients
2 boneless skinless chicken breasts
4 cups of chicken broth
1 cup of Wild Rice or Wild Rice Blend (such as RiceSelect Royal Blend with Brown and Wild Rice) *see notes below for tips on cooking the rice in a slow cooker*
1 can of sliced carrots (I usually use fresh but all I had on hand were canned carrots.)
1/2 cup of diced celery
1 tsp of dried oregano
1 tsp of dried rosemary
1 tsp of dried thyme
1/2 cup of white wine (I used Pino Grigio)
1 cup of water
Salt to taste (add after cooking)
For the cream base (made after the soup is done cooking in the crockpot)
2 tbsp of butter
2 tbsp of cornstarch
1 cup of milk
1/2 cup of heavy cream
Instructions
Place the first 10 ingredients into the crockpot. Cook on low for 7-8 hours. *see notes below for cooking time adjustments*
When the soup is done cooking, turn the heat to low. Break up the chicken with a fork.
In a saucepan, melt the butter and then whisk in the cornstarch. Add the milk and the heavy cream and bring to a simmer, whisking occasionally.
Add the milk mixture to the soup and mix well. Gradually add salt. Add a little, mix, taste, add more if needed.
Notes
Serving size is approximate.

UPDATE: Based on a readers results, I'd like to add a few notes.

You may need to cook for less time, depending on how hot your slow cooker runs. 4 hours could be enough if it runs hot. If it does not run hot, you will probably need the full 8 hours to cook the rice.

Be sure to use wild rice or a wild rice blend. Wild rice takes longer to cook and works well for cooking in a slow cooker. If you use Wild Rice Blend that contains a lot of brown or white rice, you will need to reduce the cooking time as the white and brown rices will turn mushy if cooked too long.
Nutrition Information:
Yield: 6 Serving Size: 1
Amount Per Serving: Calories: 329 Total Fat: 14g Saturated Fat: 8g Trans Fat: 0g Unsaturated Fat: 5g Cholesterol: 73mg Sodium: 820mg Carbohydrates: 29g Net Carbohydrates: 0g Fiber: 2g Sugar: 2g Sugar Alcohols: 0g Protein: 18g