Broiled Tilapia with Chipotle Peach Salsa
If you're looking for a light yet filling meal, try this Broiled Tilapia with Chipotle Peach Salsa. Nestled atop a bed of coconut curry risotto, this dish contains all of the fruity flavors you crave on a warm summer day.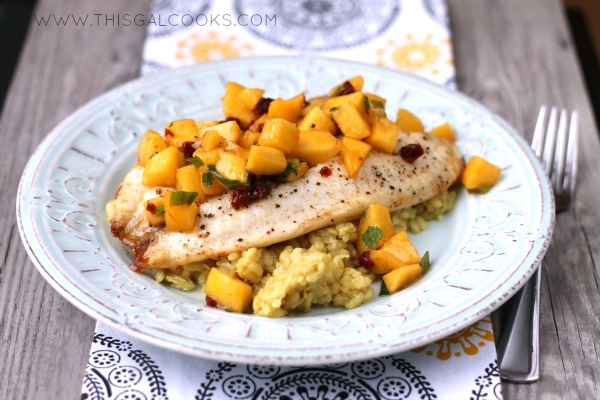 One of my favorite types of food to eat is fish. Part of the reason for that probably comes from growing up in Florida and being able to eat delicious, fresh fish and seafood quite often. While I prefer salmon, scallops, shrimp and crab to most other types of seafood and fish, I do sometimes enjoy dining on freshwater tilapia. Yes, it's a pretty cheap type of fish and isn't considered fancy, but I made it fancy with this dish. :)
I served this fish over a bed of coconut curry risotto (photo and recipe below) and topped it with Chipotle Peach Salsa. It was quite delicious and I didn't feel like I ate a house after eating it. You know that feeling, the feeling of eating a house. You feel like you are going to explode because you ate too much of a heavy meal. Yep, that is NOT fun!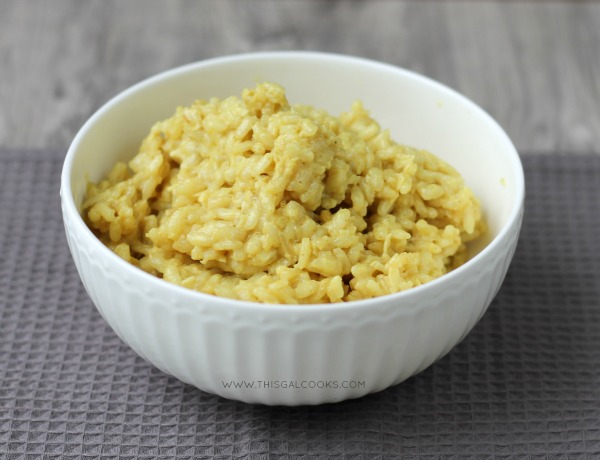 Coconut Curry Risotto
Anyways, so before we get to the recipe, how was your 4th? Did you attend a BBQ or celebration? Relax at home? Do nothing? We didn't do much. We went to BJ's and Fresh Market, I baked a delicious dessert that I will be sharing in the near future (psst, follow along via Instagram to get sneak peeks at upcoming recipes), made some Blackberry Mojitos, and then prepared dinner, which was grilled portabello burgers, grilled sweet potatoes and pasta salad. Ken did the grilling, I did the prep work. We work as a team, yo. I hope you enjoy this recipe! (ps, I know tilapia isn't actually seafood but I categorized it as seafood because it just makes sense to do that. Fish, seafood, you get it, right?)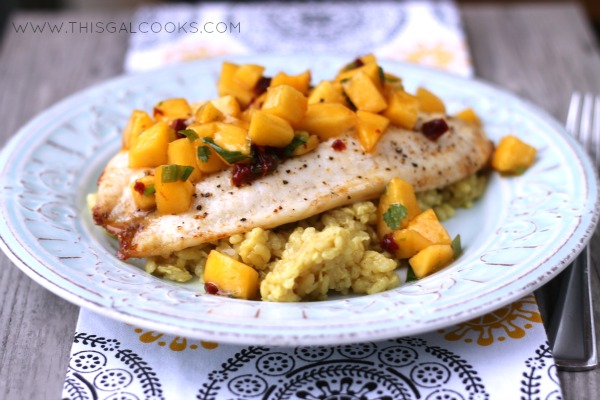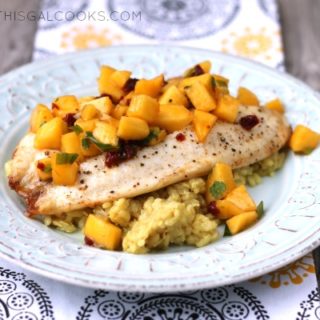 Broiled Tilapia with Chipotle Peach Salsa
Yield: 2 servings
Prep Time: 15 minutes
Cook Time: 30 minutes
Total Time: 45 minutes
Ingredients
2 tilapia fillets brushed with olive oil and seasoned with ground pepper and kosher salt
For the Coconut Curry Risotto:
2/3 C arborio rice
1 C vegetable stock
1 C coconut milk
1/3 C sweetened, flaked coconut, chopped via your food processor
1 shallot, finely chopped
1 tbsp butter
1/4 tsp curry powder
1/8 tsp ground ginger
1/2 tsp fish sauce
Instructions
First you will want to prepare the risotto:
In a large sauce pan, melt the butter over medium heat and cook the shallot until tender. Add the curry powder, chopped coconut, fish sauce and arborio rice. Toss to coat. Stir and cook for 2 minutes.
Gradually add the vegetable stock about 1/2 C at a time.
Gradually add the coconut milk (while stirring) and cook until the mixture thickens. Stir often.
Once the rice is done cooking, remove from the heat and set aside.
For the tilapia
Place the tilapia on a baking sheet or on the grate insert of a baking pan. Broil on high, on the rack second from the top, for about 5 minutes or until the top is golden and slightly darker around the edges. Just keep your oven light on and watch it.
Once the fish is done cooking, place a small amount (about 1/2 - 3/4 C) of the coconut rice on two plates. Place the tilapia on top of the rice and then spoon the Chipotle Peach Salsa over top.
More recipes from This Gal Cooks that you may enjoy: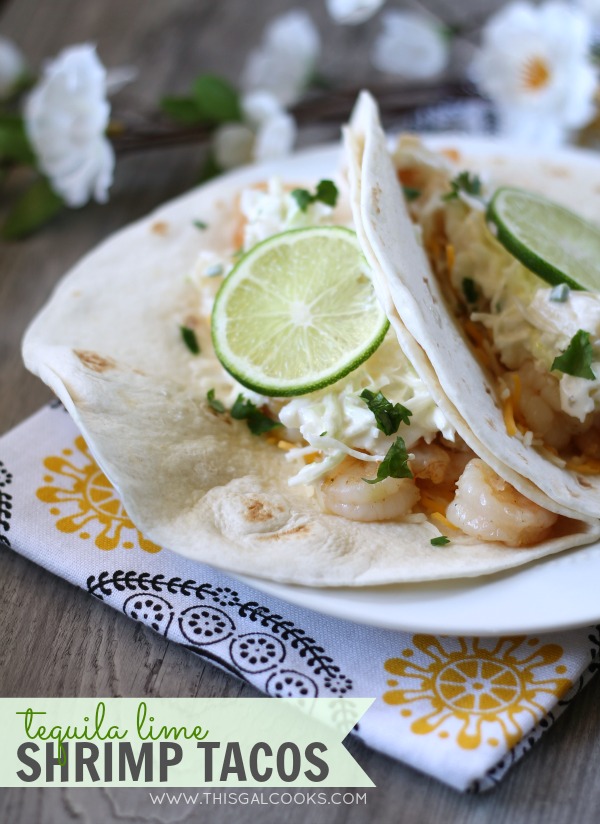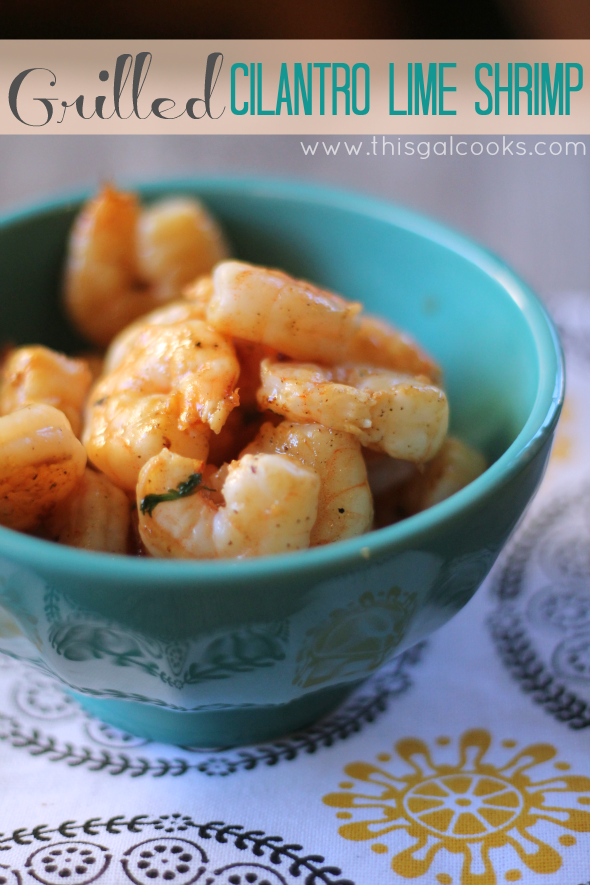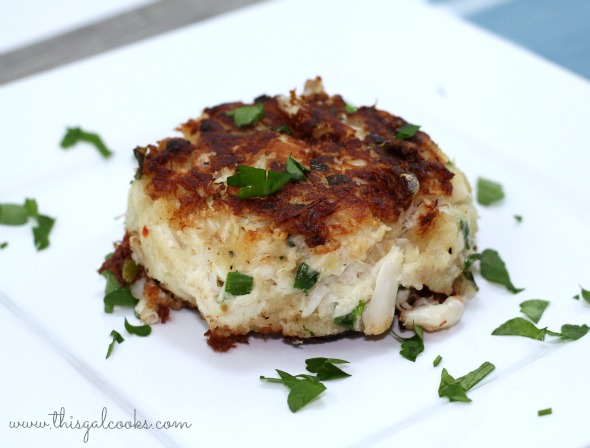 I often link up to these fab parties.