Google Analytics Stats and June Recipes
Good morning and happy Saturday. Can you believe it's already July? Well, you know what that means…it's time for June's monthly Google Analytics Stats and Recipe Recap!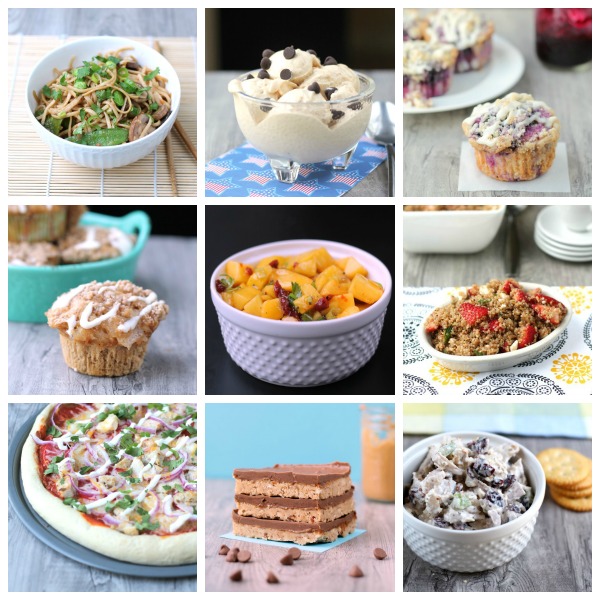 Those recipes sure look good, don't they? I'll get to the recipes in a moment but first, I want to go over my Google Analytics Stats for the month of June. June was a great month for This Gal Cooks. My traffic continued to grow and my bounce rate, while still pretty unhealthy at 82%, actually dropped from 84% for May. To my fellow food bloggers: do you have high bounce rates as well? I suspect this is an issue with food blogs but I am wondering which percentage some of you fall into. Leave a comment or, if you prefer to be discrete, you may email me at thisgalcooks(at)gmail(dot)com.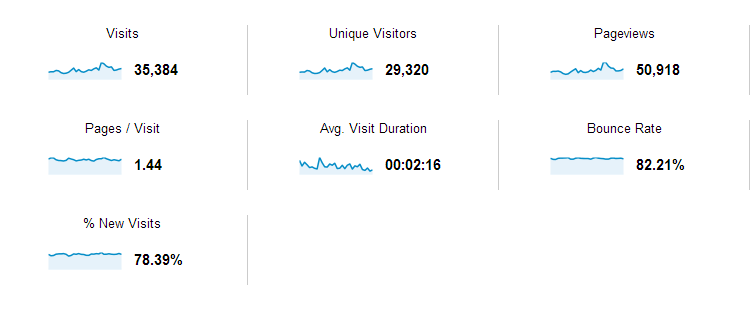 My page views were up 8.7% from 41,708 in May to 50,918 in June
Unique visitors were up .85% from 25,007 in May to 29,320 in June
Visits were up .85% from 30,021 in May to 35,384 in June
Bounce rate dropped from 84.05% in May to 82.21% in June
For more information on page views, unique visitors and visitors, visit last months Google Analytics post here.
What factors contributed to this?  I suspect the following factors contributed to the increase in page views and decrease in bounce rate:
I started linking up to more link parties. Lady Behind The Curtain and Chef In Training host parties that I started linking up to. Both of these parties have driven enough traffic to my blog to land them into the top 10 referral sites for at least two days after linking up to them. If you have not linked up to their parties before, I highly suggest it.
Six Sisters's Stuff featured my Blueberry Coffee Cake Muffins. This drove A LOT of traffic to my blog for about 3 days. I highly suggest linking up to their party as well.
I started sharing Marvelous Mondays link ups on Facebook with a photo of the item linked up and a link back to Marvelous Mondays. I included text directing my Facebook followers to click on whatever the number of the link up is if they wanted to view it. See an example below.
I continued to add photos with links to older recipes at the bottom of my posts. This may have helped lower my bounce rate.
I try to respond to each and every comment on my blog and I try to visit a post from those who comment on my blog. If someone comments on one of my posts, I feel it is important to stop by their blog and return the blog love.
I started using recipenewz.com and recipleaser.com. Both sites have driven a good amount of traffic to my blog. These sites are similar to FoodGawker but they aren't difficult to be approved by. In fact, they accept all food photos.
I started using the Yoast SEO Plugin for WordPress. If you are on WordPress, I highly recommend it. It has helped me create better SEO within my posts. I suspect that using this plugin is increased my organic numbers.
Let's take a look at my top referral sites. These stats are for referral sources only.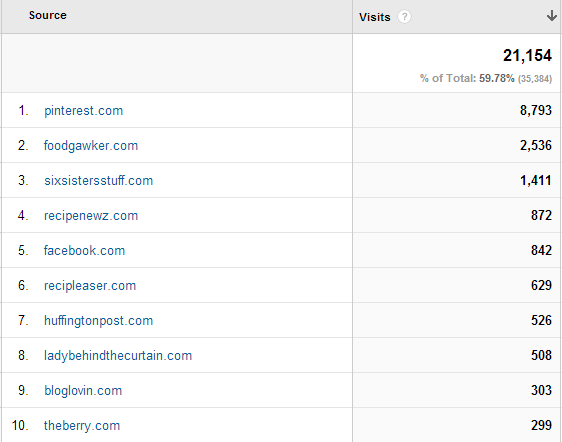 As you can see, Pinterest is still my number one referrer. For the first time since I started tracking my stats, I have more than one blog as a referrer in my top 10!
Here are the stats for all sources. This includes direct sources (people visiting without coming to my site from another site – via Google search or typing in my web address)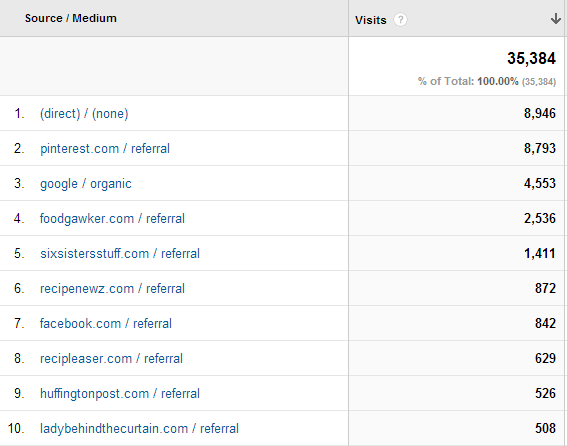 As you can see, the majority of my traffic comes from referrals. However, I do get a good amount of direct traffic. This is from people going directly to my site or visiting from bookmarks. Organic traffic comes from Google search meaning someone searched for something on Google, my site came up in the results and they visited my site.
Do you have any Google Analytics tips? Do you have any questions about Google Analytics or my blogging strategies? I'd love to help out where I can!
Now let's get to those recipes. Here's a recap of the recipes I shared in June. If you'd like to get the recipes to any of them, just click the link and you will be directed there.