Breakfast Polenta with Roasted Tomatoes, Eggs and Bacon
Simple Breakfast Polenta is made with over easy eggs, fresh roasted tomatoes and bacon. Busy morning friendly. Serves two. For a vegetarian friendly option, omit the bacon.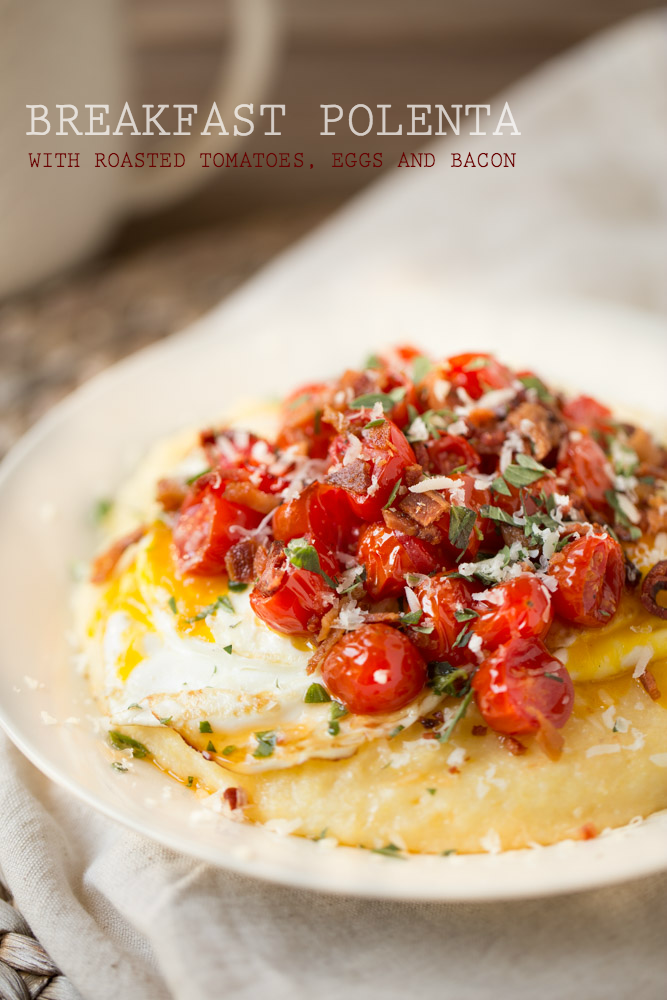 Through brief evaluation, I discovered that I enjoy a combination of eggs and tomatoes for breakfast. While writing this post for 10 Healthy Breakfast Ideas, it donned on me that 4 out 10 recipes in the collection contain eggs and tomatoes. A few weeks ago, I discovered that I enjoy the combination of eggs, tomatoes and polenta for breakfast, too.
If you haven't tried or heard of polenta, here's the scoop. It's derived from corn. According to this article, it's basically the same thing as cornmeal. You can use cornmeal in place of polenta, as long as it's at least medium grind cornmeal. It tastes very similar to grits. If you were raised in the south, you'll probably develop a massive food crush for it. Love at first bite.
A few of the polenta recipes I found online and in cookbooks included parmesan cheese in the ingredients list. Since I'm one of the world's biggest fans of fresh parmesan cheese, I mixed parmesan cheese and butter into the cooked polenta. I even sprinkled a little freshly grated parmesan on top of the completed. I used my little hand-held cheese grater to accomplish this. I simply grated the cheese over top of the dish. BOOM. Extra cheesy-ness.
I highly recommend including the freshly chopped oregano in this recipe. Fresh herbs give any savory dish and extra boost of flavor. If you don't have oregano, you could use freshly chopped thyme or basil in place of it.
I made this recipe for myself but I was only able to eat half of it. There's a lot of food here, and it's more suitable for a party of two. Nutrition information listed below is reflected for 1 serving out of two.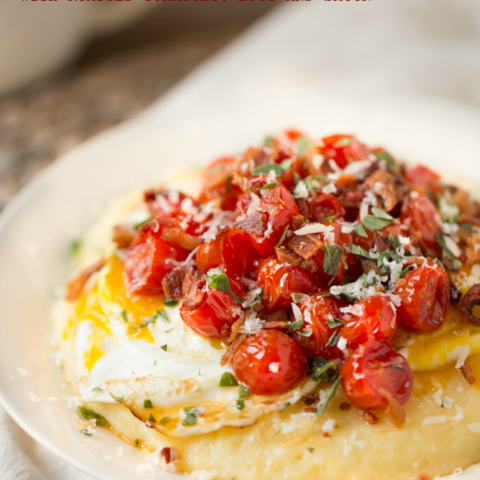 Breakfast Polenta with Roasted Tomatoes, Eggs and Bacon
Yield: 2

Prep Time: 10 minutes

Total Time: 10 minutes
Ingredients
½ C cherry tomatoes, sliced in half
1 tsp extra virgin olive oil
2 C water
½ tsp salt
½ C instant polenta
2 tbsp unsalted butter
¼ C freshly grated parmesan cheese, plus more for sprinkling the top of the meal
1 slice of bacon
2 large eggs
1 tsp chopped fresh oregano
Instructions
Broil the tomatoes. Turn your broiler on to high. Place the sliced cherry tomatoes in a small baking dish. Drizzle with olive oil. Broil for 5 minutes or until slightly charred. Remove from the oven and set aside.
Cook the bacon. Place on a microwave safe plate. Cover with a paper towel and microwave for about 1 minute or until crispy. Once done cooking, chop.
Cook the polenta. Bring the water and salt to a boil in a large sauce pan. Add the polenta and cook, stirring often, for about 3 minutes or until thickened. Remove from heat and then stir in the butter and ¼ c parmesan cheese. Pour into a serving bowl.
Cook the eggs. I cook mine over easy but cook yours however you prefer.
Assemble the dish. Place the eggs over the polenta in the serving bowl. Pour the tomatoes over top. Then sprinkle with chopped bacon, chopped oregano and more shredded or grated parmesan cheese, if desired.
Notes
I made this recipe for myself but was only able to eat half of it. This recipe makes a lot of food and it suitable for 2 people. If desired, you may split all ingredients between 2 serving bowls and serve that way. You can also serve in one dish and each person may take their desired amount for a serving.
Nutrition Information:

Amount Per Serving: Calories: 470 Total Fat: 25g Sodium: 265mg Carbohydrates: 40g Sugar: 2g Protein: 19g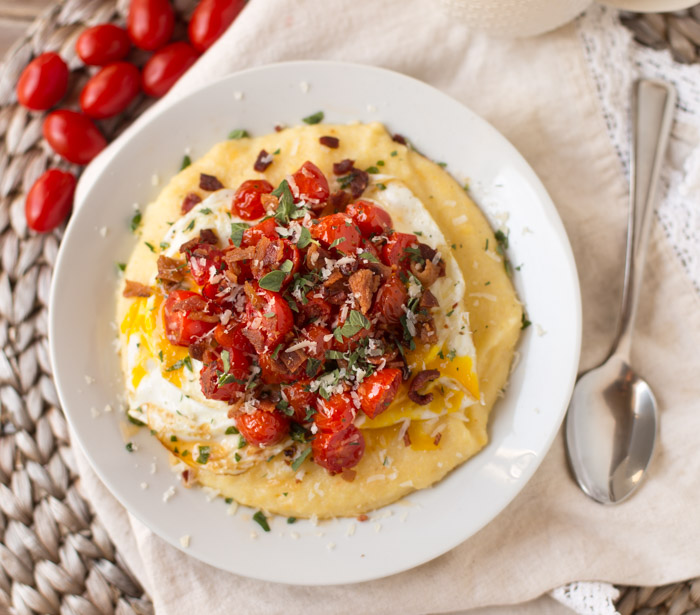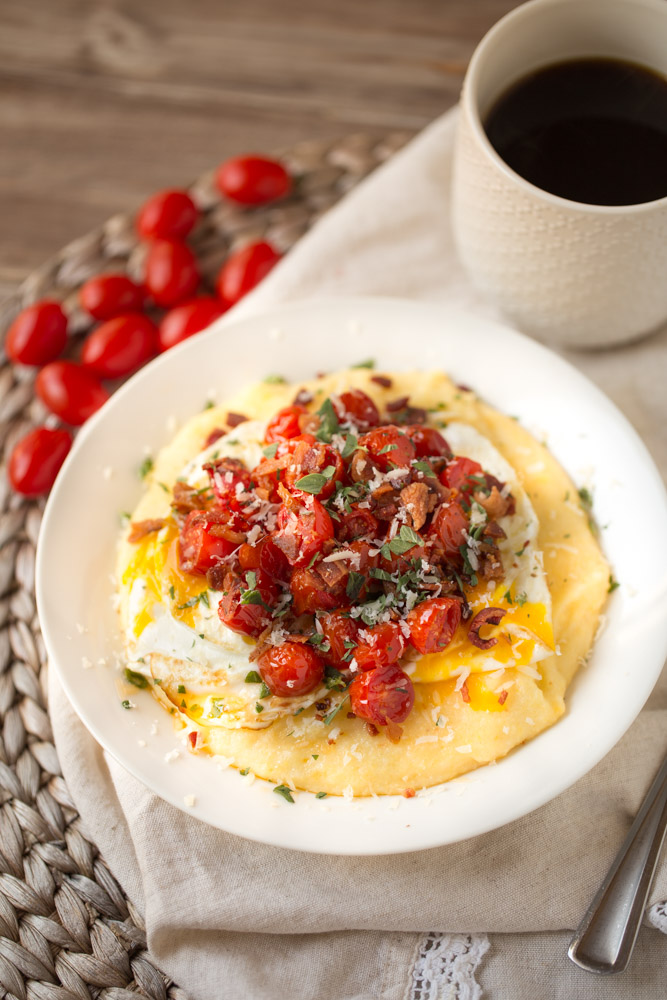 RELATED POSTS
Roasted Tomatoes with Eggs and Quinoa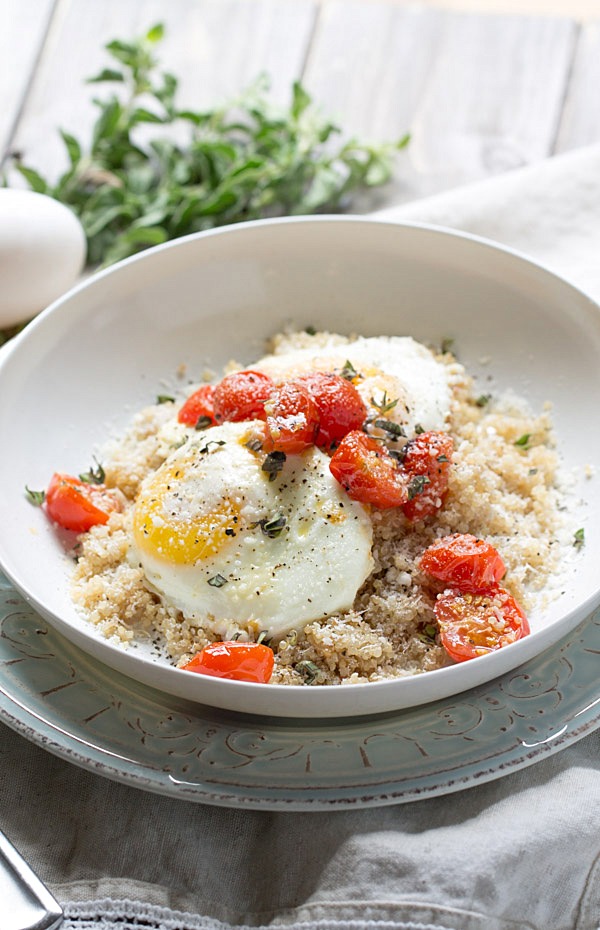 Heirloom Tomatoes with Baked Eggs