Blueberry Brie Walnut Quesadilla
Creamy brie cheese, walnuts and fresh blueberries come together to make this crazy good Blueberry Brie Walnut Quesadilla. Perfect for breakfast or dessert!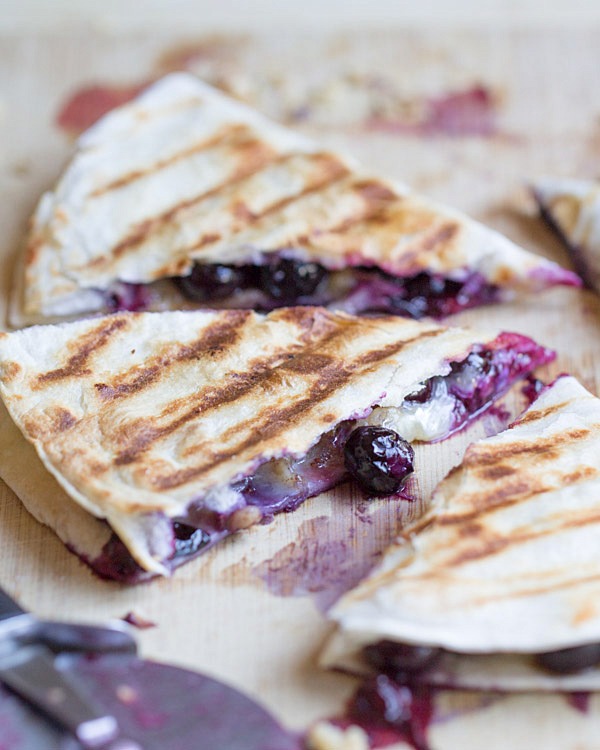 You guys. Seriously. I promise this will be the last post until Marvelous Mondays on Sunday.
I've kind of been post crazy this week. But these Blueberry Brie Walnut Quesadillas were too crazy good to not share this week. Can you really resist a sweet quesadilla stuffed with fresh blueberries, walnuts, brie cheese and cinnamon and sugar? And then topped with a sweet little glaze? I sure as heck can't.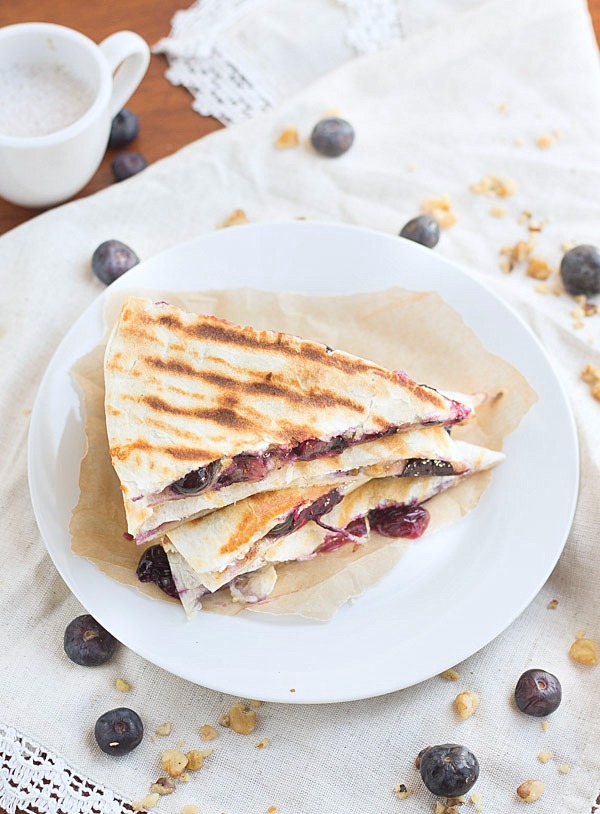 True story. I was only going to eat two little wedges of these quesadillas. But I ended up eating four. It was hard to say no to eating more.
I made these quesadillas on Sunday, at a reasonable time, according to Ken. You see, I often don't feel like getting up early on the weekends. Who does? This past weekend was no exception but I actually forced myself to get up early on Saturday and Sunday. Which made Ken a happy camper. He got to eat breakfast before 11am.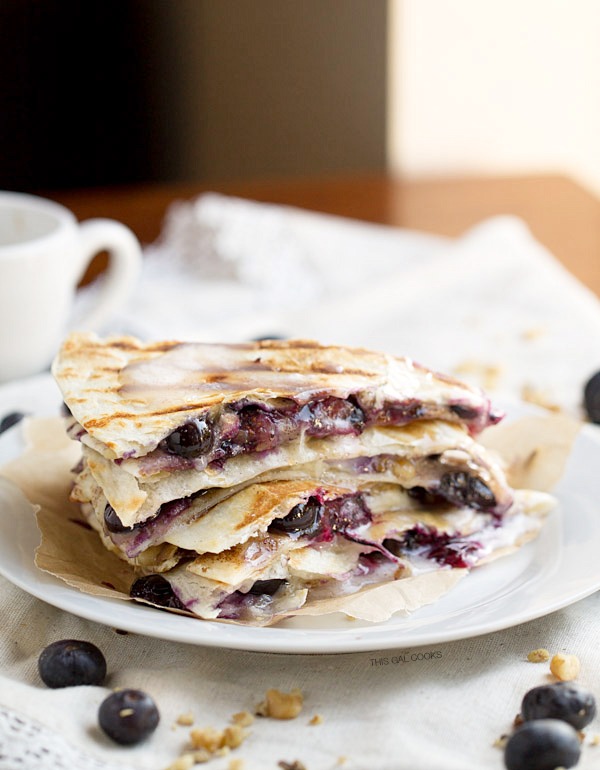 I made breakfast Sunday morning. But Saturday morning we went to Cucina del Arte, a little cafe in Palm Beach. They have the BEST breakfast ever. Every time we go there I order a cappuccino and the Huevos Rancheros. It's the ultimate motivation to get up early.
The cappuccino is so cute. It comes with a little sugar cube stick for sweetening. I totally can't resist it and think it's the cutest little cappuccino I've ever seen. If you're ever in the area, you should check the place out.
This quesadilla came to me on a whim.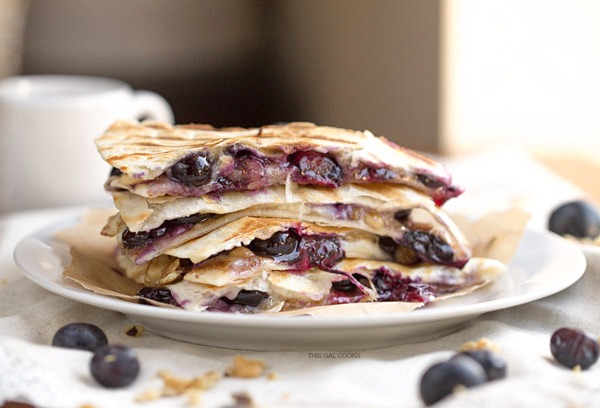 Sometimes that happens. I randomly get an idea for a recipe at the weirdest times. I really can't remember when this idea came to me. I had seen fruit quesadillas on Pinterest and subsequently in blog world. They looked good and I knew I wanted to do it. I just didn't know how I would do it. But I figured it out fairly quickly. It was probably sometime in the middle of the night. I am not the best sleeper and I wake up often. My mind often wanders when I awake in the wee hours of the morning. Sometimes it's recipes. Sometimes it's blogging tutorials. And sometimes it's the most random stuff you've ever heard of.
Enjoy the recipe.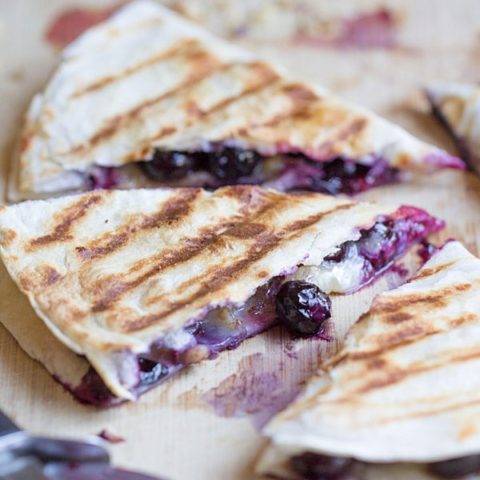 Blueberry Brie + Walnut Quesadilla
Yield: 4

Prep Time: 10 minutes

Cook Time: 10 minutes

Total Time: 20 minutes

Creamy brie cheese, walnuts and fresh blueberries come together to make this crazy good Blueberry Brie + Walnut Quesadilla. Perfect for breakfast or dessert!
Ingredients
2 10 inch burrito tortillas
1/3lb brie cheese, room temp and divided
1 tbsp brown sugar
1/4 tsp cinnamon
6 oz blueberries, divided
3 tbsp walnuts, divided
1 tbsp half and half
1/4 C powdered sugar
Cooking spray
Instructions
Mix together the cinnamon and sugar. Remove 1/4 tsp from the mix and then divide the rest.
Whisk together the powdered sugar, half and half and 1/4 tsp cinnamon sugar mixture. Set aside.
Heat a grill pan or a large skillet over medium heat. Spray with cooking spray.
Spread the brie cheese onto each quesadilla. Place one quesadilla on the heated grill pan or skillet. Top with half of the blueberries an walnuts. Sprinkle with half of the remaining cinnamon/sugar mixture. Fold over and press with a plate or pot lid. Flip over after about a minute and cook for another minute. Repeat this process for the second tortilla.
Cut each quesadilla into quarters. Serve with the glaze.
Nutrition Information:
Yield: 4 Serving Size: 1
Amount Per Serving: Calories: 482 Total Fat: 23g Saturated Fat: 11g Trans Fat: 0g Unsaturated Fat: 11g Cholesterol: 53mg Sodium: 841mg Carbohydrates: 52g Net Carbohydrates: 0g Fiber: 6g Sugar: 17g Sugar Alcohols: 0g Protein: 18g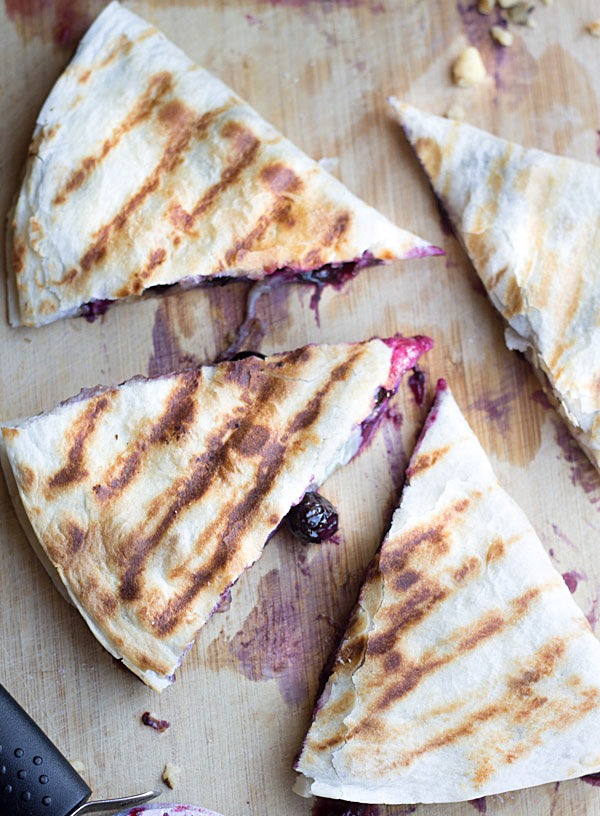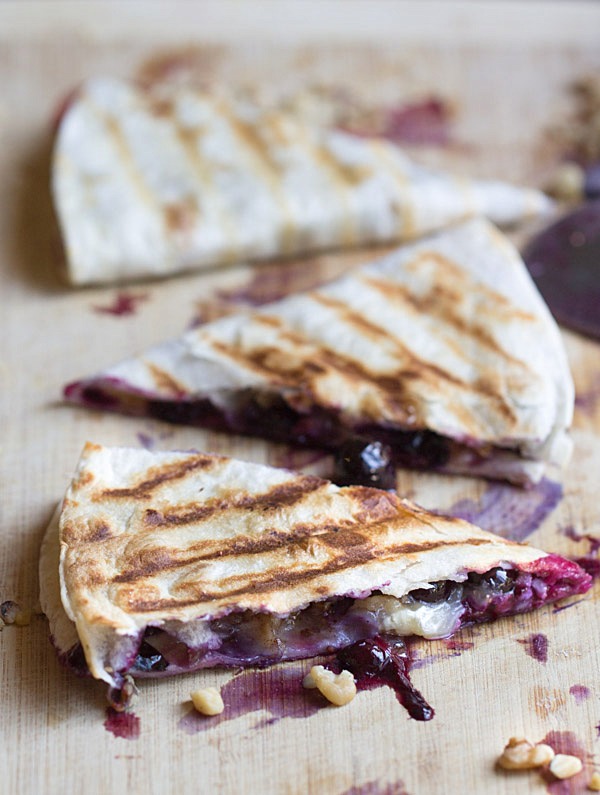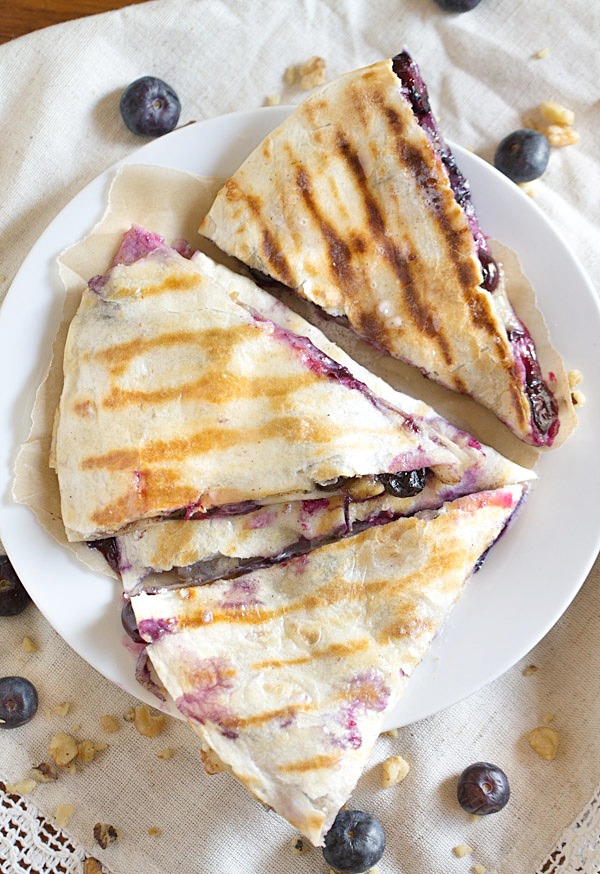 More from This Gal Cooks