Blog Hop: Grow Your Blog with Facebook Tips
INTERESTED IN CO-HOSTING? PLEASE EMAIL [email protected] AND JULIE WILL GET YOU SCHEDULED!
Good Thursday morning and welcome to the Grow Your Blog (or GYB) blog hop! Paula and I are so happy to have you link up with us this week. And we happily welcome any new bloggers to the party! :) How has your week been? Do you have any plans for the weekend?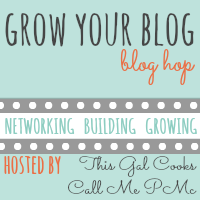 What is the Grow Your Blog Hop all about? NETWORKING! Meeting new bloggers, finding new content to follow, building your readership. Why is blog networking great for you? Simply put, it increases readership and traffic to your blog. How do you network? Visit. Comment. Invite. Communicate. These are key to growing your blog.
Which social networking sites do you use for networking? Are you actively engaged in these sites? Do you share interesting information that will grab the interest of your readers and potential followers of your social media sites? Let's focus on Facebook this week. What do you share on your Facebook page? Do you share large photos or simply the links to a post? Do you share other content than your own?
When using Facebook I recommend:
Posting a variety of content that you find while browsing other blogs. Post a small introduction, upload a photo of the item and then paste the link into the post. Posting a large photo will grab more people's attention. Posting content other than your own content will show bloggers that you actually get out there and read other blogs and promote others' material.
Participate in "Facebook Parties."You share your content on someone's wall and they reshare it so all of their readers can see it. I've gained some Facebook followers by participating in these parties.
If you stop by someone's Facebook page and follow along via your personal account (which you should so the "like" counts, provide them with a link back to your site so they know how to find you.
Make a post thanking your new followers for following you and ask them to leave a link to their blog or blog's Facebook page so you can check them out.
All of these tasks can help you increase your Facebook numbers. When I left blogger and moved to WordPress towards the end of December, I barely had 600 Facebook Fans. Now I have over 1100. With a little work, you can achieve this too!
Now, onto the party!
THIS WEEK'S HOSTS & LOVELY CO-HOSTS!
Julie from This Gal Cooks (HOST)
Paula from Call Me PMc (HOST)
Julie from The Chirping Mom's (CO-HOST)
Heather from The Word Magician's Kitchen (CO-HOST)
Laura from Mouse in the Kitchen (CO-HOST)
Sara from Life in a Breakdown (CO-HOST)


WHEN YOU LINK UP TO THIS PARTY:
Follow your hosts and co-hosts
Link up the main page of your blog,  not an individual post. You may link up your individual posts to Marvelous Mondays.
Visit and follow other bloggers
Comment to let them know that you stopped by and how you followed (Email, GFC, Facebook, Bloglovin, etc)
Invite them to visit your blog (be sure to leave your blog web address – too many times have i seen bloggers comment and request a visit to their blog without leaving their blog web address)
Communicate with them about what you like on their blog. Let them know you are interested in their blog. USE THEIR NAME! A simple "I'm so and so stopping by. I followed you please follow me." just isn't going to interest someone into visiting your blog. Sure, you can request a visit to your blog or a follow along but engage in some type of conversation first.
Grab a button and promote the party(you can get the button on This Gal Cooks right here.)