Baked Eggs with Quinoa and Fresh Salsa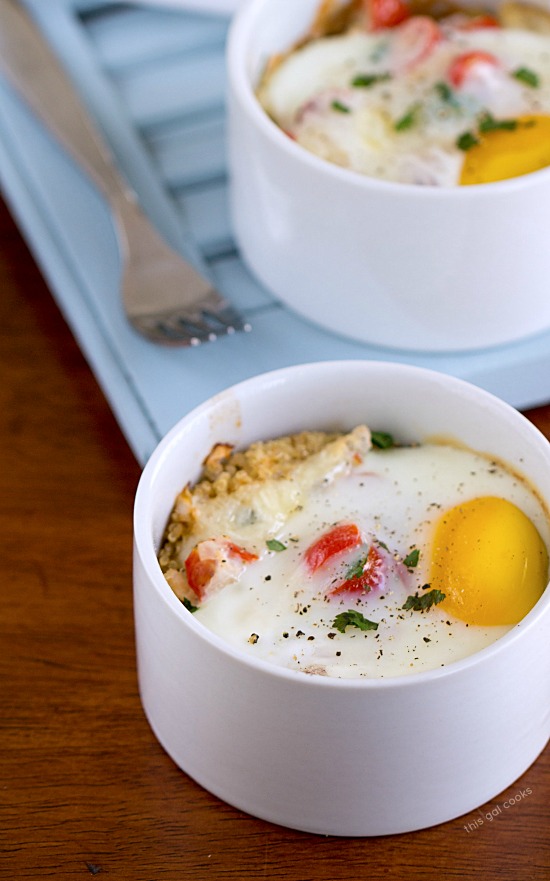 Ya know, eggs and salsa go pretty well together and when you throw in some cheese and quinoa, and put it all into cute little ramekins, well you have yourself a darn healthy little breakfast for two.
Breakfast for two. It's what's going on at my place in the mornin'. I was just singing to myself right there. Next American Idol star right here. Or something like that. Oh who am I kidding? Singing about eggs and breakfast for two won't be getting this gal onto any reality TV singing show. But maybe it will get me onto the next sing like a chef TV show. Wait, does anything like that exist? Darn. Didn't think so. It's ok. I'll survive. I'm not much of a singer anyways. But that chef show…eh, a girl can dream, right?
Recipes made in little ramekins have a place in my heart. 1. They're cute. 2. They're perfect for two. 3. No need to dirty up another dish, it's all right there for you in one cute little ramekin. Some of my favs: this vegan Cherry Crisp. And these healthy, low carb Mashed Cauliflower Mini Casseroles.
Oh quinoa. And eggs. You have a place in my heart too. You taste great with salsa and you're both H-E-A-L-T-H-Y.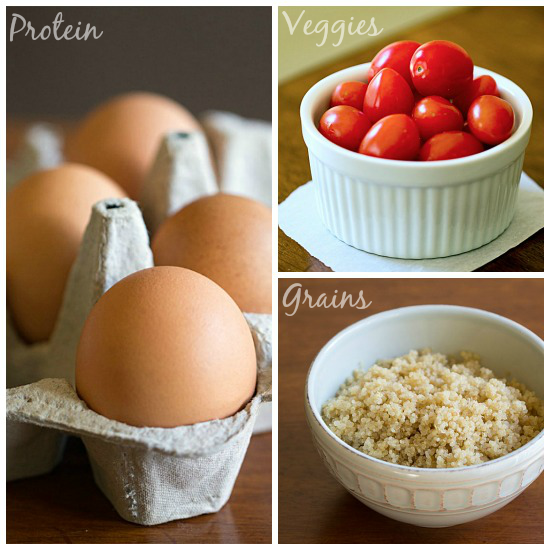 Baked Eggs with Quinoa and Fresh Salsa
This tasty Baked Eggs with Quinoa and Fresh Salsa is made in cute little ramekins too. And it's full of protein, veggies and grains. Oh my! Quinoa provides a dose of whole grains that are chock full of calcium and iron. But wait! There's more to that quinoa. Quinoa also provides a dose of protein. It's chock full of essential amino acids. Your protein intake doesn't end with quinoa. Eggs and white cheddar cheese kick up the protein factor. Throw in the fresh salsa and you're tackling four of the food groups before the crack of dawn. Er, are you up before the crack of dawn? This gal sure isn't if she doesn't have to be. I'll take my breakfast at 10am. With coffee. Must. Have. Coffee.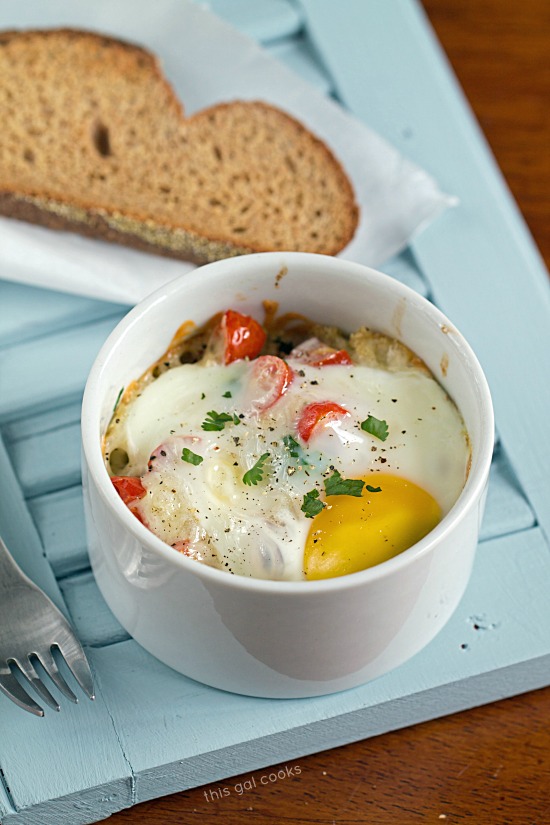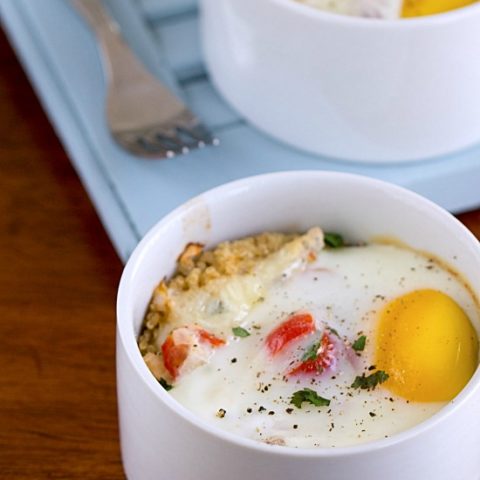 Baked Eggs with Quinoa and Fresh Salsa
Yield: 2 servings

Prep Time: 10 minutes

Cook Time: 15 minutes

Total Time: 25 minutes
Ingredients
2 large eggs
1 C cooked quinoa
1/2 C cherry tomatoes, quartered
1 tbsp fresh cilantro, chopped, plus more for garnish
1 clove garlic, minced
1/2 tsp fresh lime juice
1/4 tsp sea salt
1/4 tsp ground black pepper, plus more for sprinkling the tops of the eggs.
2 tbsp chopped white cheddar cheese (you can also use shredded cheese)
2 10oz ramekins
Instructions
In a small mixing bowl, combine the tomato, lime juice, garlic, cilantro, sea salt and ground pepper. Mix well.
Grease the two ramekins with cooking spray.
Place 1/2 C quinoa into each ramekin.
Top the quinoa in each bowl with the salsa and then the cheese.
Crack an egg over the mixture in each ramekin.
Place the ramekins on a baking sheet and bake at 350 for 15-25 minutes. For runnier eggs, bake on the low end. If you like a firm yolk, cook it for 25 minutes.
Garnish with cilantro and sprinkle with a little ground pepper.
Nutrition Information:
Yield: 2 Serving Size: 1
Amount Per Serving: Calories: 259 Total Fat: 12g Saturated Fat: 4g Trans Fat: 0g Unsaturated Fat: 7g Cholesterol: 287mg Sodium: 456mg Carbohydrates: 23g Net Carbohydrates: 0g Fiber: 3g Sugar: 2g Sugar Alcohols: 0g Protein: 16g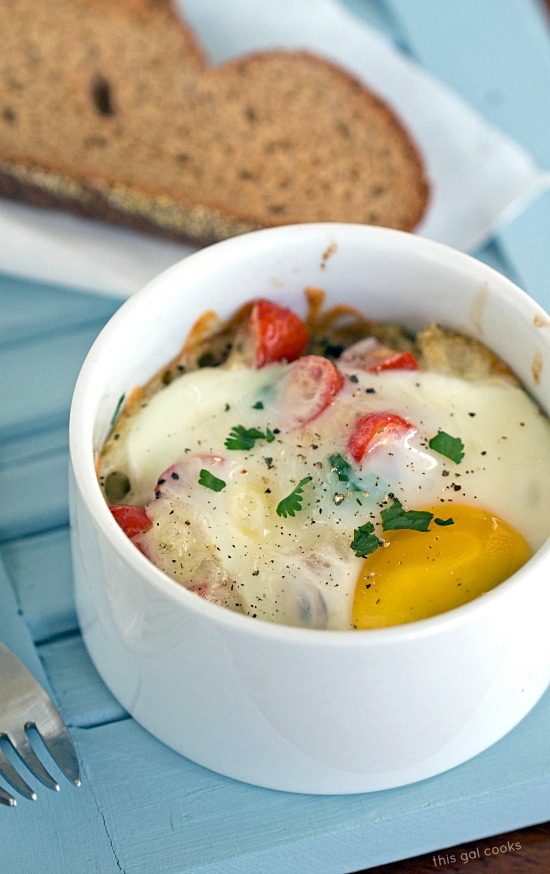 OH. Guess what? I start vacation…TOMORROW! Yeah! We'll be heading to a rather chilly North Carolina. Sadly, I missed my first chance at seeing snow. Snowstorm. Yeah, that happened earlier this week in just about ALL of North Carolina. *cries* But I'm still gonna have fun!
More Tasty Recipes from This Gal Cooks