Lentil Tagine with Whole Wheat Couscous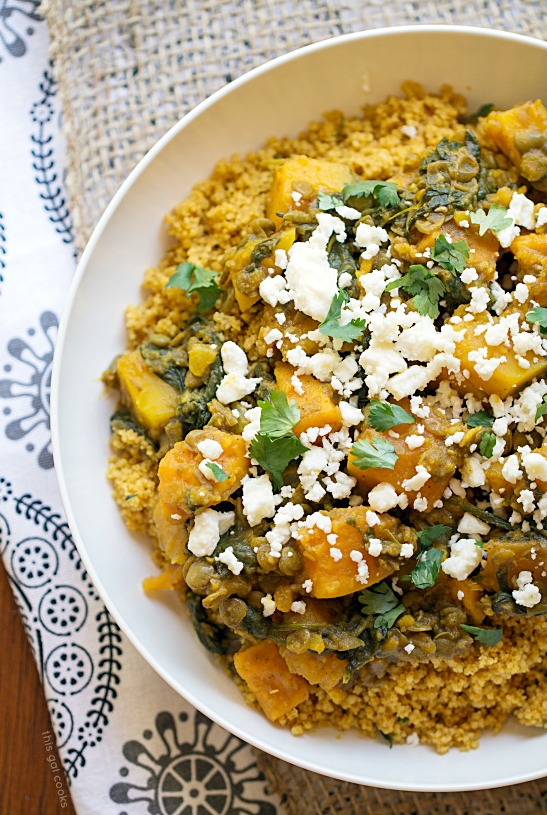 This Moroccan style Lentil Tagine with Whole Wheat Couscous is a delicious healthy option for lunch or dinner.
Who wants a healthy recipe?
I can raise my hand to that! After eating a lot of carby, unhealthy foods around the holidays, I needed a detox. Not a full blown, restrict myself from anything and everything sweet or carby detox. Just something that would get me back on track to eating healthier. I opted to incorporate both low carb and clean eating recipes into my diet. I also subscribed to Clean Eating magazine. I just received my first issue over the weekend and I already found a few recipes that I want to try. The first recipe I decided to try: Chickpea Tagine.
What is tagine, you ask?
It's a slow simmered dish named for the type of earthenware pot that it is cooked in. The dish originated in Northern Africa. It can be made with meats, veggies and fruits. Make it Moroccan style by using spices such as cinnamon, turmeric, paprika and cumin.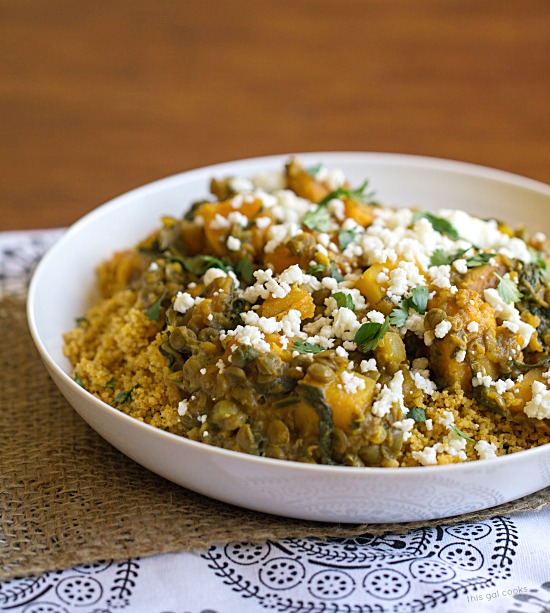 Lentil Tagine with Whole Wheat Couscous
I followed the basics of the recipe found in Clean Eating but I made some changes. The most significant change being that I used lentils rather than chickpeas. Ken is not a fan of chickpeas. When I asked him if he liked chickpeas, he said he didn't know. When I showed him a can of chickpeas, he quickly realized that he did not like them. Lentils – 1, Chickpeas – 0.
Start off by sauteing some sweet onions in olive oil. Add some garlic, fresh spinach, tomato paste, spices and cook until the spinach is wilted. Then you're going to add some vegetable stock and cubed sweet potatoes and butternut squash. Simmer until the sweet potatoes and butternut squash are tender. Add some cooked lentils, salt and pepper to taste. Cook the whole wheat couscous with the juices from the skillet. You don't even have to turn on another burner for this. Just place the couscous in a saucepan, add the hot liquid to the pan, cover and let sit for 5 minutes. Serve the lentil mixture over the couscous and top with fresh chopped cilantro and feta cheese. Or go vegan and leave out the cheese. I hope you enjoy this Lentil Tagine with Whole Wheat Couscous!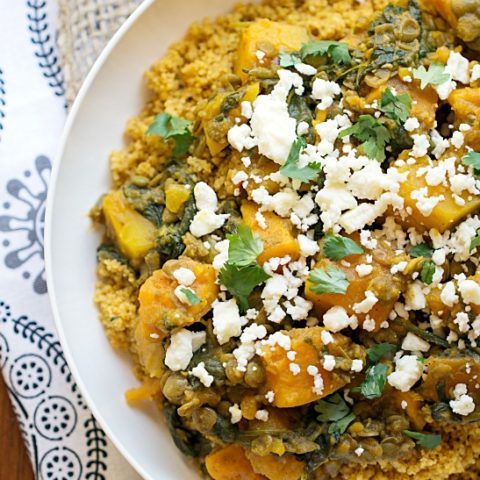 Lentil Tagine with Whole Wheat Couscous
Yield: 4 servings

Prep Time: 15 minutes

Cook Time: 30 minutes

Total Time: 45 minutes
Ingredients
1 tbsp olive oil
1/2 sweet onion, chopped
3 cloves of garlic, minced
3/4 tsp ground ginger
1 tbsp tomato paste
1 tsp paprika
1 tsp ground cumin
1 tsp ground turmeric
1/2 tsp ground cinnamon
3 C vegetable stock
2 small sweet potatoes, peeled and cubed
1 1/2 lb butternut squash, peeled and cubed
3 C fresh spinach
3/4 tsp kosher salt, plus more per taste
1/2 tsp ground black pepper
2 C cooked lentils
1 C whole wheat couscous
1/4 C chopped fresh cilantro plus more for garnish
Instructions
In a large saute pan, heat the olive oil over medium heat. Add the onion and saute until tender. Add the garlic, spinach, ground ginger, tomato paste, paprika, salt, pepper, cumin, turmeric and cinnamon. Mix well and cook until the spinach is wilted.
Add the vegetable stock, sweet potatoes, butternut squash to the pan, cover and simmer until the potatoes and squash are tender, about 25 minutes.
Add the cooked lentils and simmer for another 5 minutes. Add more salt, if desired.
Cook the couscous by pouring it into a saucepan. Place 1 1/4 C of the liquid from the lentil mixture to the saucepan and cover. Let sit for 5 minutes. Fluff with a fork and mix in 1/4 C chopped cilantro.
Serve in small bowls, couscous topped with the lentil mixture. Top with cilantro and feta, if desired.
Notes
Adapted from Clean Eating magazine, January/February 2014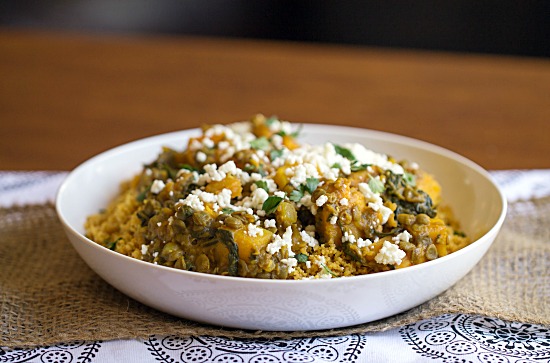 More from Tasty Recipes This Gal Cooks