Spicy Sweet Potato & Bacon Chowder
It's time for another soup recipe! It's been a few weeks since I posted one so I figured I would post this delicious recipe that I made a couple of weeks ago. If you like spicy foods, you'll love this soup. If you like bacon, you'll love this soup.  See the pattern? Peppers + Bacon + Soup = Fantastic Soup!
This was sort of an experiment. I got my inspiration for this soup from Tracey over at The Kitchen is My Playground. She made an awesome Chipotle Sweet Potato Chowder a few weeks ago and it got me to thinking about making my own sweet potato chowder. I love experimenting in the kitchen so when I got home from work on that day a couple of weeks ago (yep, I had motivation after work!) I went to work in my kitchen and made this soup. I hope you enjoy this recipe!
Spicy Sweet Potato & Bacon Chowder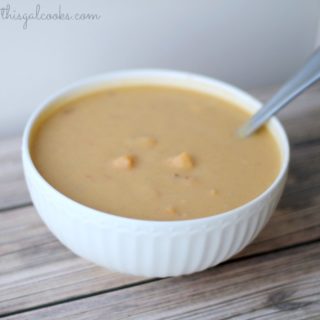 Recipe: Spicy Sweet Potato & Bacon Chowder
Yield: 6

Prep Time: 15 minutes

Cook Time: 25 minutes

Total Time: 40 minutes
Ingredients
1 chipotle pepper in adobo sauce, seeded and chopped
2 sweet potatoes, peeled, cubed and boiled until tender
4 C chicken broth
1 15 oz can of coconut milk
2 tbsp cornmeal
4 slices of bacon, chopped
1/2 onion, chopped
1 sweet red pepper, seeded and chopped
1 jalapeno, seeded and chopped
1 clove of garlic, minced
1/2 tsp dried thyme
salt and pepper to taste
Instructions
In a large pot, saute the bacon over medium high heat until the juices have released.
Add the onions, garlic and peppers and saute until tender.
Add the dried thyme and mix well.
Add half of the sweet potatoes and half of the chicken broth. Mix well and then puree with an immersion blender. Remove the solids with a strainer.
Whisk together the cornmeal and coconut milk and then pour into the soup mixture. Mix well.
Allow to simmer for 15-20 minutes. The soup will thicken over time.
Serve over rice, if desired.

When I make this soup again, I think I will try it vegetarian style with vegetable broth and no bacon. I think it would be really good prepared this way. It would also be healthier!
Here are a few more soup and chowder recipes that you may enjoy.