Deep Dish Taco Pie
Deep Dish Taco Pie is a simple, easy to make Mexican inspired dinner that the entire family will love!

One of my favorite types of food is Mexican style  food. Tacos, enchiladas, fajitas, chili rellanos. You name it, I probably like it. There's a local Mexican restaurant down the road from our house called Rancho Chico. They have awesome food. And the chips and salsa, well, they are so good that it's hard to stop eating them which of course results in me not being able to eat all of my meal. And when I can't eat all of my meal, that means I have leftovers! Some of my favorite dishes from this restaurant are spinach enchiladas, chili rellanos, chicken enchiladas and beef tacos. Yum. I need to go there again.
To satisfy my need for Mexican style food, I often prepare Mexican style dishes for dinner. Which brings me to the recipe I am sharing with you today: Deep Dish Taco Pie. This makes a great dinner and makes even better leftovers. In fact, I recommend preparing  and baking it the night before you plan to have it for dinner. The flavors have time to mingle and the pie has time to set. I hope you enjoy this recipe!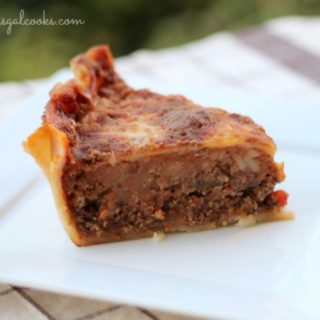 Recipe: Deep Dish Taco Pie
Yield: 8

Prep Time: 20 minutes

Cook Time: 40 minutes

Total Time: 1 hour
Ingredients
1 1/4 lb ground beef
1 refrigerated pie crust
2 tbsp taco seasoning
1 10oz can enchilada sauce
14.5 oz can diced tomatoes
1 1/2 C refried beans
1 small onion, chopped
4.5 oz can diced green chilis
1 1/2 shredded mexican cheese
1 tbsp water
Instructions
In a large pot, brown the beef and onion over medium high heat until the beef is cooked. Drain, return to the pot and reduce heat.
Add the taco seasoning, water, diced tomato and diced chilis . Mix well.
Roll out the pie crust and place in the bottom and up the sides of a 9 inch round cake pan.
Add 3/4 C of the shredded cheese over the pie crust. Layer with the beef mixture, enchilada sauce, refried beans, and the remaining cheese. Add more cheese if needed to cover the top of the pie with cheese.
Bake at 375 for 30-40 minutes. If the cheese starts to get too brown, cover the pie with aluminum foil and continue to bake. Allow to sit for 15-20 minutes before serving but for best taste and pie structure, serve next day.
Garnish with green onions, sour cream and taco sauce.