The holidays can be hectic. But don't let your party planning get the best of you. Here are Over Ten Homemade Holiday Appetizers that will keep your guests satisfied until the main course is served!
Subscribe to my newsletter to get recipes delivered to your inbox!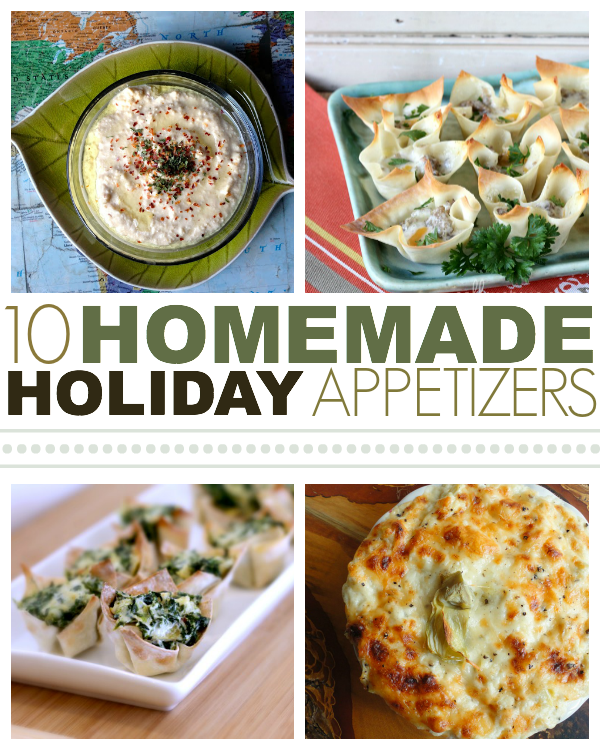 This week my good friend Paula (Call Me PMc) and I are bringing you four delicious roundups to help you plan your holiday party and/or feast! Today we are sharing appetizers and main dishes. On Friday, we will be sharing sides and desserts. You can find the homemade holiday appetizers in this post (as if I needed to point that out!) and you can find the homemade holiday main dishes over at Paula's blog right here. We know how important it is for many people to make homemade appetizers, meals and desserts so we wanted to give you a one stop shop for all of these homemade goodies.
Visit Paula's 14 Homemade Holiday Main Dishes Roundup by clicking here.
I love entertaining. While my boyfriend and I don't often have a lot of people over to our house, whenever we do have company, we like to make food. Heck, I like to make food when it's just the two of us. On Superbowl Sunday, I often make a variety of appetizers while Ken grills or smokes some meats. The holidays are no exception. We head to my mom's place for Thanksgiving, to his family's place for Christmas and we spend New Years at home. I made a ton of food to take to mom's, a side or a dessert to take to Ken's family's place and appetizers and other goodies for New Years. It really doesn't take a lot of time to make some good appetizers. All of these appetizers can be made in less than 30 minutes and many of them can be prepped the night before. For spinach and other dips, mix your ingredients the night before, assemble and bake the next day. Hummus can be prepared the night before your event. Bruschetta and Crostini are super simple to prepare right before your event. Enjoy these recipes!
Homemade Holiday Appetizer Roundup
{Click Images to view Recipes}