Blackened Scallops are paired with Sweet Potato Noodles tossed in a creamy dairy free sauce that's made with coconut milk, shallots and fresh garlic.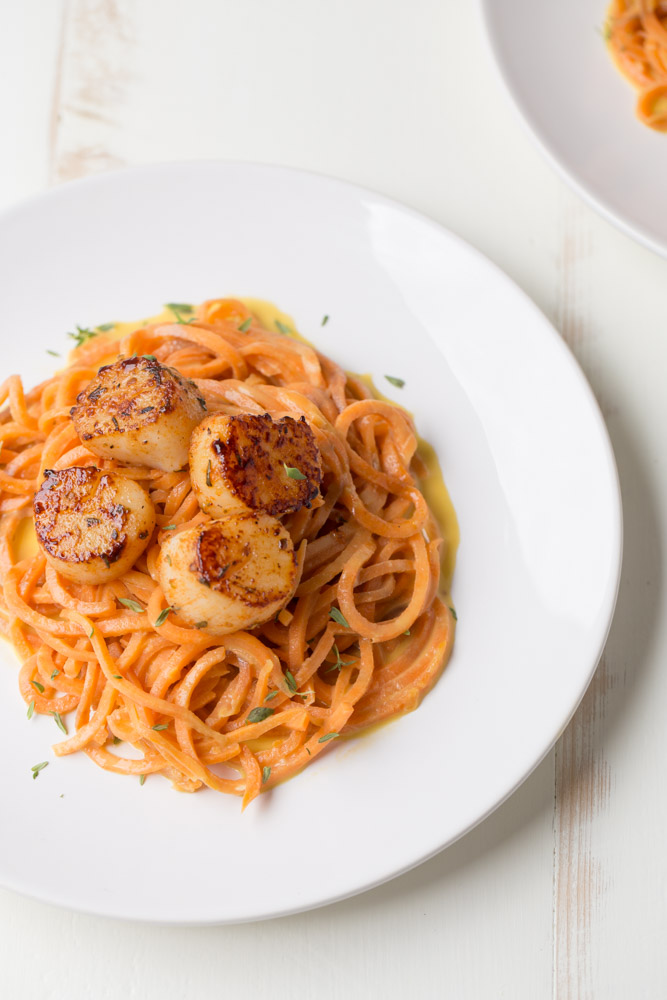 Hellooooo! It's been a while, hasn't it? First I dabbled with starting another blog that was a healthy recipes blog and then I decided to take a 99.9% break from blogging. But now I'm back and ready to bring This Gal Cooks back to life! ♥︎
Eventually I will move all of the recipe posts from my other blog to this blog which means more recipes for you to enjoy. Yay!
Many, many things have happened since we last spoke. All of them good, such as starting a new job, going on a long road trip to Minnesota for Christmas and visiting a few craft beer festivals that happened around Florida. I'll share all of that fun stuff with you in future blog posts but for now, I'm going to share this recipe with you.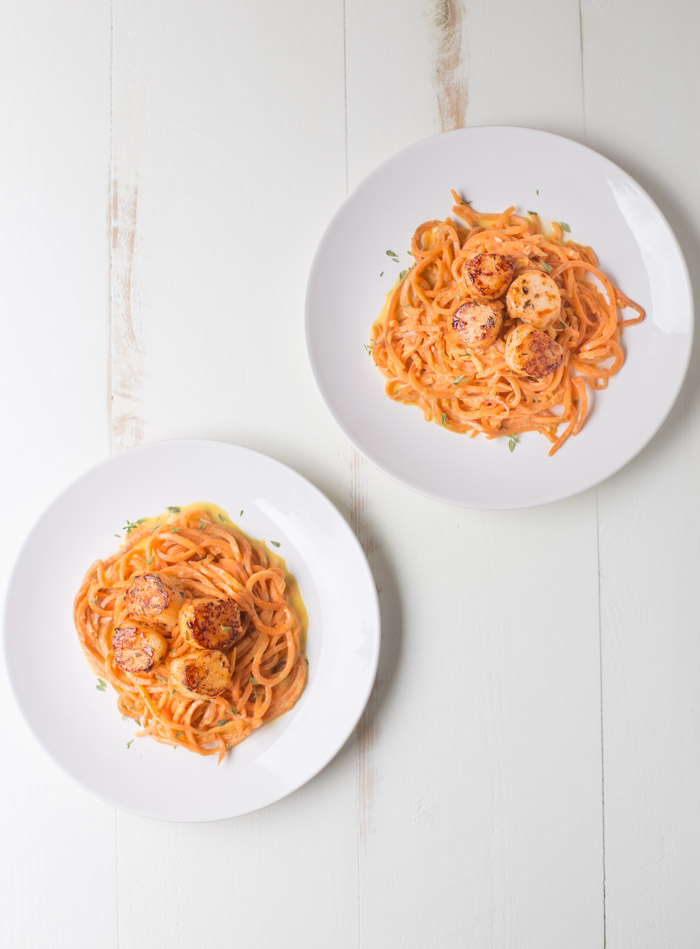 This Blackened Scallops recipe is great because:
It's dairy free
It's gluten free
It's made with sweet potato noodles
It's low calorie, low sugar and low carb
It's easy to make
You can enjoy it for lunch or dinner
Blackened Scallops with Sweet Potato Noodles
Blackened Scallops are paired with Sweet Potato Noodles tossed in a creamy dairy free sauce that's made with coconut milk, shallots and fresh garlic.
Ingredients
2 medium sweet potatoes, 7-10 ounces each, peeled and rinsed
1 tbsp extra virgin olive oil
½ tbsp extra virgin olive oil
3 cloves garlic, minced
1½ tbsp finely chopped shallot
1 can full fat coconut milk
½ tsp Kosher salt
¼ tsp ground pepper
½ lb sea scallops (about 16 scallops), side-muscle removed
I tsp Blackened seasoning
1 tsp extra virgin Olive oil
Fresh thyme for garnish (optional)
Instructions
Spiralize the sweet potatoes by using a spiralizer or julienne peeler.
Cook the sweet potato noodles. Heat 1 tbsp olive oil over medium heat in a large pan or pot. Cook sweet potato noodles 5-8 minutes or until tender and slightly crispy, stirring often. Once done cooking, remove from the stove, place in a mixing bowl and set aside.
Prepare the sauce. Heat ½ tbsp olive oil in large sauce pan. Add garlic and shallots. Cook until tender, 1-2 minutes stirring often so they do not burn. Pour in coconut milk and stir. Season with salt and pepper. Bring to a boil, reduce heat and simmer 5 minutes. Purée with an immersion blender.
Add the sauce to the sweet potato noodles. Start with 1 C and pour over sweet potato noodles and toss to coat. Add more sauce, if desired. The starch in the noodles will thicken the sauce.
Cook the scallops. Heat skillet over medium heat. Spray with cooking spray. Season scallops with blackened seasoning. Toss with 1 tsp olive oil. Place on skillet and cook 2-3 minutes per side.
Prepare to serve. Divide noodles between 4 plates. Top each with 4 scallops. Garnish with fresh thyme, if desired.
Notes
Nutrition content was calculated using My Fitness Pal. All values are approximate.
Nutrition Information
Serving size:
1.5 C
Calories:
300
Fat:
22g
Saturated fat:
13g
Unsaturated fat:
6g
Carbohydrates:
7g
Sugar:
4g
Sodium:
572mg
Fiber:
1g
Protein:
14g
Cholesterol:
30mg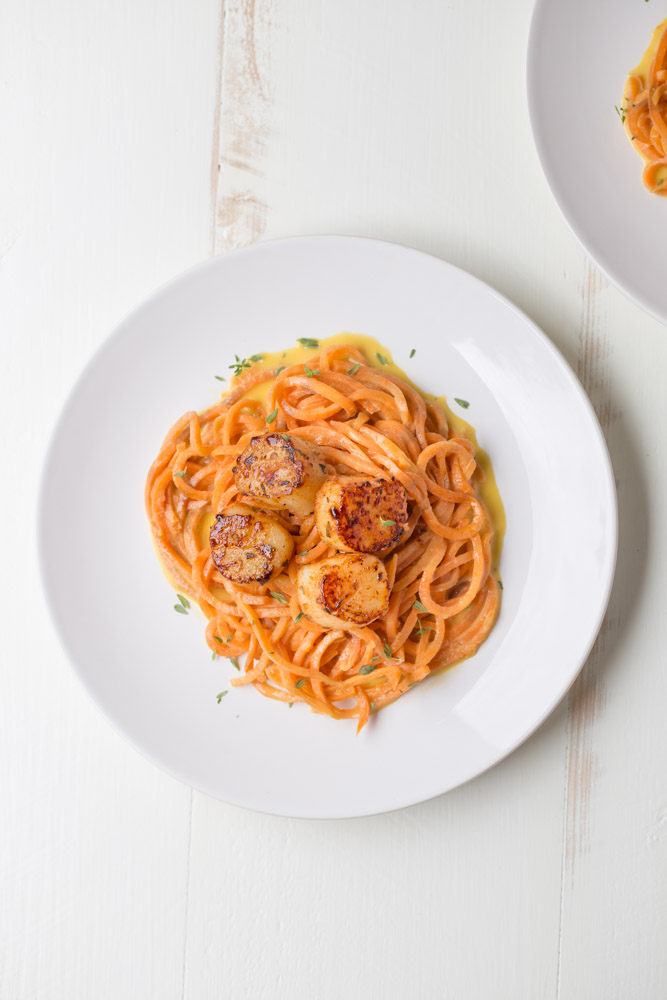 Let's be friends on INSTAGRAM, FACEBOOK, TWITTER and PINTEREST!