Tonight I decided to try out a new recipe. I got my inspiration from The Primal Blueprint Cookbook by Mark Sisson.  I'm trying to cut back on carbs and remove wheat products from my diet so this book is a good starting point. I will note that I did make some changes to the recipe and after completing the recipe, I feel that there are some additional changes that could be made. However, it was a pretty good dish. The sauce was amazing!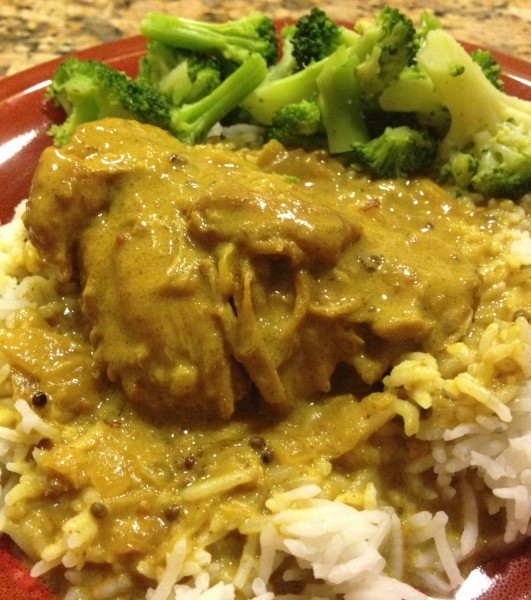 4 chicken thighs

2 tbsp of peanut oil

1 tsp of mustard seed

1 small onion, chopped

3 garlic cloves, crushed

1 tbsp of ground ginger

1 tsp of ground cumin

1 tbsp of ground coriander

1 tsp of ground tumeric

Hot Sauce, to taste

1 tbsp of red wine vinegar

1 1/4 cup of coconut milk

White wine for deglazing
1.  Cook chicken in peanut oil over medium high heat.
2. When the chicken is done cooking, remove it from the pot. Add the mustard seed and cook until it starts to pop. (WARNING! This can get really messy. I had seeds all over the place because they were popping out of the pot!)
3.  Add the onion and a good splash of white wine to the pot for deglazing. Cook the onion until it is soft.
4. Add all of the spices, the garlic, red wine vinegar to the pot. Then add the chicken and coat it with the mixture. 
5.  Add the coconut milk to the pot, mix well, coat the chicken and then bring to a boil. Add hot sauce to taste (I would wait and taste after the chicken is done cooking and add more if needed.) Simmer for 40 minutes (I ended up cooking longer because the thighs weren't thoroughly cooked after 40 minutes.)
Serve with basmati rice and broccoli.
***Next time I make this recipe, I am going to cube some chicken breast and use it instead of the thighs. I will also add a little salt.***