Zucchini Noodles with Roasted Tomatoes
Simple and healthy, these zucchini noodles are paired with roasted tomatoes and a light white wine sauce. Cooked in one skillet to cut back on the clean-up.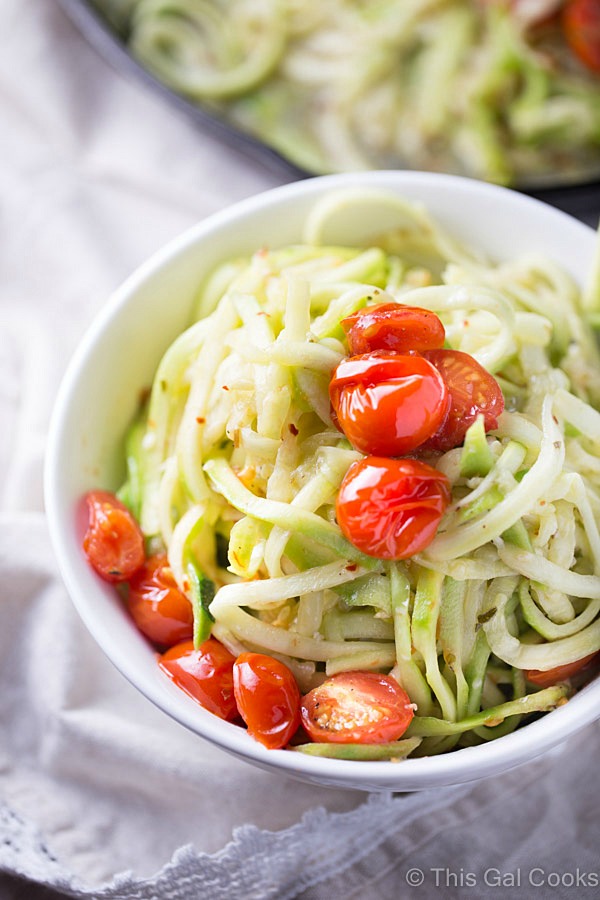 'Tis the season. If you're stuffing your face like I am, then you're probably craving a healthy meal. Cue the healthy food jingle. Today I'm sharing a healthy one skillet meal with you.
Is anyone else still stuffing their face with Thanksgiving leftovers? Cause I sure am. Considering how much food I made for TWO people on Thanksgiving, I will probably have leftovers until the end of this week. Pretty funny, when I think about that. Let me tell you why.
I have a three day limit on leftovers.
No joke. I am usually not digging the taste of the leftovers after 3 days. Unless it's cookies. Or holiday leftovers. I can live off of holiday leftovers for days. My favorite way to enjoy the holiday leftovers right now is via the Leftover Bowl. Throw them in a bowl. Top with gravy. Heat in the microwave. Top with cranberry sauce. Holy YUM.
So I've been pretty much living off of that leftover bowl concoction for the past few days. And I am STUFFED and craving something healthy. These zucchini noodles were so easy to make so I think I'll whip up a batch of them again stat. For easy zucchini slicing, I recommend using this Spiralizer. I bought one a couple months ago and it has made life in the kitchen SO much easier. If you don't have a spiralizer, you can use a julienne slicer.
I love that this recipe is low carb and healthy. The roasted tomatoes give it nice touch and a burst of extra flavor. The wine sauce is light, refreshing and not overpowering. If you love a little extra heat in your meals, add some red pepper flake to the sauce, too!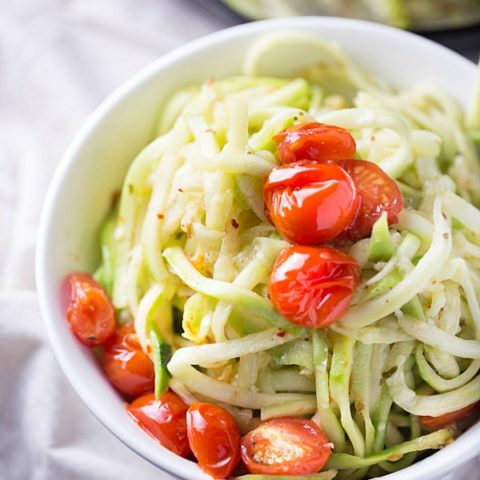 Zucchini Noodles with Roasted Tomatoes
Yield: 2 servings

Prep Time: 10 minutes

Cook Time: 10 minutes

Total Time: 20 minutes

Simple and healthy, these zucchini noodles are paired with roasted tomatoes and a light white wine sauce. Cooked in one skillet to cut back on the clean-up.
Ingredients
3 large zucchini
3/4 C cherry tomatoes, halved
pinch of salt and pepper
1/2 tbsp olive oil
3 tbsp butter
2 tbsp diced onion
1 clove of garlic, minced
1/2 tbsp crushed red pepper
1 tsp of dried oregano (or fresh, if you have it)
2 tbsp white white, such as chardonnay
2 tbsp parmesan cheese
Instructions
Rinse and peel the zucchini. Spiralize the zucchini to create noodles. Use a spiralizer or a julienne slicer to create the noodles. If using a spiralizer, break apart the noodles into smaller strands, once spiralized.
Turn your broiler on. Place the tomatoes in an oven-safe bowl. Sprinkle with salt and pepper and then drizzle with olive oil. Roast under the broiler for 5 minutes or until the tomatoes are slightly charred. Remove from the oven and set aside.
Melt the butter in a 10 inch skillet over medium heat. Add the onion, minced garlic, crushed red pepper and oregano. Saute until the onion is tender. Add the white wine. Cook for 2-3 minutes or until slightly reduced and thickened.
Add the zucchini noodles to the skillet. Toss with tongs to coat with the sauce mixture. Cook for 2-3 minutes or until tender.
Mix in the parmesan cheese and top with the roasted tomatoes.
Notes
To reduce the fat content in this recipe, reduce the amount of butter used when sautéing the vegetables.
For an extra boost of flavor and protein, add in your favorite protein, such as chicken, tofu or shrimp.
Nutrition Information:

Amount Per Serving: Calories: 310 Total Fat: 23g Sodium: 101mg Carbohydrates: 10g Sugar: 5g Protein: 5g