White Chocolate Pumpkin Spice Cookies
Just in time for fall! These White Chocolate Pumpkin Spice Cookies are super addictive and delicious!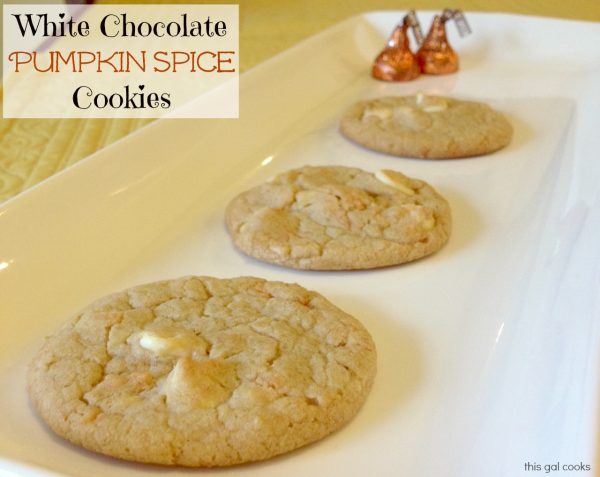 Yesterday I went on a baking frenzy. I began my day by making Mini Bacon & Egg Casseroles, then I made Sugar Coated Pecans, some amazing White Chocolate Pumpkin Spice cookies that I will be sharing with you later in this post, chocolate chip cookies (post to come at a later date) and I ended it all with a dinner – Spicy California Sushi Bowls. Don't worry, i'll be sharing that fantastic recipe with you later this week! You may be asking yourself, why all the baking? Well, I wanted to make some goodies to send to my boyfriend's mom and stepdad and I wanted some to have at home. Bad mistake. Seriously. I can't stop eating these cookies. They are so darn good that I will probably be making more this weekend! I should have thought ahead and decided to dress up as Cookie Monster for Halloween because it would fit will with my current state of being a cookie consumption maniac!  I hope you enjoy this delightful recipe. Just a side note, I got the recipe for the cookie batter from the Better Homes and Gardens "New Cook Book" published in 1996. The super creative "white chocolate pumpkin spice" was all my doing!
White Chocolate Pumpkin Spice Cookies
Yield: 3 dozen cookies
Prep Time: 15 minutes
Cook Time: 8 minutes
Ingredients
1/4 C Shortening
1/4 cup butter, softened
1/4 C white sugar
1/2 C packed brown sugar
1/4 tsp baking soda
1 egg, room temp
1/2 tsp vanilla
1 1/4 C all purpose flour
1/2 C white chocolate chips
1/2 C chopped Pumpkin Spice Hershey Kisses
To get the pumpkin spice kisses chopped into small pieces, refrigerate the kisses over night so they get rock hard. Then, remove them from the fridge right before opening them and placing them into a food processor. Chop them until they are in small pieces.
Instructions
In a large mixing bowl, beat the butter and shortening with a mixer on medium high for about 30 seconds.
Add the white sugar, brown sugar and baking soda and mix until combined.
Beat in the eggs and vanilla.
Gradually beat in the flour and mix until well blended.
Fold in the white chocolate chips and the pumpkin spice Hershey kisses pieces.
Drop dough into round teaspoons 2 inches apart (tip: I dropped the pieces onto the baking pan and then rolled each one into a ball. This made pretty perfect round cookies)
Bake at 375 for 8 minutes (tip: remove the cookies from the oven before they are completely done baking. This will result in chewy cookies. 8 minutes was perfect for this) Allow cookies to cool before serving.