Mini Bacon and Egg Casseroles
These Mini Bacon and Egg Casseroles are made with fresh shredded potatoes, eggs, bacon and cheese. Make ahead for a quick and easy breakfast!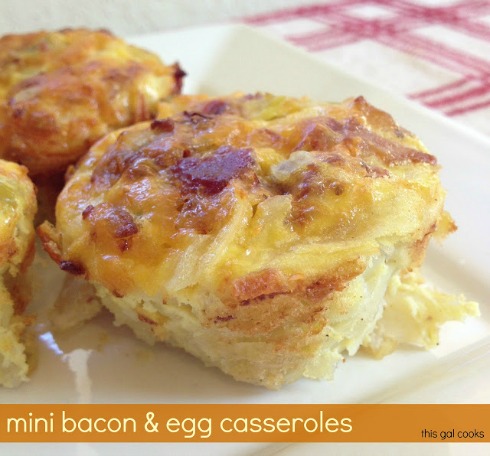 Last week I bought a bag of potatoes so we could dice some of them and throw them on the grill for a nice side dish of grilled potatoes to accompany our dinner. Boy were they good. But I had 4 potatoes leftover and I needed to do something with them asap. I decided to get a little creative in the kitchen this morning and I created a mini breakfast casserole. My inspiration came from this recipe by Hot Eats and Cool Reads. When I saw this recipe I thought to myself, mini breakfast casseroles would be perfect for a grab and go breakfast in the morning before work. We ate a few of these little gems for breakfast this morning and we still have some left for the first couple of days of this coming work week. I hope you enjoy my recipe!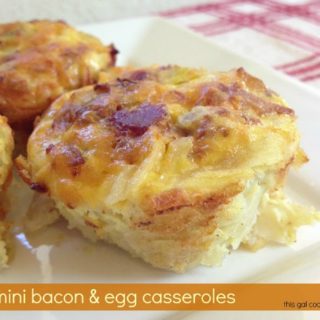 Mini Bacon & Egg Casseroles
Yield: 6

Prep Time: 15 minutes

Cook Time: 30 minutes

Total Time: 45 minutes
Ingredients
5 eggs
4 baking potatoes, peeled and shredded (rinse, drain and pat dry after shredding)
1/3 C chopped onion
2 oz diced green chilis
1 chipotle pepper in adobo sauce, seeded and chopped
2.5oz diced bacon (I used real bacon pieces, can be found in salad dressing isle)
1 C shredded cheddar cheese
1 tsp seasoned salt
1/2 C milk
2 tbsp flour, sifted
2 tsp olive oil
Instructions
Grease a 12 cup muffin pan with Crisco
Toss the shredded potatoes with the seasoned salt and press into the muffin cups to line the bottom and sides of the cups. Bake at 350 for about 8 minutes in order to remove any excess moisture.
Saute the onion and bacon in the olive oil until tender.
Whisk together the egg, flour and milk. Add the chipotle pepper, diced chilis, cheese and pepper. Mix well. Stir in the bacon and onion.
Pour the egg mixture into the muffin cups. I suggest using a spoon to aid with pouring so you don't end up with too much liquids in some cups but too much solids in the remaining cups.
Bake at 350 for 25-30 minutes or until a toothpick inserted into the center of the casseroles comes out clean.
Allow to cool for 10 minutes before serving.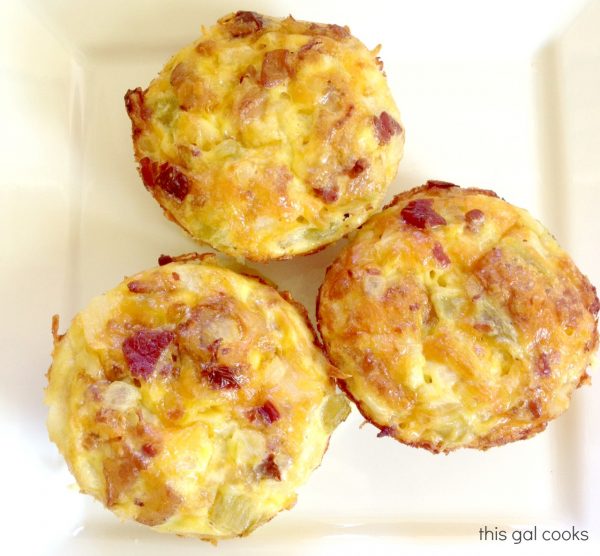 HUNGRY FOR MORE?