Tortellini Meatball Soup
This Tortellini Meatball Soup is made with homemade turkey meatballs, fresh spinach and select flavorful spices. Easy to make, delicious to eat!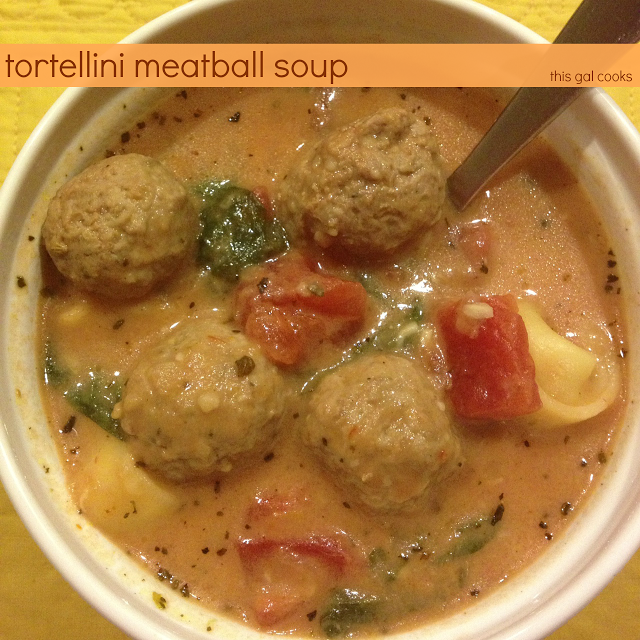 I've wanted to make a new soup for some time now. So last night I decided to get crafty in the kitchen and whip up an awesome pot of soup! When I say awesome, I really do mean awesome. Aside from the fact that this soup did take some time and a little elbow grease (come on, not literally!) it came out delicious and I will definitely be making this again. The time and effort put into this soup was definitely worth it. This is actually my own creation *pats self on back* or in my words, a Julie Murkerson original. My boyfriend and I enjoyed this soup and I hope you will too.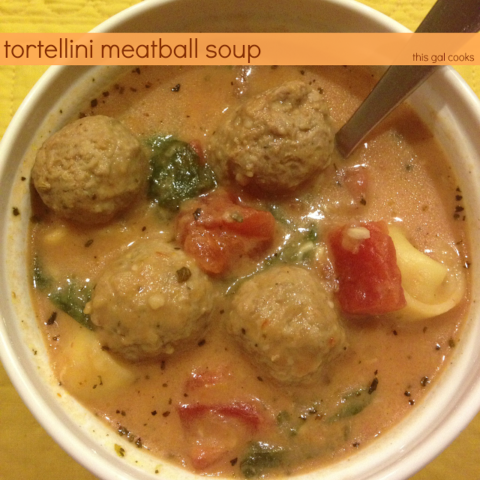 Tortellini Meatball Soup
Yield: 6

Prep Time: 25 minutes

Cook Time: 20 minutes

Total Time: 45 minutes
Ingredients
1/2 onion, chopped
3 clove garlic, chopped
1 6 oz bag of baby spinach, rinsed
1 cube of beef bullion
2 14.5 oz cans of chicken broth
2 14.5 oz cans of spicy red pepper diced tomatoes
1 8 oz can of tomato sauce
1 tsp dried basil
1 bay leaf
12 oz of frozen cheese tortellini
1/4 C red wine
1 tbsp red wine vinegar
1/4 C all purpose flour
1/2 C whipping cream
1 tbsp and 2 tsp of olive oil
1/2 tbsp brown sugar
1/4 C parmesan cheese
Salt to taste
For the meatballs
1lb ground turkey
1 tsp fennel
1 tsp seasoned salt
1/4 tsp cayenne pepper
1 tsp sage
1/2 C ground oats
1/2 tbsp Worcestershire sauce
Instructions
Make the meatballs. Combine all meatball ingredients in a mixing bowl and then roll into 1 tsp sized meatballs.
In a large pot, cook the spinach in 1 tsp of olive oil until wilted. Drain and set aside.
In the large pot, cook garlic and onion over 1 tsp of olive oil and cook until tender. Add the remaining olive oil and the meatballs. Cook the meatballs over medium high until lightly browned. Be sure to mix often so the veggies don't burn.
Add the red wine to the pot to deglaze.
Add the tomatoes, tomato sauce, bullion, oregano, brown sugar, basil, spinach, chicken broth and red wine vinegar. Mix well.
Add the bay leaf and tortellini. Let simmer for 10 minutes. Remove the bay leaf.
Whisk together the flour and the cream and then add to the pot. Mix well. Add the parmesan cheese and mix until melted.
Add salt to taste or if needed.
HUNGRY FOR MORE?
Try this vegetarian and dairy free Moroccan Carrot Soup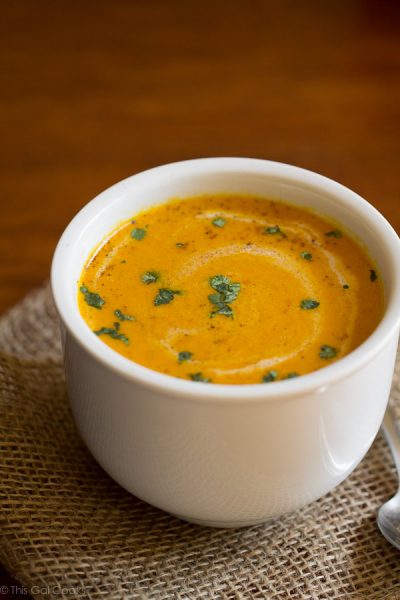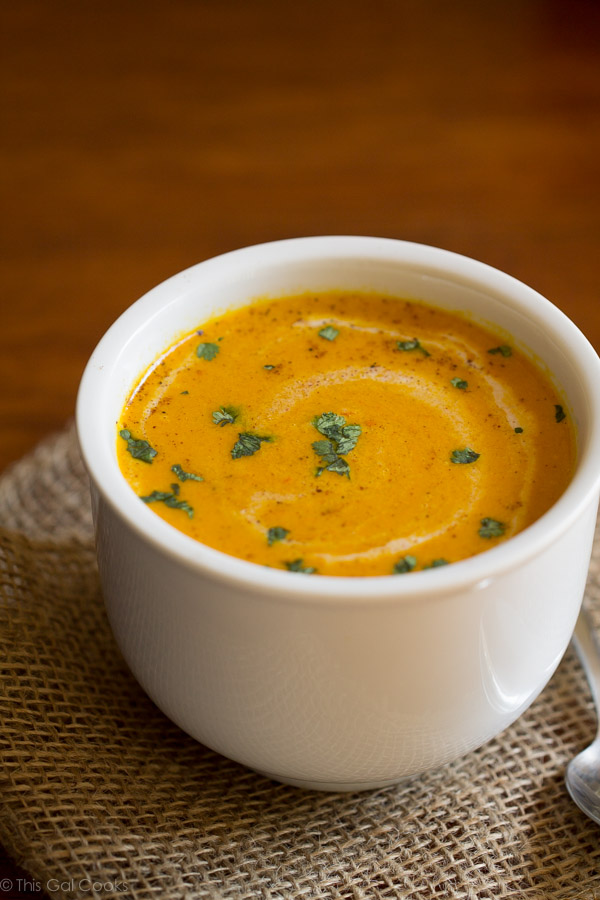 Or this quick and easy Ravioli Soup