Spicy California Sushi Bowl
 I am one sushi loving gal. Seriously. I could live off of the stuff. With so many flavor combinations, it's pretty hard to get sick of. When I eat sushi, I usually eat it at a restaurant or I pick it up from the seafood department of my grocery store. I even tried to make it at home one time. Actually, my boyfriend and I successfully made it at home one night and it tasted excellent. But it was entirely too much work to do. We decided that it's easier to pay the extra money and dine at a sushi restaurant than to make it on our own. Then one day I stumbled upon
this
recipe on Budget Bytes and then I knew I would live a peacefully happy life for all of eternity. Haha, not really but I was thrilled that I had found an easy sushi type recipe that I could make in under an hour. I hope you enjoy this recipe!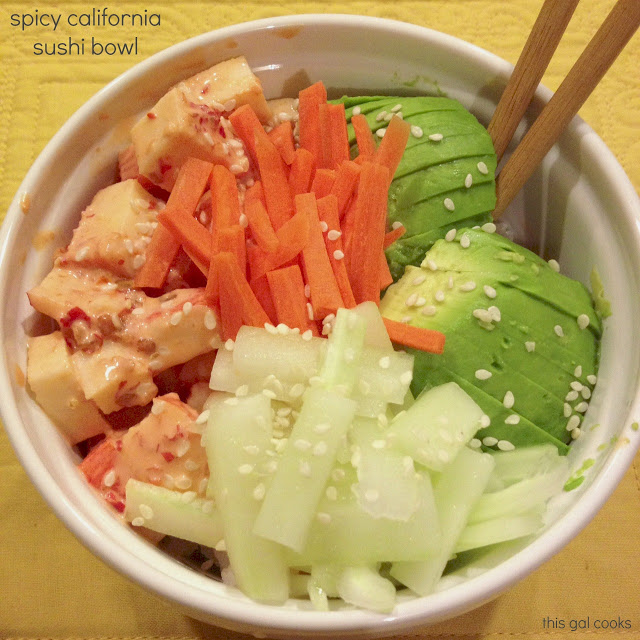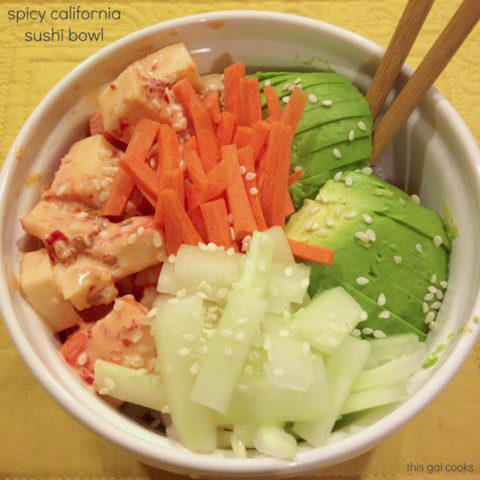 Spicy California Sushi Bowl
Yield: 2
Prep Time: 10 minutes
Total Time: 10 minutes
Ingredients
1 1/2 C uncooked short grain rice
1 tbsp rice vinegar
1 tbsp white sugar
1/2 tsp salt
8oz imitation crab, cut into small pieces
1 avacado, sliced
1 cucumber, cut into sticks (be sure to remove the seeds. Its easy to do. Just half the cucumber length wise and use a spoon to scoop out the seeds.)
1 carrot, cut into sticks
Sesame seeds for garnish
For the spicy sauce
2 tbsp of chili garlic sauce
2 tbsp mayo
Instructions
Rinse and drain the rice until the water runs clear and is no longer cloudy.
Cook the rice according to package directions (I cooked mine in a rice cooker)
Mix the rice vinegar, sugar and salt in a microwave proof bowl. Microwave for about 30 seconds or until the salt and sugar are dissolved.
Mix the rice with the vinegar mixture.
Place the rice into bowls and top with the carrots, avacado, cucumbers and spicy crab mix.
Sprinkle with sesame seeds and serve with soy sauce and wasabi paste.
For the spicy sauce
Whisk together the chili garlic sauce and the mayo
Add the imitation crab and mix well
Enjoy