Thirty Minute Paella with Tomatoes
Being rushed for time doesn't mean you can't enjoy a healthy, delicious meal. This Thirty Minute Paella with Tomatoes is easy to make and it's on the table in less than 30 minutes!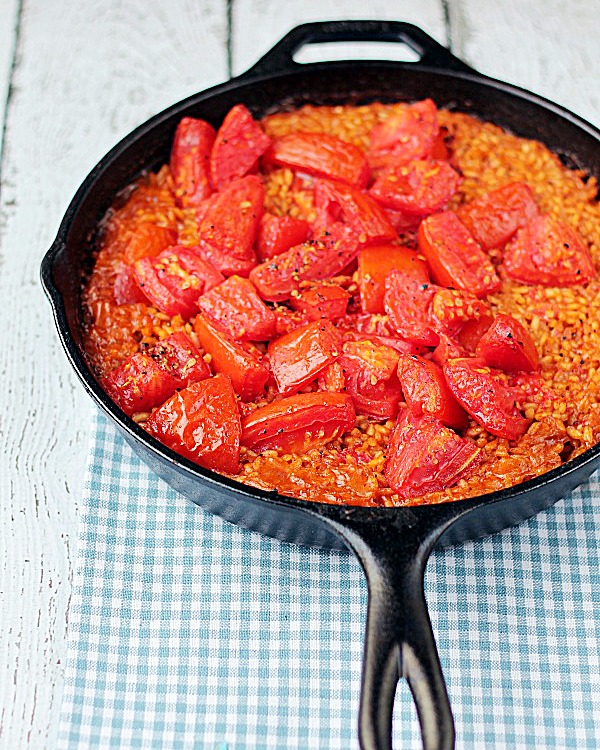 You may be asking yourself "what is paella?" Paella (pronounced pah-eh-yah) is a Spanish dish that originated in the mid-19th century in Valencia. It's most commonly made with white rice, beans and green vegetables and some type of meat, such as seafood, chicken, duck or snails (source: wikipedia.org.) The first time I ever had paella was when I made this dish. A couple of years ago a friend of mine sent a copy of How To Cook Everything Vegetarian by Mark Bittman to me for my birthday. This cookbook is filled with tons of recipes and useful recipe and ingredient information that is beneficial to any cook. While flipping through the pages, looking for something to make for dinner one night, I came across a vegetarian paella recipe.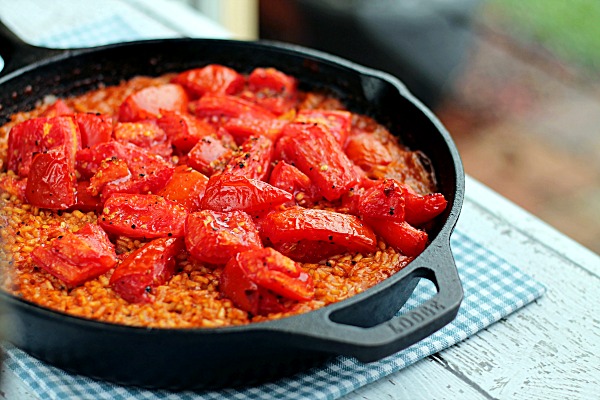 YES! I had most all of the needed ingredients on hand! Now there are special pans that you can purchase that are designated as Paella Pans but I don't have one of those. I just used my favorite cast iron skillet. Stove to oven is a super simple with a cast iron skillet. And ideally, you need something that will go from stove to oven when making this dish.
I basically followed this recipe exactly as notated but I didn't use saffron nor did I use smoked paprika. I didn't have either of those so I just left out the saffron and used regular paprika. I used tomatoes on the vine, one of my favorite types of tomatoes, because they were on sale. When tomatoes on the vine are on sale, I always buy them. Those suckas are expensive when regular price! Remember, this recipe is done and on the table in 30 minutes so you'll want to keep it handy for those busy weeknights!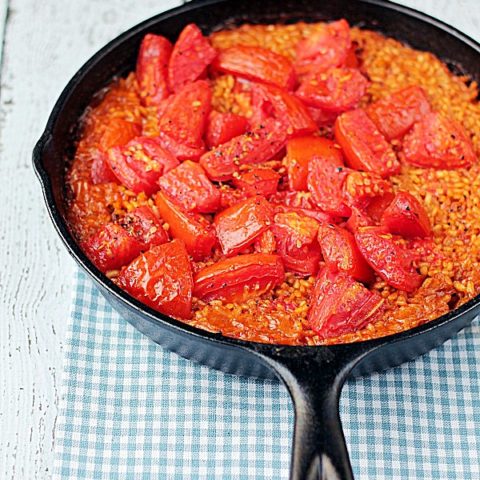 Thirty Minute Paella with Tomatoes
Yield: 6 servings

Prep Time: 15 minutes

Cook Time: 15 minutes

Total Time: 30 minutes
Ingredients
1 pound of tomatoes on the vine or your favorite type, cut into chunks
2 C short grain white rice
1 tbsp tomato paste
1/2 C white onion, chopped
2 cloves of garlic, minced
3 1/2 C vegetable broth
1/4 C olive oil
2tsp paprika
salt and course ground pepper
Instructions
Place the tomatoes in a bowl. Drizzle with 2 tbsp olive oil and sprinkle with salt and pepper. Gently stir to coat. Set aside.
In a 10 inch cast iron skillet, heat the remaining olive oil over medium heat. Add the onion and garlic and season with salt and pepper. Saute until tender.
Stir in the tomato paste and paprika and then add the rice. Coat the rice with the mixture and then cook for about 2 minutes. Stir in the vegetable broth.
Spoon the tomatoes over top of the rice mixture and drizzle with the juices from the bowl.
Transfer to the oven and bake at 450 15 minutes. Check the rice. If it's done, remove from the oven and enjoy!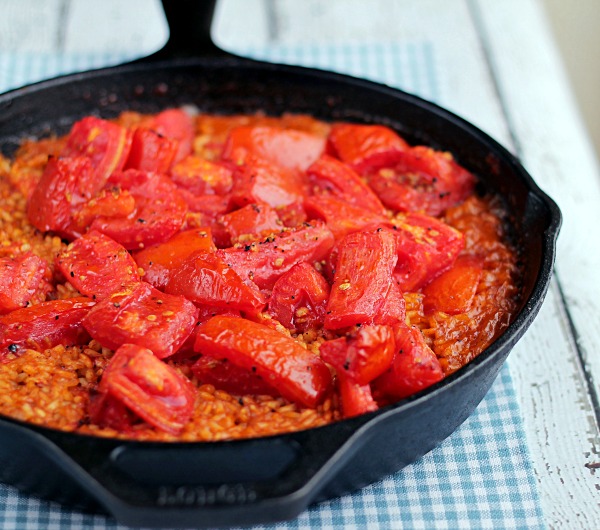 More from This Gal Cooks