Four Cheese Pumpkin Pasta Bake
Pumpkin dishes don't necessarily have to be sweet. Take your next pumpkin dish to the savory level with this Four Cheese Pumpkin Pasta Bake!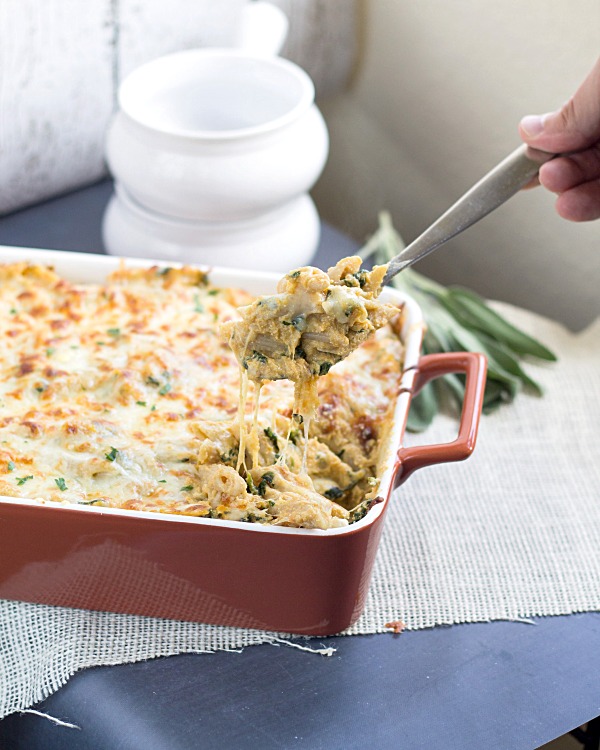 Want to stay up to date with This Gal Cooks? Let's be friends!
Facebook   Google Plus   Twitter   Pinterest  RSS
Hooray for Friday! You've probably heard that from a few different people today, haven't you? This week has been a surprisingly good week for me. Surprisingly good because we had our system conversion at work on Monday. Things have gone pretty smooth for the most part. There were a few hiccups but that comes with a system conversion.
Today I'll be leaving work a little early. I have to take the little one – little one as in pup – to the vet. She's due for her follow up check up to make sure that her skin infection has ceased to exist. She's so funny when I take her to the vet. She gets extremely excited to go for a car ride but once we step foot in the vets office she turns into a nervous wreck. She walks to the door as if she will be able to leave. I feel bad for her. I'm not sure why she is like this now. When she was younger she didn't mind going to the vet. She wasn't thrilled about it but she didn't go into panic mode either. I attribute her change in attitude to her age. She's 13 1/2. She's quite the old lady, although she still looks like and sometimes acts like a pup. She's just being grumpy when she goes to the vet, right? Anyways, once we leave the exam room she turns into a happy dog. She walks around sniffing everything. She walks up to the gals working in the office, all while wagging her tail. I think she knows it's almost time to go home!
So about pumpkin. Savory pumpkin.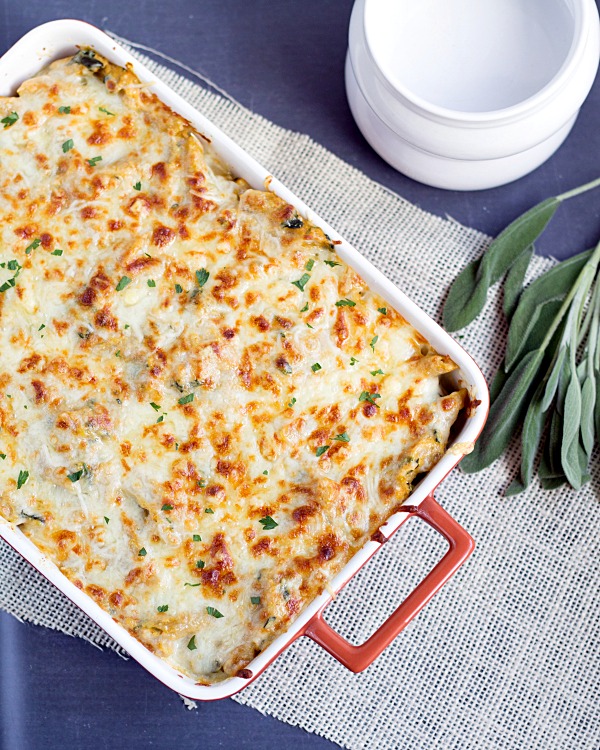 Four Cheese Pumpkin Pasta Bake
I made this dish for my submission to this month's Spiked! Recipe Challenge hosted by Carrie from Frugal Foodie Mama and I. This month's ingredient is Fall beers. I opted for Shipyard Pumkinhead Ale. Yea, Beer Advocate doesn't rate it very well but I like it well enough. It's not as good as my favorite, UFO Pumpkin Ale, but I didn't want to use one of those up in this dish. I wasn't up for drinking a beer the night I made this so what didn't get used in the recipe got dumped down the drain. Oh the horrible thing I did by pouring part of a beer down the drain. But what can I say. An opened beer doesn't fare too well in the refrigerator.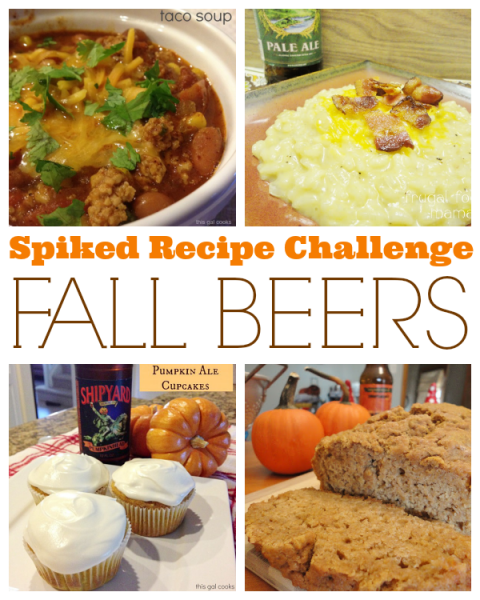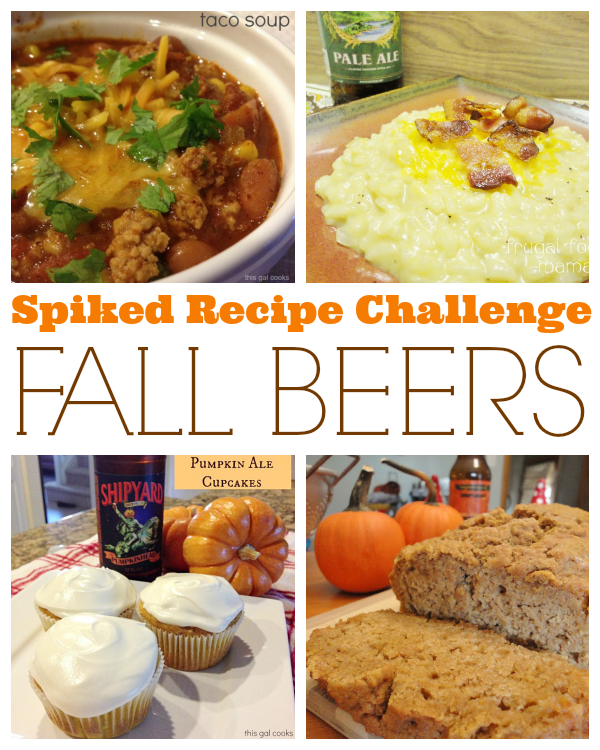 Ken and I both enjoyed this dish. In fact, we darn near gobbled all of it up. Apparently my recipe is enough to feed all of Kings Landing in Game of Thrones. Not really but there was enough to fill up an 8.5×11 baking dish. But that didn't stop the two of us from finishing all of it but one serving by Wednesday. I made this on Sunday. So if you're feeding a crowd in one sitting or feeding a couple in multiple sittings, your set with this Four Cheese Pumpkin Pasta Bake. Enjoy!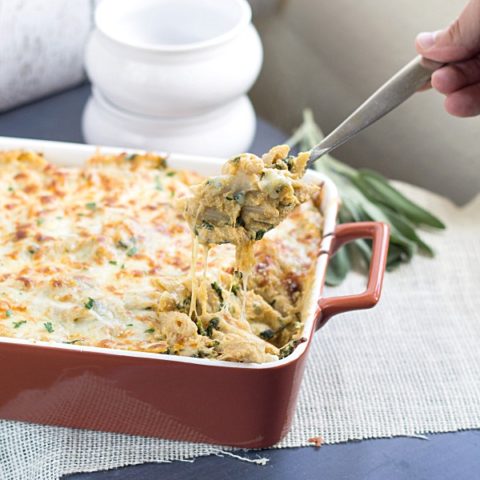 Four Cheese Pumpkin Pasta Bake
Yield: 12 servings

Prep Time: 20 minutes

Cook Time: 10 minutes

Total Time: 30 minutes
Ingredients
16 oz whole wheat penne pasta
1 29oz can of pumpkin puree (not pie filling)
1 15oz container of part skim ricotta
1/4 tsp nutmeg
1/2 C pumpkin ale (I used Shipyard Pumpkinhead Ale)
2 tbsp fresh sage, chopped
1/2 lb of Fontina cheese, shredded (I purchased a half pound block from my grocery store's deli department as I've never even seen already shredded Fontina cheese)
1 C part skim shredded mozzarella cheese
1/2 C shredded mozzarella cheese
1/2 C parmesan cheese, divided
2 cloves of garlic, minced
1 C frozen spinach, thawed and squeezed dry
3 tbsp unsalted butter
Salt to taste
Instructions
Cook the pasta until it's reached your desired consistency
In a large pot over medium heat, saute the garlic and spinach in the butter until tender. Add the sage and cook for about 1 minute. Stir in the nutmeg, pumpkin puree, beer, parmesan cheese and ricotta. Mix well. Reduce heat and simmer for 10 minutes. Add salt to taste.
Stir the pasta into the sauce. Pour into a greased 8.5x11 baking dish.
Combine the remaining parmesan cheese, the mozzarella cheese and the fontina cheese. Sprinkle over the pasta.
Bake at 350 for 10 minutes. After baking, turn the broiler on low and broil until the cheese is slightly browned.