Thai Peanut Sauce with Whole Wheat Noodles
I've been in the mood to make ethnic inspired foods lately. Recently I made some Greek inspired dishes as well as some Asian inspired dishes. I'll be sharing the recipes for those with you soon. Today I'm going to share a recipe for Thai Peanut Sauce with you. I found this recipe over at one of my favorite blogs, Budget Bytes. If you haven't checked out Budget Bytes yet, you really should. There are all types of budget friendly recipes on the site, along with some great food photos. You'll definitely leave the site hungry.
If you're a fan of peanut butter like I am, then you'll love this recipe. It definitely has a strong flavor of peanut butter but the peanut butter blends well with the other flavors in this recipe. I hope you enjoy this tasty recipe.
Thai Peanut Sauce with Whole Wheat Noodles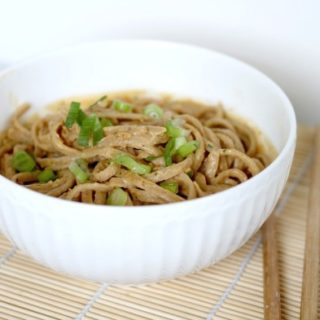 Recipe: Thai Peanut Sauce with Whole Wheat Noodles
Yield: 4

Prep Time: 15 minutes

Total Time: 15 minutes
Ingredients
8 oz of whole wheat linguini
3/4 C all natural peanut butter
1/4 C coconut milk
1/2 tsp ground ginger
1 clove of garlic
1 tsp siracha hot sauce
1 tbsp soy sauce
1/2 tsp sesame oil
1 tbsp brown sugar
1 tbsp cilantro
1/2 C water (or more depending on the consistency you prefer)
Green onions for garnish
Sesame seeds for garnish
Instructions
Bring a large pot of water to a boil and cook the noodles.
In a food processor, chop the garlic and cilantro.
Add the remaining ingredients, minus the water, and process until smooth and well blended.
Add the water and process. Add more water if you want a thinner consistency.
Top the noodles with the peanut sauce and garnish with green onions and sesame seeds.