Strawberry Scone Tarts
If you're looking for a healthier breakfast, try these Strawberry Scone Tarts. Made with fresh strawberries and 100% vegan, these little treats are the healthy way to start your day!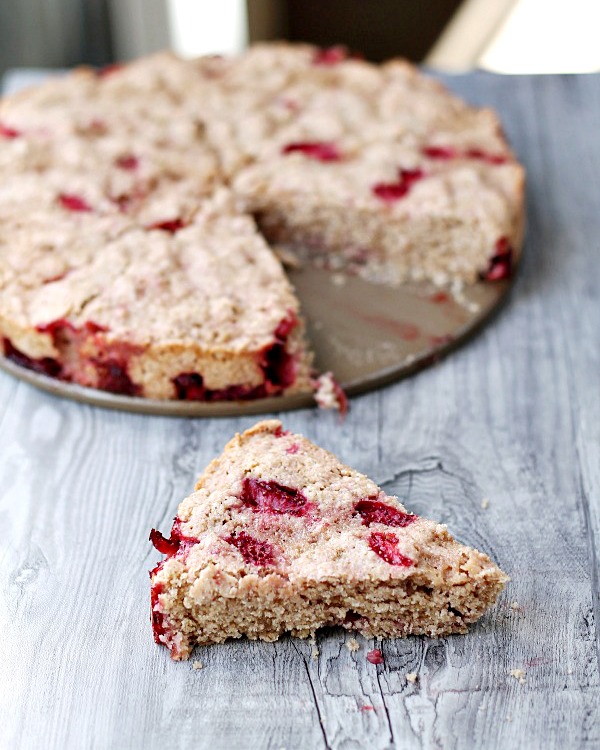 Good morning and Happy Monday. So today is the day…the day I fly to Atlanta for work. Well, I actually won't be flying until this evening. I'll be at work until about 2:30.
I'll admit, I'm a little nervous about flying. I don't like flying. I haven't flown since 2002. I intended to keep it that way but then work happened so alas, I must fly. I asked if I could drive instead but that wasn't really a realistic option. It would be an 8 hour drive. The flight is only about an hour and forty-five minutes. Flying = cheaper. Driving = more expensive.
I don't really know why I don't like flying. I mean, I really do think it's cool to look out the window, to have a birds eye view of everything. I really like looking out the window as we are landing. It means the flight is almost over! Plus, the scenery looks really neat. I think my biggest issue with flying is being up in the air. I do not like heights. They pretty much freak me out.
But I need to get over this little fear. At least for now. Because I have to fly and there is nothing I can do about that. Of course, unless I decide to quit my job. And that isn't going to happen. You can guarantee that I'll be having a beer or a cocktail on the flight. It will definitely relax me!
So let's talk about this Strawberry Scone Tart.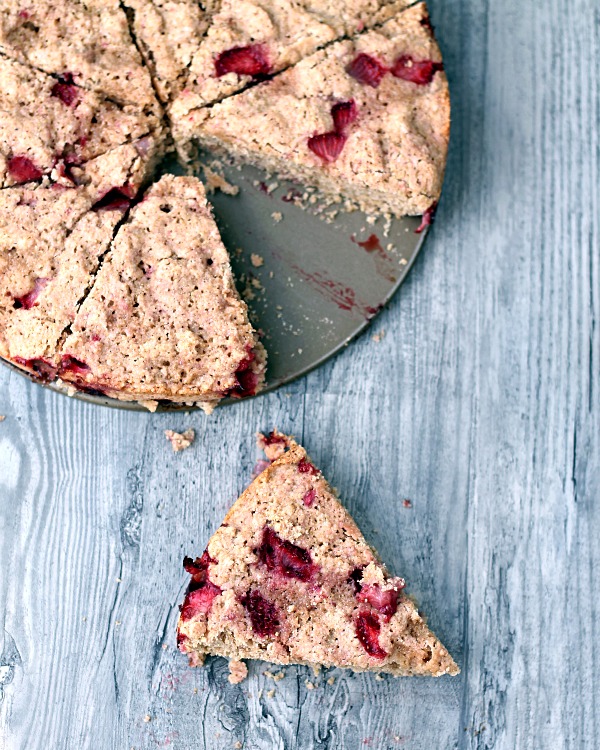 I call it a scone and a tart because it's baked in tart form but the recipe is actually a scone recipe. I don't have a scone pan and I didn't feel like shaping the batter so I just poured it into my 9 inch springform pan. Worked like a charm, don't ya think?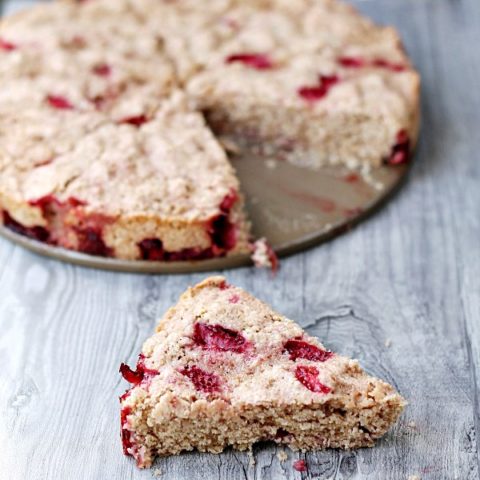 Strawberry Scone Tarts
Yield: 8 servings

Prep Time: 15 minutes

Cook Time: 15 minutes

Total Time: 30 minutes
Ingredients
1/2 C diced strawberries
1/4 C granulated sugar
2 tbsp soy milk
2 C pastry flour - I used organic whole grain
1/2 tsp salt
1 tbsp baking powder
6 tbsp vegan butter, such as earth balance, cold and cubed
1 1/2 tsp egg replacer
2 tbsp water
2 tsp vanilla extract
2/3 C diced strawberries
For the glaze
3 tbsp powdered sugar
1 tbsp water
1 1/2 tsp vanilla extract
Instructions
In a food processor, grind the 1/2 C strawberries, 1/4 C sugar and tbsp soy milk until smooth.
In a mixing bowl, combine the pastry flour, salt and baking powder. Cut in the cold cubed vegan butter until crumbly.
In another bowl, whisk together the liquid strawberry mixture, vanilla extract and egg replacer.
Add the liquid strawberry mixture to the dry mixture and mix until just combined.
Fold in the diced strawberries. Note: the batter will be very thick and sticky, almost like dough.
Lightly press the mixture into a 9 inch springform pan
Make the glaze. Whisk together the vanilla extract, water and powdered sugar. Pour the glaze over the batter/dough (whatever you prefer to call it - I'm no expert so I'm probably not using the correct term!)
Bake at 375 for 15 minutes or until the top is slightly golden and the tart is cooked through.
Do you enjoy healthier breakfasts? What are some of your favorite healthy breakfast dishes?
More vegan recipes from This Gal Cooks
{click the images for the recipes}