Spiked! Recipe Challenge Winner – Champagne Edition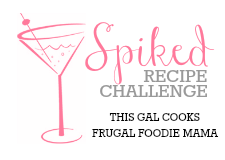 So seriously.  So many of you brought your A-game to Julie & I's first ever Spiked! Recipe Challenge.  You all definitely did not make it easy for us to crown a champ. ;)
This month's Spiked! ingredient was champagne.  So many of you came up with some very creative (not to mention tasty looking!) recipes.  
So, without further adieu here are the Spiked! Champagne Recipe Challenge runner-ups (in no particular order)…
And the winner of the first ever Spiked! Recipe Challenge is…
Congratulations Rosie!!  What an amazing and decadent use of champagne!  Julie and I will be in touch with you shortly to get you hooked up with your featured ad spots with each of us for the month of February. :)
Julie and I would love to thank each and every one of you who entered this month's Spiked! Recipe Challenge.  We had 17 total champagne laced entries for our first challenge.  I created a special Pinterest board for all of the Spiked! recipes, so please feel free to CLICK ON OVER and check them all out (and pin away while you are at it ;) ).  
Julie and I will be back again in March with an all new Spiked! Recipe Challenge!  We will announce that month's libation of choice on the first Tuesday of the month.  (Be thinking St. Patrick's Day, folks. ;) )