Curry Crab Rangoon
You can easily make your own tasty crab rangoon at home with this Curry Crab Rangoon recipe! Curry gives this crab rangoon a unique, tasty flavor.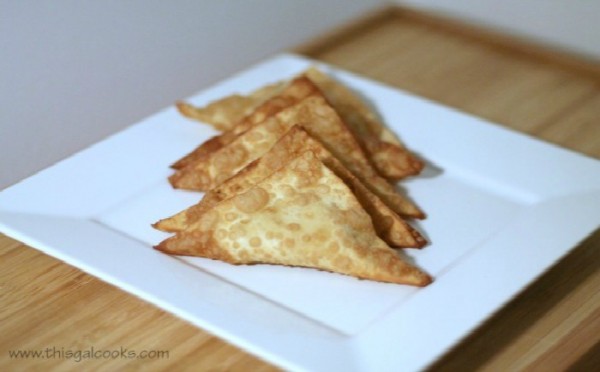 Curry Crab Rangoon
As I mentioned in a previous post, I made appetizers for our New Years Eve celebration. If you missed that post and the delicious recipe (Spinach and Artichoke Wontons) that I shared, you can view it here. In addition to making those delicious appetizers, I also made the recipe I will be sharing with you today. I had some leftover crab stuffing from the Curry Crab Stuffed Mushrooms and some wonton wraps leftover from the Spinach and Artichoke Wontons so I decided to make one of our favorite Chinese restaurant appetizers: Crab Rangoon.
I had wanted to try making crab rangoon for a while. And after having it made with curry at a restaurant we visited during my birthday celebration, I knew that when I did eventually make it I was going to make it with curry (the curry in the crab rangoon from the restaurant we visited actually inspired me to make the Curry Crab Stuffed Mushrooms that I mentioned above.) These were actually pretty easy to make. And if you've never worked with wonton wraps before, have no fear. They actually hold together pretty well if you use egg white to line the edges before folding into triangles. I hope you enjoy this recipe. After having a look around, let me know what your favorite appetizers are. If you have any you'd like to share, please include the link to it in a comment below!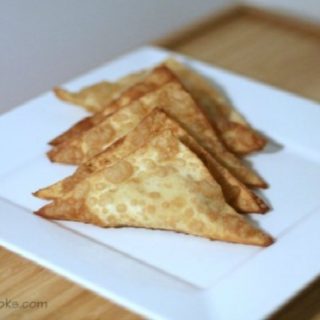 Curry Crab Rangoon
Yield: 4

Prep Time: 15 minutes

Cook Time: 10 minutes

Total Time: 25 minutes
Ingredients
1 package of wonton wrappers (you won't use all of these, unless you want 50+ crab rangoon, but you can use the rest to make the Spinach & Artichoke Wontons mentioned above)
1/2 small onion
1 tsp garlic powder
1 tsp seasoned salt
1 tsp curry powder
1/4 C mayo
1/4 C sour cream
4oz cream cheese, softened
1/2 C shredded cheese
4oz imitation crab meat
Egg whites from one egg
1 - 1 1/2 C vegetable oil
Cast Iron Skillet
Instructions
In a food processor, chop the imitation crab meat and onion
In a mixing bowl, combine the cream cheese, shredded cheese, sour cream, mayo, seasoned salt, curry powder and garlic powder. Mix in the onion and crab meat.
Heat the oil in a cast iron skillet (or whatever type of large, deep skillet you have) over medium-high heat
Place about 1 tsp of the crab mixture into each wonton. Brush the edges of the wonton wrapper with egg white (I just dipped my finger in the egg whites and brushed it along the edges of the wonton wrapper) and then fold over to make a triangle shape. Pinch the sides together.
Fry each side for 30 seconds to 1 minute per side or until golden brown. They cook pretty fast so don't turn away from them or you could end up with extra crispy crab rangoon!
Place the fried crab rangoons on a plate lined with paper towels in order to soak up the excess oil.
Enjoy with Sweet Chili Hot Sauce or any other type of sweet sauce.
Notes
You can use any leftover rangoon filling to make the Curry Crab Stuffed Mushrooms mentioned above