Spiked! Recipe Challenge: American Craft Beers
Are you ready for the next installment of the Spiked! Recipe Challenge?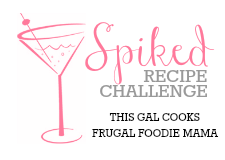 It is no big secret that myself and my good foodie blogger friend, Carrie from Frugal Foodie Mama and I love to cook and bake with alcohol.   Don't believe me?  Then make sure to check out Carrie's recipes for Slow Cooker Tequila Lime Beef Barbacoa  and Beer Cheese Risotto with Bacon.  Or my Deep Dish Beer Crust Pizza and Tequila Lime Shrimp Tacos.
Carrie & I have teamed up to bring you all a recipe challenge with a twist (of lime or lemon, if you please 

 )- your recipe must feature the alcoholic beverage being spotlighted that month! Every two months there will be a new Spiked! Recipe Challenge with a new featured boozy beverage.  July's featured ingredient is….  American Craft Beers!  Carrie and I are not shy about the fact that we are both beer snobs.  Plus, going with American craft beers is a nod to our country's Independence Day celebration in just a few days. ;)
So what exactly is an American Craft Beer?  According to the Brewers Association, the definition of a true American craft beer is that the production is small (less than 6 million barrels of beer produced annually), it is independent (aka, not majority owned by a major brewing company), and is made from traditional brewing methods. So by definition that rules out your Budweisers, Miller Lites, & Coors (sorry, folks!).
Not sure if the beer you are considering using in your recipe is a craft beer?  Go local. 

 Small, local breweries are almost always considered craft beer producers.  If you have a Total Wine or Whole Foods near you, you can definitely find craft beers at those stores!
You might also find this list of The 50 Best Craft Beers In America In 2013 from the Huffington Post to be helpful.

So, let's get to the rules…
Carrie and I would like for you to follow us via one of our many social media outlets.  Your choice-Bloglovin, RSS feed, Twitter, Facebook, Pinterest… you get the idea.  Plus, following us both will keep you in the loop about upcoming dates for the challenges, announcements of winners, and so on.
You need to sign up by adding a link to your blog's home page in the linky at the end of this post.  Be sure to include your email address when adding your link- this is how we will email you all updates and reminders for the contest!
You must have the Spiked! button in your recipe post to be considered as an entrant.  It would also be SUPER awesome if you included the button on your sidebar, but it is not a requirement to win.  (see my sidebar to get a button)
The recipe you submit MUST BE YOUR OWN.  You can be inspired by another's recipe (and please include a link back somewhere in your post to that original recipe), but you must make that recipe your own in some way.
The recipe must feature the beverage of choice.  This month's Spiked! ingredient is American craft beer.  Your beer in your recipe MUST be an American craft beer for your submission to be considered for judging. Your recipe can be anything BUT a drink recipe.  You must cook or bake with the Spiked! ingredient.
You must link up your American Craft Beer recipe when the linky goes live on July 15, 2013 to be considered for judging.  The linky will remain open for just two days.  No entries will be accepted past that date.
All recipes will be judged by myself and Carrie from Frugal Foodie Mama.
The winner will be announced one week after the entry linky has closed and will be emailed as well as announced on each of our blogs.
The winner of the Spiked! Challenge will receive bragging rights of course, but there are a few other perks…
A Frugal Foodie Friends ad spot (250 x 300) with Frugal Foodie Mama for 30 days (starting August 1st)- plus a spotlight post on Frugal Foodie Mama featuring the winner, their winning recipe, and their blog!

A Savory Ad Spot  (300×150) from This Gal Cooks starting August 1st
For inspiration for your Spiked! recipes, be sure you check out the past winners of the recipe challenges on Carrie's Spiked! Recipe Challenge page! 

Important Dates to Remember:
July 1st- Sign-ups start

July 8th- Sign-ups end
July 15th- Linky opens to submit your recipe entries (You will have only the 15th and 16th to link up!)
July 22nd- The Spiked! American Craft Beer Recipe Challenge winner will be crowned! (This *may* be delayed to the first week in August since Carrie will be on vacation the week the winner is supposed to be announced.  It will all depend on how hard you all make it on Carrie & I to agree on a winner.  )
Spread the word!  Send out a tweet about the contest… You can do this via the Tweet button at the bottom of this post!